Treadmills
Ex-Display from

£2,799.00
INTRODUCTION TO THE TREADMILL
The running machine is an essential piece of kit that's present in almost every gym. It's a versatile piece of fitness equipment that helps everybody achieve their fitness goals.
BENEFITS OF A TREADMILL
Treadmills are brilliant, versatile pieces of fitness equipment that can help anyone achieve their fitness goals. Suitable for users of any age and fitness level, they are excellent for enhancing your general fitness, stamina, endurance, and burning calories.
Running at home is not only easier, but it's also warmer than running in say a park or on the streets. Having a home treadmill allows you to train any time of day, safely, and plan your workout routine around what suits you!
WHAT TO CONSIDER WHEN BUYING A TREADMILL
When investing in a treadmill, there are many things you have to take into consideration. Firstly, your objectives and fitness goals. This could be to improve your general health and fitness, rehabilitation, HIIT workouts, incline training, or even a mix of them all. Identifying your goals will help you decide what you want or need from your treadmill, and point you in the right direction in terms of suitability.
Choosing the right treadmill is paramount to any buyer, it's a large investment and can highly impact any training program. So it's good to ensure you have the best information to help guide which treadmill is best suited to you.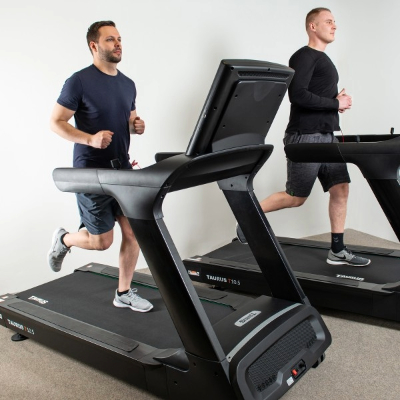 The Analysis
Top Tip: Always try to read product reviews, as you will get a real feel from other customers who have purchased the treadmill you are looking at.
There are a lot of things to consider. Are you looking for a treadmill to walk on or jog on? You might be a fan of HIIT training, do you need something more robust with incline? Or, are you a frequent runner that is looking for top performance with a higher top speed?
The Space: Another important factor to consider would be space. If you are working with limited floor space, you may want to look at folding treadmills rather than fixed treadmills, which can easily be stored away after use.
Body Weight: Your body weight will also determine which treadmill specification is best suited to you.
Cushioning: Cushioning should also be a consideration. This helps to reduce the impact on your joints, especially your knees, and ankles.
Deck Size: Deck size will also have an impact on the performance of the treadmill, the experience you get out of using it, and the space it takes up. The wider and longer the running deck is, the more room there will be for each stride, offering a more natural running feel that is more gentle on your joints. The size of the deck can determine how high the running speed can be adjusted, the safety of the runner, and the overall experience of running, so it's important to take this into consideration.
WHICH IS BEST: SPEED OR INCLINE?
You should consider the speed and incline of a treadmill when considering what kind of training you intend to do on it and your goals. Any treadmill, apart from the walking pad, should reach a minimum of 10kmph to 12kmph.
If you're a serious runner, it is best to look at machines that offer 16kmph or higher. It's definitely worth aiming for a couple of kmph higher to allow you to progress with your training.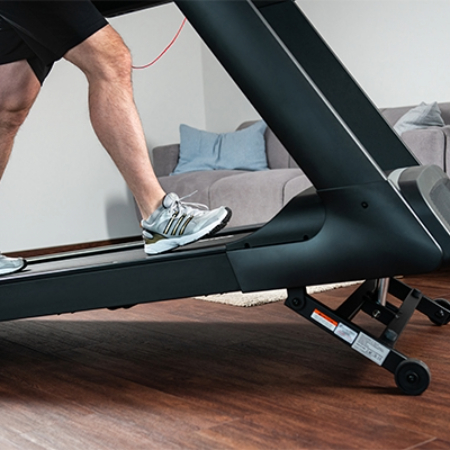 An incline treadmill is a superb tool for toning your body and a different type of training - mimicking the movements of hill climbs. This reduces the impact on your joints as you walk/run and allows you to target different leg muscles. Many treadmills come with pre-installed incline programs or target programs that really utilise the incline feature.
Overall, the incline feature has 3 main points to remember: they make treadmill exercises easier on your joints, allow a faster calorie burn, and support enhanced muscle definition.
Most home treadmills have a maximum incline of either 10%, 15%, or 20%. Good incline trainer treadmills usually have a maximum incline of 40%.
IS CUSHIONING IMPORTANT?
Cushioning helps provide support when walking, jogging, or running on a treadmill and is especially important if you have sensitive knees and joints. This makes the cushioning of a treadmill and deck support one of the most important features of any home or commercial running machine.
A well-cushioned impact zone in the front of the machine provides maximum cushioning to absorb the initial strike of your foot, similar to that of the padded heel of a running shoe.
In the middle of the deck, a moderately cushioned transition zone provides comfort and stability as you move through your stride. To add to this, the back of the deck is normally fitted with a firmly cushioned push-off zone, which allows you to achieve maximum momentum into your next stride. Our most popular fixed treadmill that offers great cushioning is the Taurus 10.5 Pro Treadmill and is worth checking out.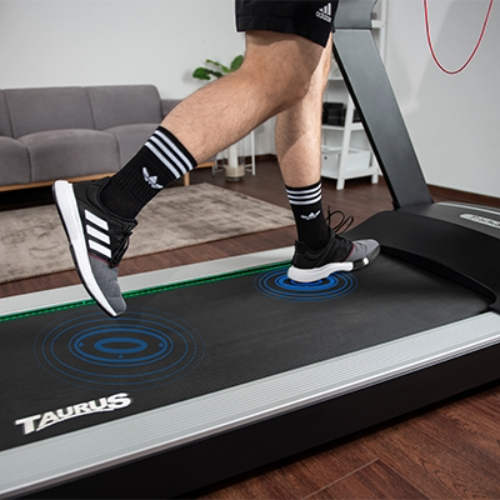 WHICH MOTOR SIZE SHOULD I LOOK AT?
When comparing treadmill motors you want to go by the horsepower. The larger the horsepower, the more power is generated.
The bigger the motor, the higher the top speed, and the less likely your treadmill is to struggle when approaching fast speeds. For those who run, or jog regularly, it's important to take this into consideration as you would want a treadmill that can handle the amount of times you train on it daily.
As a general rule of thumb remember anything over 3HP would be regarded as a commercial treadmill, and anything below would be regarded as a home-use treadmill.
Top Tip: The lower the motor size, the lower the maximum weight capacity of the treadmill.
HOW DO I PICK THE BEST CONSOLE?
Most treadmills today have a built-in LED / LCD or LCD HD console that ranges anywhere in size from 5" up to 15" or more. This can make it quite hard to choose between them but in the end, it completely comes down to what you need or want.
Our top 6 key things to look for on a treadmill console are:
Hot Keys: These are buttons with pre-set functions such as speed, incline, quick start, stop, and volume control. They make changing settings really simple.
Workout Programs: Most consoles come with pre-installed workout programs, and it's always worth checking how many programs there are, including heart rate options.
Stats: Make sure that the console at a minimum provides you with your real-time stats: time, distance, speed, incline, resistance, heart rate, calories, and watts.
Entertainment: Check what apps are included, this can be things like Kinomap, Amazon, Netflix, Spotify, Facebook, Twitter, and Instagram. Some treadmills also offer built-in speakers.
Phone Connectivity: Some consoles allow users to connect their mobile to the console via Bluetooth or similar. This lets users connect earphones to the console, track their workouts via their phone, and more.
Extras: This includes compatible tablet holders, screen-mirroring capability, or even different console options. These extras are always worth an ask.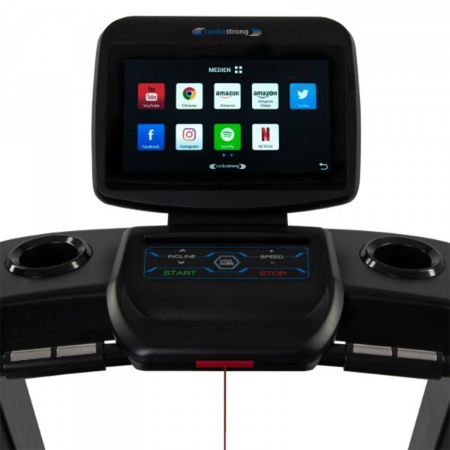 INTERACTIVE RUNS
There is a range of workout apps widely available on both iOS and Android. Apps such as Zwift, and Peloton are some of the most popular (subscriptions required) and work with specific treadmills, but some others to consider are: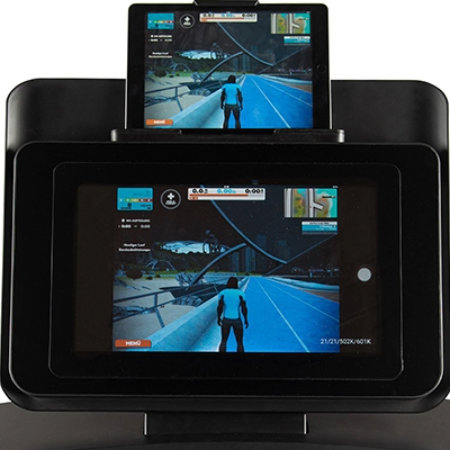 Kinomap – A workout app that connects to your equipment and gives you access to over 450,000km of routes available for running, cycling, or rowing. Kinomap allows users to record and upload their own routes to the database that can then be accessed by all other subscribed users, meaning you can run, cycle, or row along with real-life footage. Check out the cardiostrong TX90 Smart Folding Treadmill that connects to the Kinomap workout app, allowing you to maximise your workout performance.


iFIT – Compatible with ProForm and NordicTrack treadmills, it creates a completely interactive training experience. iFIT sends you a brand new workout every day, designed by certified personal trainers, making it so you'll never get bored.

iFIT's ever-growing workout library offers programs for beginners to marathoners, and automatic tracking helps you keep track of your fitness progression. There are also workouts that are based on Google Maps that will take you anywhere in the world. Check out the NordicTrack 1750 V24 Treadmill to take your workout virtually worldwide.
LF Connect – Compatible with Life Fitness treadmills, LF connect allows users to work out and record their progress through the app. Adaptive audio coaching classes adapt to your biometric data as you work out and adjust your coaching on the fly. From Nike Run Coaches to fitness trainers, you get a coach and workout that reacts to you--and only you--in real-time. The on-demand classes can be streamed at any time as the instructors lead you on your treadmill workout.
TYPES OF TREADMILLS
We provide a wide range of treadmills to meet different budgets and goals, ranging from affordable home treadmills to commercial treadmills. We recognise that each treadmill offers various advantages for exercise, and some may suit some people better than others.
Two types of treadmills are most popular: fixed treadmills and folding treadmills. Known as the traditional style of treadmills, they are the go-to solution for many health clubs and home gyms.
Fixed Treadmills: Fixed treadmills or non-folding are traditionally more stable than folding treadmills, stronger, and more robust. They tend to be more expensive due to having a larger motor size, running deck, and higher maximum weight capacity. This is why they are usually found in a commercial gym or hotel. They are designed to cater to various target audiences and to be used more often than home-use treadmills.


Folding Treadmill: Foldable treadmills offer the perfect balance between offering a space-saving solution and allowing you to work out at home. They are ideal for those who have limited space, and most are fitted with assisted or automatic dropping technology, making it easier to raise and lower the running deck. We offer a variety of folding treadmills including the cardiostrong TX90 HD Smart Folding Treadmill . Find out more here.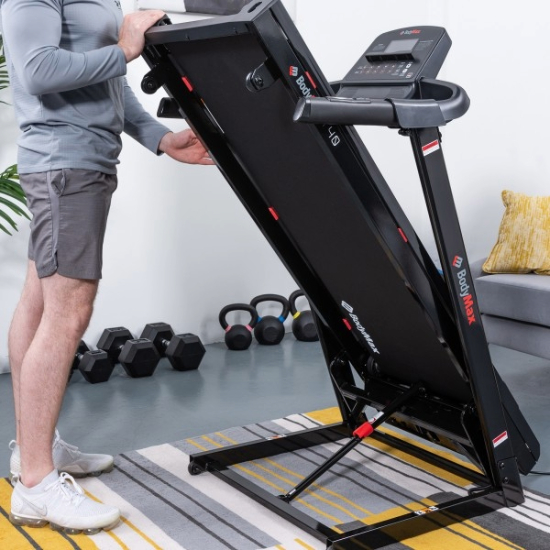 Walking pads and curved treadmills are brilliant options for those looking for a treadmill that will fill more specific needs. Allowing users to focus their workouts on achieving specific goals like sprints, HIIT training, or hitting a certain step count.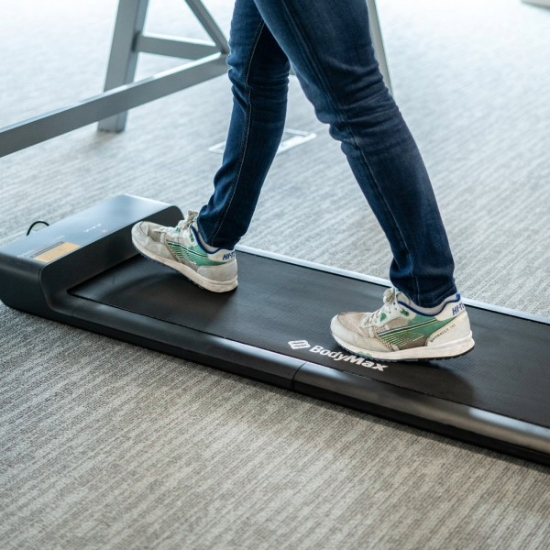 New Walking Pads: Walking pads or desk treadmills are a superb option for home and office work. Walking at a gentle pace has been proven to increase creativity and productivity as well as general health and well-being improvements. They also make it easy for you to get in your daily steps. Our favourite walking pad to highlight is the BodyMax WP60 Treadmill Walking Pad.


Curved Treadmills: The latest trend in treadmills. Self-powered, curved treadmills allow you to run with a natural running style, on the balls of your feet, pushing you forward and creating momentum to rotate the treadmill belt.
COMMERCIAL TREADMILLS
For those who need a higher-spec of treadmill, look towards our brands including cardiostrong, Taurus, Life Fitness, and Spirit.
Comparing specifications and features will give you an idea of what to expect before you invest, as each brand will have unique selling points. For example, some of the latest cardiostrong and Taurus treadmills have screen mirroring functionality on the consoles, which is a feature other brands don't have.
TREADMILL ACCESSORIES
When you invest in a treadmill for your home, it is essential to ensure that you have the best possible running experience. It's important to consider what additional cardio accessories you may need to include in your purchase and why.
We suggest investing in a CV Mat to complete your setup, which will not only protect your floor but also provide a wipeable surface for your treadmill. This can be easily rolled and stored away and is a great sound-dampening accessory.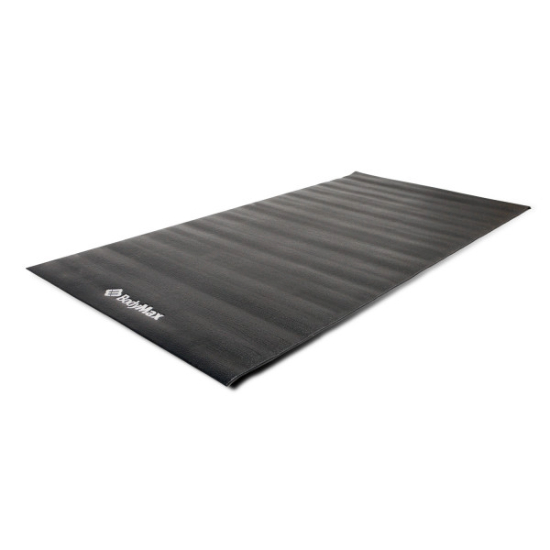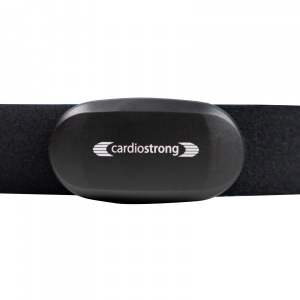 Heart rate monitors will also allow you to keep on track with your training when using your treadmill. It's perfect for measuring your heart rate and can connect to your treadmill or mobile device via Bluetooth. Available as a strap or wearable device.
Recovery is also equally as important as performance. A massage gun is a perfect way to aid with muscle recovery after a grueling run. Cushioning on the treadmill does reduce the impact on your joints, however, a massage gun will help aid in the recovery of your muscles. Find out more about recovery and massage guns here.
BENEFITS OF HAVING A TREADMILL AT HOME
When used regularly, a treadmill at home or in the gym can bring a range of health benefits as well as practical benefits.
Helps to reduce impact when training
Complete control of training
Interactive motivation
Weight loss
Healthier lifestyle
Heart health
Build muscle
Helps to reduce impact: Using a treadmill can help reduce the impact running or jogging has on your joints. When running outdoors on harder surfaces, your leg muscles and joints are taking the impact of hard or uneven ground and over time this can cause wear and tear. As treadmills have a responsive and shock-absorbent running deck, this helps dramatically reduce this when running. Please note that the shock-absorbance varies depending on the quality of the treadmill and how it has been designed to be used.
Complete control of training: You are in complete control of your training when running on a treadmill. From controlling the incline, speed, and entertainment, you decide what type of training you do, and for how long.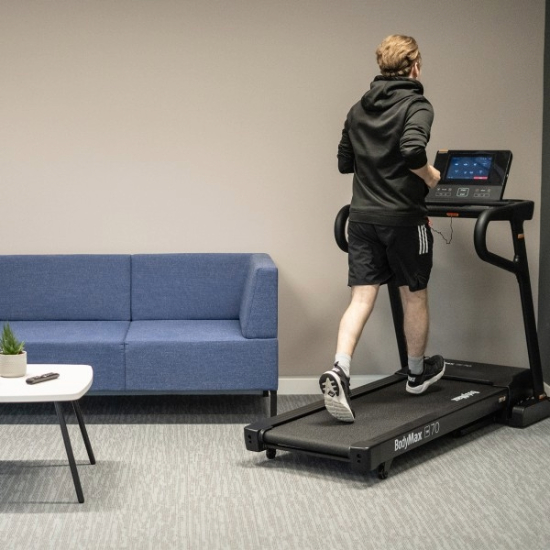 Depending on your fitness level you can program the running machine to ensure you are getting the most from your training. Many treadmills come with preset programs or are compatible with fitness apps to aid with this.
Interactive motivation: Training apps are a great way to enhance your running, walking, or jogging. And some treadmills such as the NordicTrack X32i Incline Trainer are especially good when working with the iFit app to simulate hill climbs and challenge you with interval or HIIT training, all by adjusting the incline angle automatically as you concentrate on training. Runners can become more motivated and push themselves to new heights with treadmills that offer user interaction.
Healthier lifestyle: Running on a treadmill helps you to think better, become healthier, and feel much happier. This running machine is the perfect way to burn calories, build stamina and improve your lung capacity.
WHY BUY YOUR TREADMILL FROM POWERHOUSE FITNESS
Why buy from Powerhouse Fitness? We are the longest-established fitness equipment retailer in the UK, and Europe's #1 For Home Fitness. We can offer you so many benefits when you choose to buy with us, including:
Expert sales staff offering impartial advice in-store, online, over the phone, email, live chat, and social media.
Try before you buy: Most of our treadmills can be tried and tested in-store, including demos of compatible workout apps. Find your nearest store here.
Interest-free finance: Available online and in-store to find the most cost-effective solution to invest in your purchase. Find out more.
Installs: All our folding, fixed, curved treadmills, and walking pads come with easy-to-follow assembly instructions, however, an installation service is also available.
Delivery: We deliver anywhere in the UK, and offer a range of delivery services with our courier partners. Find out more here.
Aftercare: Our dedicated team of specialists offers world-class after-sales and care, available 7 days a week to answer any questions or queries.
Ex-Display: We offer a range of ex-display showroom model treadmills, providing unbeatable discounts on treadmills, making them cheaper for you to buy.
SALES TEAM
If you would like to find out more about our treadmill range or have any additional questions, please do not hesitate to contact our in-house commercial sales team on sales@powerhouse-fitness.co.uk or 0141 737 2250.