All-In-One Trainers
All-in-one trainers belong to the group of the most versatile fitness equipment. They usually include a rack, smith machine, multi-functional pull-up station, dual cable pulley and many attachments and storage options for barbells and weight plates. All-in-one trainers are the perfect solution for homes and fitness studios offering a wide variety of exercises that target all major muscle groups. They're the ideal choice for full-body strength training with just one piece of equipment.
ALL-IN-ONE TRAINER BENEFITS
All-in-one trainer is your perfect replacement for a gym workout at home or a fitness studio. They include everything you expect at a commercial gym in a compact size. All-in-one trainers offer nearly every existing exercise, which makes them optimal for a total-body workout. There are different models that can suit different budgets, goals and needs, but they all come with many benefits, including:

✓ Greater freedom of movement (compared to multigyms)
✓ Engagement of stabilizer muscles in exercises
✓ Versitality
✓ Variety of attachments
✓ Full-body workout
✓ Compact (many workout stations in one machine)
✓ Customisation and adjustability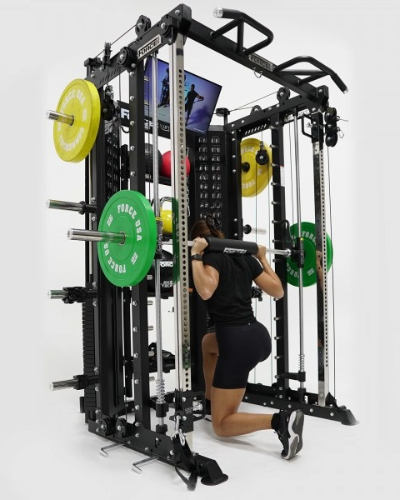 STRENGTH TRAINING BENEFITS
✓ Strengthens muscles
✓ Improves endurance
✓ Improves cardiovascular health
✓ Burns body fat
✓ Helps manage blood sugar levels
✓ Decreases risk of injuries
✓ Improves posture and stabilises joints
✓ Supports mental well-being
✓ Boosts metabolism
ADJUSTABILITY AND CUSTOMISATION
One of the greatest strengths of the all-in-one trainer is its adjustability. From the cable pulley height, through resistance to countless attachments that make the workout possibilities limitless. Unlike multigyms that provide a set number of fixed exercises, all-in-one trainers provide unlimited options regarding the variety of exercises. The adjustability of the all-in-one trainers enables its users to adapt the machine to their individual goals, needs and skill levels.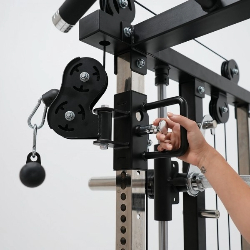 WHAT'S INCLUDED?
As the name suggests the all-in-one trainer consists of multiple machines and functionalities in one. The most important parts of the all-in-one trainers are the dual pulley machine, Smith machine and power rack. But there are many more valuable functions, so let's break them down:
✓ POWER RACK
A base of every all-in-one trainer is a power rack that offers free-weight barbell training. Included in the power rack are usually adjustable barbell hooks and safety spotters. The adjustable safety spotters allow you to push yourself to your limits during your workout without the need for a spotter. With the power rack you can perform compound exercises, such as squats that target more that one muscle group simultaneously.


✓ DUAL ADJUSTABLE CABLE PULLEY
In-built into the all-in-one trainer dual cable pulley employs tension-based loads to offer maximum freedom of movement and an extreme variety of exercises for every muscle group in the body. Tension-based weight training ensures continuous muscle engagement as it sustains the resistance even at the end of the motion. The height adjustment of the cable pulley gives the user maximum control over their workout. The resistance of the cable pulley is created either by loaded weight plates or incorporated weight stacks depending on the model of the all-in-one trainer.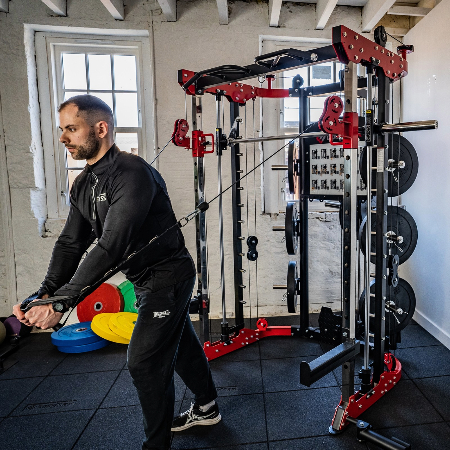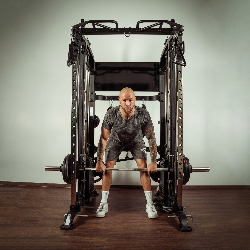 ✓ SMITH MACHINE
Most all-in-one trainers incorporate a Smith machine that uses guide rods and a supportive frame to provide a smooth and stable barbell movement. This way the user can focus on their lifting form, not having to balance and keep it steady. It's a great choice for a targeted workout or for people new to weight lifting who want to practice on a safer system and develop a consistent lifting form before moving onto free weight barbell training. The Smith machines come with adjustable spotter bars that can be fixed at the desired height and enhance the safety during the workout session.


✓ PULL-UP STATION
The all-in-one trainers feature multi-functional multi-grip pull-up stations that target different muscle groups in the upper body. Most all-in-one trainers integrate pull-up bars with multiple grip angles and widths enabling the user to perform variety of pull-up types and engaging many muscle groups in the upper body.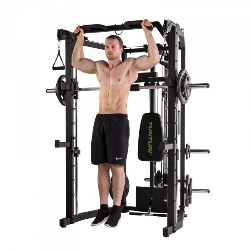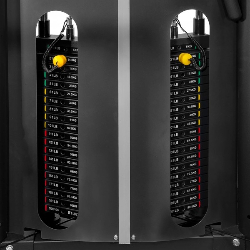 ✓ WEIGHT STACKS / RESISTANCE
The resistance for the weight training on an all-in-one trainer is usually provided by either olympic weight plates alone or a combination of weight plates and weight stacks. The olympic weight plates can be loaded onto the barbell, Smith machine or the pins connected to the cable pulley. Each of the resistance systems have its own avantages. While the fully weight plate operated resistance doesn't require additional weight stacks making the whole system lighter, the resistance created by the weight stacks is easier, quicker and more convenient to adjust, shortening the machine prep time.


✓ ATTACHMENTS
One of the greatest strength of the all-in-one trainer is its versatility. The base of the all-in-one trainers which includes a power rack, a cable pulley and a Smith machine alone provide an expensive range of exercises for a full-body workout. But with the additional attachments (majority of which are already included in the purchase) the training possbilities are truly limitless. There are two main categories of attachments for all-in-one trainers - the attachments for the machine itself and the attachments for the cable pulley. The attachments for the all-in-one trainer often include the dip attachment, landmine core traine, low row foot plater and a leg press. The cable pulley can include attachments such as lat pull bar, tricep rope, seated row handle, foot strap, short bicep/tricep bar and the long bar. It's important to check the specification of the chosen trainer to confirm which attachments are included with that specific model.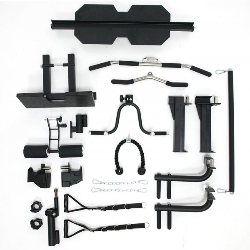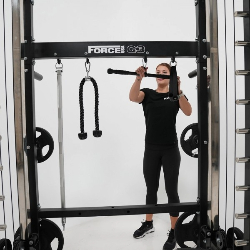 ✓ STORAGE FOR ATTACHMENTS
Since majority of the all-in-one trainer's attachments come included in the package, the machine has incorporated spaces for the storage of those attachments. Thanks to the convenient attachment storage, the workout space will always remain tidy and organised ensuring an efficient workout. Most all-in-one trainer models additionally integrate weight plate and barbell storage.


ALL-IN-ONE TRAINER EXERCISES
The power rack, Smith machine, dual cable pulley and a vast variety of attachments provide maximum diversity of exercises. The exercises that can be performed on the all-in-one trainer include: pull ups, chin ups, side plank cable row, seated cable row, reverse cable flyes, face pull, lateral raise, front squat, forward lunge, reverse lunge, lateral lunge, high cable crunch, anti-rotation press, cable crossover, single arm row, bicep curl, tricep pushdown, front squats, upright row, standing calve raises, bent-over row, barbell squats, barbell shrug, overhead press, inverted row.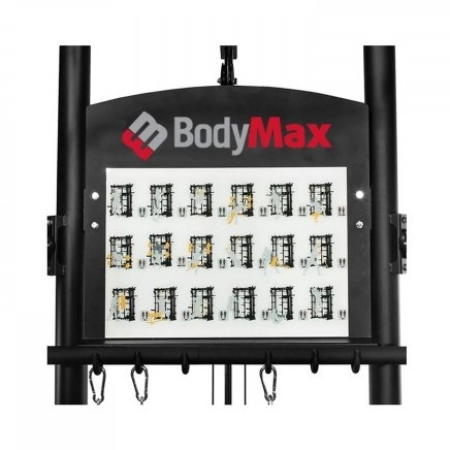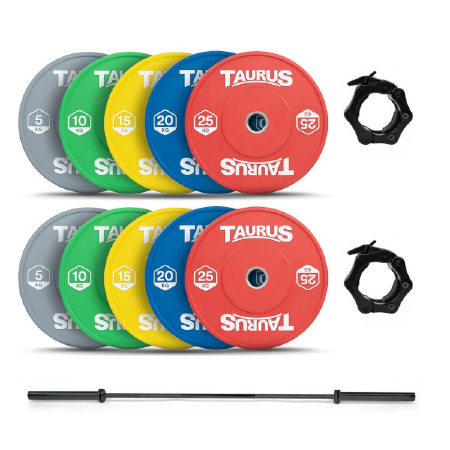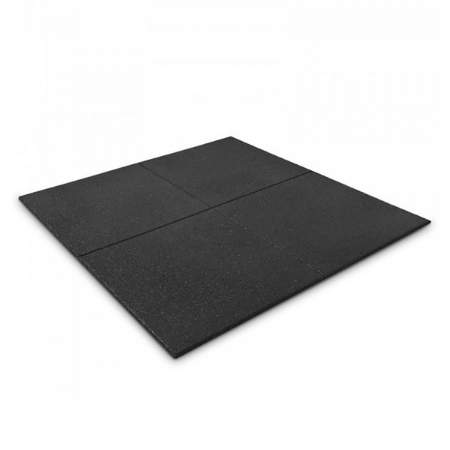 WHY BUY YOUR ALL-IN-ONE TRAINER FROM POWERHOUSE FITNESS
Why buy from Powerhouse Fitness? We are the longest-established fitness equipment retailer in the UK, and Europe's #1 For Home Fitness. We can offer you so many benefits when you choose to buy with us, including:
Expert sales staff offering impartial advice in-store, online, over the phone, email, live chat, and social media.
Try before you buy: Most of our all-in-one trainers can be tried and tested in-store. Find your nearest store here.
Interest-free finance: Available online and in-store to find the most cost-effective solution to invest in your purchase. Find out more.
Installs: All our all-in-one trainers come with clear assembly instructions, however, an installation service is also available.
Delivery: We deliver anywhere in the UK, and offer a range of delivery services with our courier partners. Find out more here.
Aftercare: Our dedicated team of specialists offers world-class after-sales and care, available 7 days a week to answer any questions or queries.
Ex-Display: We offer a range of ex-display showroom model all-in-one trainers, providing unbeatable discounts on all-in-one trainers, making them cheaper for you to buy.
SALES TEAM
If you would like to find out more about our all-in-one trainers range or have any additional questions, please do not hesitate to contact our in-house commercial sales team on sales@powerhouse-fitness.co.uk or 0141 737 2250.