Please select a product for stock availability
Shipping costs:
Free UK delivery!
Bundle contains » you save
£245.94
«
Key Features:
All-in-one trainer comprises many fundamental strength machines in one single station, saving space and money
Smith machine – 12 height positions and an ultra-smooth sliding motion
Dual adjustable pulleys – 100kg weight stacks can be added to with weight plates
Pull up and dips stations included – both feature multi grip handles and the dip bars can be adjusted in height
Expand your workout routine with a diverse selection of attachments and accessories, all included
Details
Specification
Warranty
Downloads
Description: Taurus Complete Trainer - Jammer Cable Rack System
The Taurus Complete Trainer combines all the features of a Smith machine, functional trainer, power rack, and so much more, saving space and money. The Complete Trainer has it all, a one-stop-shop for all your strength training needs.
**Please note that the weight plates and the bench are NOT included.**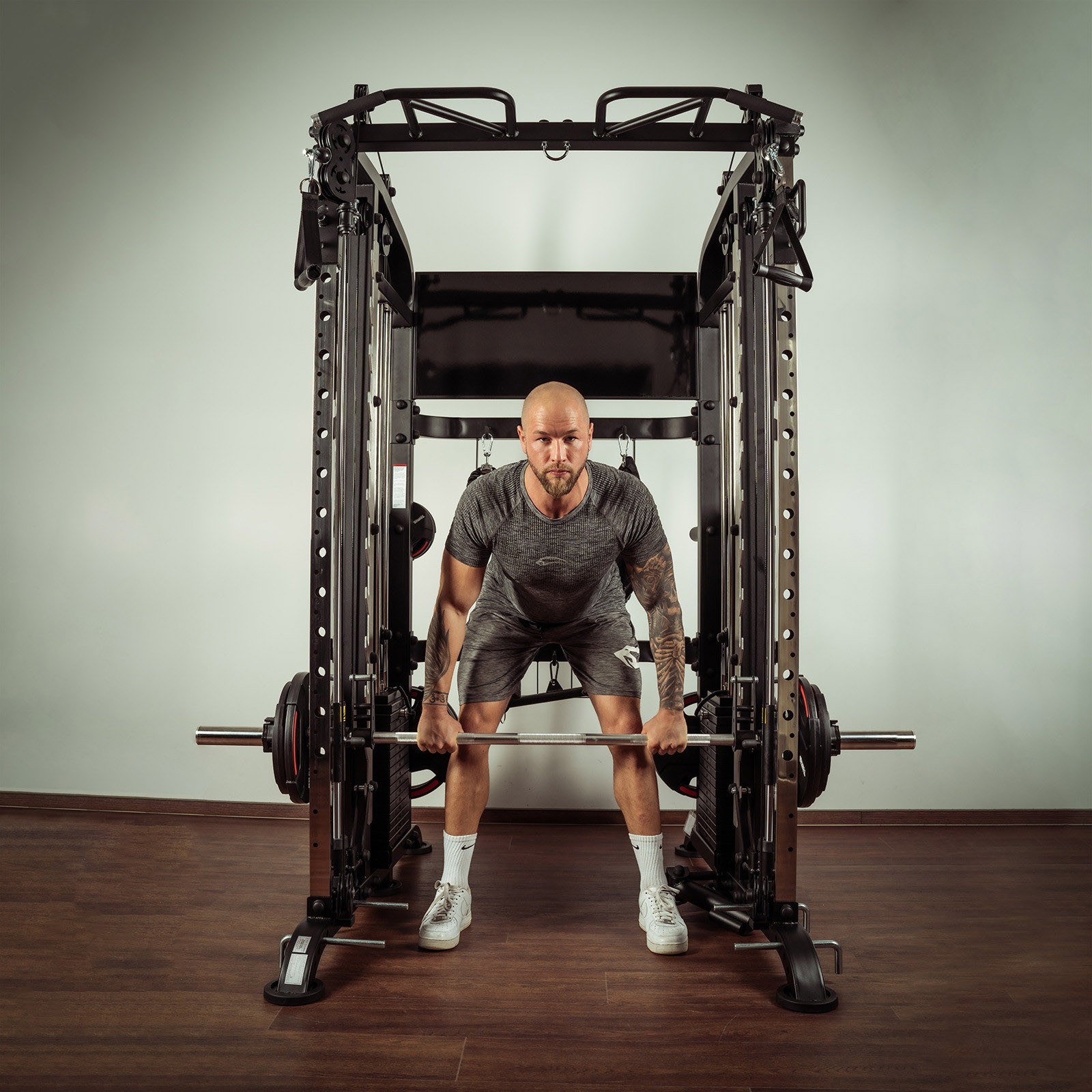 ALL-IN-ONE
An immense advantage of the all-in-one trainer is its ability to replace various gym equipment pieces. The Complete Trainer offers versatile use. The Smith machine ensures controlled barbell exercise, adding safety and precision to traditional weightlifting. Dual adjustable pulleys provide cable machine versatility for a multitude of exercises. Power racks support classic barbell training and free-weight exercises. Beyond these, the Complete Trainer boasts a comprehensive set of attachments and accessories, enhancing its versatility. With a multi-grip pull-up station and customisable dip handles, you can target specific muscles and tailor your workouts.
SMITH MACHINE
The Smith machine provides a smooth, stable approach to barbell training. Thanks to its guide rods and a supportive frame, the barbell moves along a single vertical plane, enhancing balance, safety, and lifting focus. Users can focus solely on lifting the weight, and not having to keep it steady., ensuring consistent form and precise muscle engagement. With its 12 adjustable height levels, the Complete Trainer offers abundant customisation options for various workout regimens and personal height preferences. Additionally, the equipment features height-adjustable spotter bars, serving to catch the barbell at user-defined points. This integrated safety feature eliminates the necessity for a workout partner and contributes to a secure workout environment.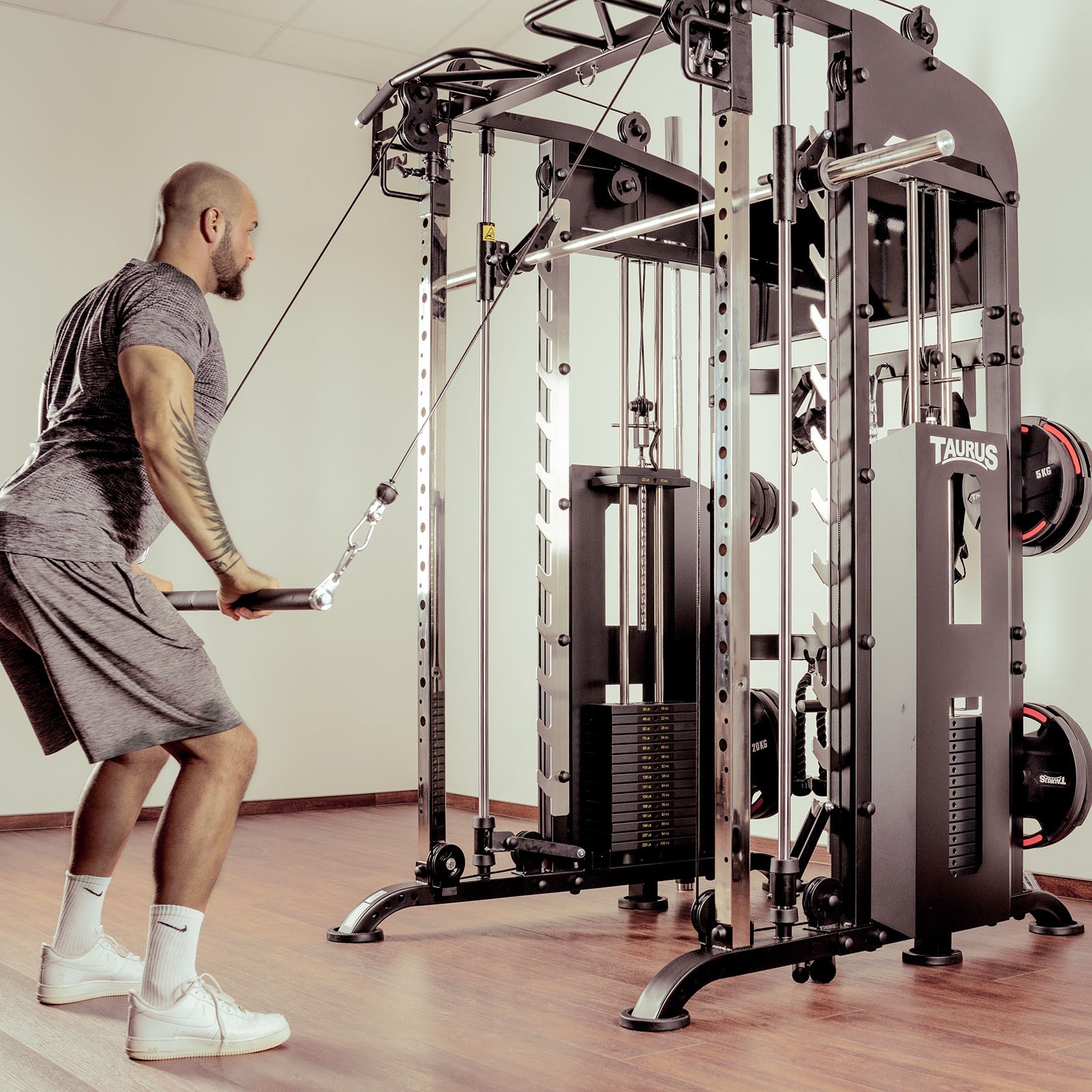 DUAL ADJUSTABLE PULLEYS
The dual pulley, a type of cable machine, employs tension-based weight loads for a vast variety of exercises. Tension-based weight training offers a key advantage by sustaining resistance even at the end of a rep's motion, ensuring continuous muscle engagement. The dual pulley's major benefit is its extensive range of push and pull exercises. Its height-adjustable pulleys grant users nearly limitless control over workouts. The Complete Trainer includes a dual pulley with 18 height adjustment slots and a 2:1 cable ratio. This ratio indicates that users effectively manage half the loaded weight, due to the pulley system configuration. The machine incorporates two built-in 100kg weight stacks, expandable using an innovative weight addition module accommodating up to 150kg of extra weight plates. Clear weight stack markings and a magnetic selector pin enable seamless adjustments, enhancing ease of use and safety.
POWER RACK
Squat racks/half racks/power racks are all basically steel frames in which you can complete free-weight barbell training. They provide a stable, sturdy platform for the user to rest the barbell on when completing a set, allowing for a wide variety of exercises, such as squats and bench presses. These workouts typically involve compound movements designed to work not only the target muscle group, but also to provide a wider body workout. Included J-hooks and spotter arms are included to allow the user to train without a partner, and these can be adjusted for height along 12 positions.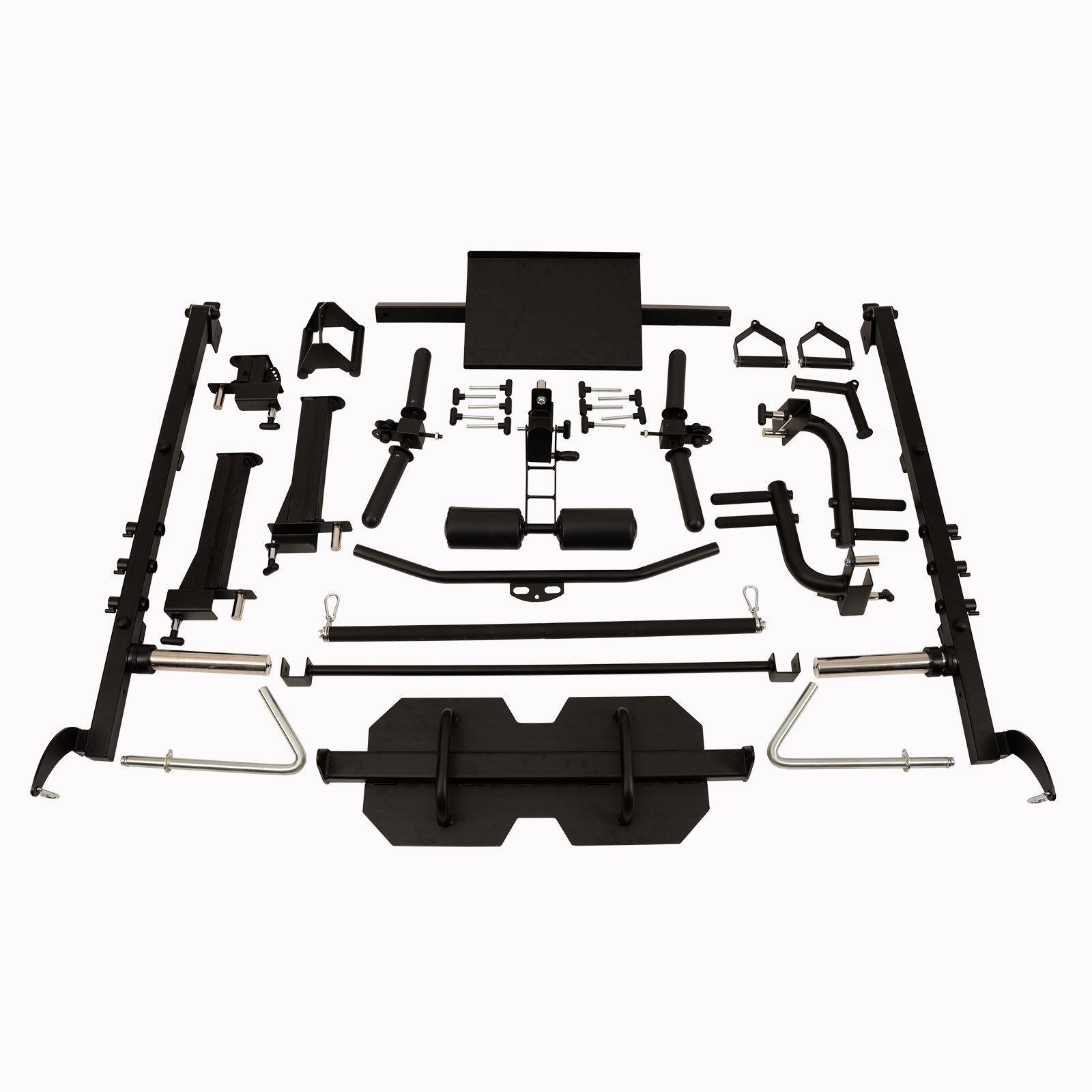 ENHANCED FEATURES AND INCLUDED ATTACHMENTS
The major components are complemented with an extensive range of additional attachments and accessories, as well as a built-in, multi-grip pull-up bar. The pull-up station has five different grip types, and on the widest grip features a soft, comfortable foam sleeve to aid with those testing workouts. There's also a built-in suspension training hook to allow users to connect their resistance bands and suspension trainers. Also included is both barbell and weight plate storage, which will help keep your gym space tidy and safe, and your workouts efficient. The attachments with the Complete Trainer include:
Tricep rope
Lat pull bar
Seated row handle
Foot strap
Short bicep/tricep bar
Two best bow handles
Loop for abdominal training
Leg press module
Dip station
J-hooks and spotter arms
Padded roll for ab and leg exercises
Jammer arms
Two long bars to connect cables to jammer arms
Tricep attachment and chains
Specification: Taurus Complete Trainer - Jammer Cable Rack System
Dimensions Open
147x188x219cm (LxWxH)
Warranty conditions for Taurus Complete Trainer - Jammer Cable Rack System
For further information on the warranty, please refer to the manufacturer's terms of warranty. The manufacturer's warranty is an extra service and does not affect your statutory rights.
| Manufacturer's warranty | Full Warranty |
| --- | --- |
| Home | 2 years |
| Light Commercial | 12 months |
Downloads: Taurus Complete Trainer - Jammer Cable Rack System
User Manual
Manual
We offer 0% APR finance* as well as classic credit options on hundreds of products
* Subject to status and minimum spend of £500.
For more information - click here.
---
To pay on finance simply choose 'V12 Finance' at the checkout.
---
With finance the first payment is typically taken 30 days after the delivery of your goods.
---
3 great reasons to buy on finance
No messy paperwork
Instant decision
0% APR Interest Free finance (on selected products) over up to 12 months or Classic Credit at 15.9% APR Representative for up to 4 years
---
Only available to UK residents over the age of 18. Subject to terms and conditions. Signature on delivery may be required. Goods may require to be shipped to the address given on your finance application.
Step 1: Enter Deposit
Step 2: Select a finance option
| Loan Term | 6 Months | 12 Months | 24 Months | 48 Months |
| --- | --- | --- | --- | --- |
| Cash Price | £4,499.00 | £4,499.00 | £4,499.00 | £4,499.00 |
| Amount of Deposit | £2,249.50 | £2,249.50 | £2,249.50 | £2,249.50 |
| Total Amount of Credit | £2,249.50 | £2,249.50 | £2,249.50 | £2,249.50 |
| Annual Rate of Interest | 0.00% | 0.00% | 8.09% | 8.30% |
| Monthly Repayment | £374.92 | £187.46 | £108.91 | £62.43 |
| Representative APR | 0.00% | 0.00% | 15.90% | 15.90% |
| Total Cost of Credit | £0.00 | £0.00 | £364.27 | £747.18 |
| Total Amount Payable | £4,499.00 | £4,499.00 | £4,863.27 | £5,246.18 |