Exercise Bikes
4

interest-free

payments of

£99.75

Ex-Display from

£1,499.00

Ex-Display from

£1,469.00
Indoor bikes were developed by cyclists in the 1970s to carry out regular training sessions regardless of wind, weather and time of day. They offer everyone the opportunity to complete effective endurance training, regardless of whether they are cyclists, professional or recreational athletes. With the exercise bike, you can lose weight, improve your fitness level, strengthen your cardiovascular system or increase your performance. Almost all gyms now offer indoor bike classes. The exercise bike for home is a perfect choice for anyone looking to train whenever and however they want, regardless of time, distance or weather. Read on to find out what to look out for when buying an exercise bike.
EXERCISE BIKE - BENEFITS

✓ Burns calories
✓ Supports weight loss
✓ Improves heart health
✓ Enables interval training
✓ Joint-friendly form of exercise
✓ Strengthens muscles
✓ Improves endurance
✓ Improves mood and mental health
✓ Offers low-impact training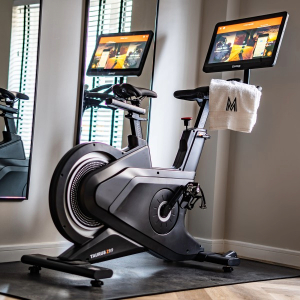 TYPES OF EXERCISE BIKES ✓ Studio Bikes

Studio bikes are the most similar category to the road bike both in the design and the riding experience. They are either chain or belt-driven and operate on either friction or magnetic resistance depending on the model. Many studio bikes incorporate larger screens with built-in training programmes and entertainment and can additionally be connected to an external device such as a table or a mobile phone through Bluetooth. Studio bikes are an ideal choice for road cyclists looking for a solution to train at home and people looking for an intense, longer entertaining workout that will help them lose weight, improve endurance and strengthen muscles. In most cases both the saddle and handlebars of a studio bike are adjustable vertically and horizontally to offer a comfortable riding position. Many studio bikes incorporate SPD compatible pedals, making them ideal for road cyclists and more intense workouts.

✓ Upright Exercise Bikes

Upright exercise bikes are the perfect choice for beginners and intermediate riders looking for comfortable, quick and easy-to-use cardio equipment for their home. The console of an upright bike provides all the essential data and additionally offers built-in training programmes and user profiles that can give you a boost of motivation during your workouts. Many upright bikes have Bluetooth connectivity allowing you to connect them to your device and use a variety of entertaining workout apps. The saddle of an upright bike is larger and wider than those found on studio bikes providing more comfort during shorter training sessions. Many upright bikes incorporate an easy step-through design making it easier to get on them when they're used for rehabilitation. Upright exercise bikes utilise magnetic resistance that can be adjusted electronically from the console. The resistance in upright bikes can be adjusted to the desired resistance level very accurately making the performance measurement very precise.




✓ Recumbent Exercise Bikes

Recumbent bikes differ from the usual exercise bike design. The pedals are not mounted under the seat, but rather at the front of the device. The saddle is behind the pedals and therefore positioned lower. This means that the training position on the recumbent bike is almost lying down, only with the upper body more upright. Recumbent bikes are joint-friendly and offer even more comfort during training providing a lot of support for the back. The resistance system and the consoles are similar to those found in upright exercise bikes. However, recumbent bikes offer larger and more supportive adjustable seats with back support making them ideal for users with less mobility and for rehabilitation. The step-through design makes them easily accessible.

✓ Air Bikes

Air bikes are the perfect full-body trainers as they engage both your upper and lower body in the exercise. They are suitable for users of every training level thanks to the air resistance system. The air resistance is controlled by the user with the speed and dynamics of the movement. The faster you pull, push and cycle the higher the resistance becomes. Air bikes are perfect for short high intensity workouts, HIITs and warm-ups. Taurus Ergo-X is an ideal example of a full body trainer.

WHAT TO CONSIDER?


THE DRIVE

When purchasing a studio bike you have the choice between a chain drive and a belt drive, while upright exercise bikes and recumbent bikes are belt driven. Some studio bikes are driven with a classic chain. The disadvantage of a chain drive is that they're more noisy during training and that you need to check the oil and chain tension regularly. Some swear by the chain drive suggesting that the riding experience is more authentic than with a belt drive. A belt drive has the great advantage that it does not require any maintenance. The belt is made of durable plastics or kevlar and is very smooth and quiet during training.

THE FLYWHEEL

Every indoor bike should run smoothly and flawlessly. To ensure this, you should pay attention to the correct composition of the individual components of the exercisebike. A flywheel is a weighted disc located either at the back or the front of an indoor bike. It's connected to the pedals with a chain or a belt and when the user begins pedalling, the flywheel starts spinning. Flywheels can vary in weight, the heavier the flywheel the harder it will be to begin pedalling and the smoother the ride will be once the flywheel is spinning. Because of that the heavier flywheels tend to resemble road bikes more, giving outdoor cyclists who train on an indoor bike during winter a more realistic experience.

THE BRAKING SYSTEM

The most common and well-known type of brake on a studio bike is the felt brake. A metal plate covered with felt is pressed against the flywheel creating the braking effect. Using a rotary knob, the pressure of the brake can be increased, which increases the training resistance and intensity. The resistance can be regulated manually from 0 to 100 percent.

There is also the magnetic brake which is used in upright exercise bikes, recumbent bikes and many studio bikes. Here, a strong magnet creates the resistance on the flywheel, and it can be adjusted using a rotary knob or electronically. Some indoor bikes offer resistance up to 2200 watts. The advantage of this variant is that the magnetic brake has no direct contact with the flywheel and therefore works completely friction-free, noiselessly and maintenance-free. Thanks to that the ride is way smoother compared to felt brakes.




THE TRAINING CONSOLE

Essential data including time, distance and speed should always be displayed on a training computer. A practical extra are hand pulse sensors that transmit the training pulse to the console. This provides you with an overview of your training results and performance. Many studio bikes can now also be used with a chest strap for precise heart rate measurement.

Most studio bikes also display the calorie consumption during training. Other measurements that can be found on a training computer of a studio bike are RPM and wattage. The RPM function counts the revolutions per minute while cycling. This makes it possible to achieve a consistent cadence on the indoor bike. With the wattage display you have a precise summary of the power applied on the indoor bike. In addition to heart rate measurement, watt measurement is a popular performance measurement method because it is independent of external factors such as sleep, time of day, temperature or stress and only measures the performance achieved.




THE PEDALS

When choosing an exercise bike you should also consider its pedals. The pedals should provide a firm and secure hold and prevent slipping. A secure fit on the pedals is an extremely important aspect, as most studio bikes do not have a freewheel. This means: The axle is rigidly connected to the pedal arm so if you pedal backwards, the flywheel would also rotate in the other direction.

The optimal pedal for a studio bike is the pedal that has a platform pedal on one side and a clipless pedal on the other. This means you don't have to commit to a pedal system and are prepared for the widest possible range of uses. An example of a studio bike with the combination pedals is Taurus Z9 Pro.




THE ACCESSORIES

You can easily swap the pedals and saddle on many models, so you can equip your studio bike with clipless pedals or a racing bike saddle, for example. Most studio bikes have the same standard threads and mounts as on trekking or racing bikes. To optimize your training and the use of the device you should consider a CV Mat , a curveplate , and a seatcover .




ADJUSTMENT SYSTEM

The saddle and handlebars of your exercise bike should allow you to change your position both horizontally and vertically. Many models have quick-release fasteners that allow you to make your adjustments quickly and easily. Freely adjustable system is ideal here, as this allows you to adapt the exercise bike even better to your body size.

Recumbent bikes offer a convenient adjustment of the seat position, sometimes including also the adjustment of the angle of the backrest to provide the upmost comfort during exercising.


SETTING YOUR OPTIMAL SEATING POSITION


Adjust saddle height correctly

✓ Stand next to the saddle. The top edge of the saddle should be at the level of your hip bone.
✓ When you sit on the saddle, you should just be able to reach the pedal with your heel with your leg fully extended. In this position, make sure that your pelvis remains horizontal and is not tilted.

Adjust saddle depth correctly

✓ Bring the pedals to a horizontal position. Adjust the depth of the saddle so that your kneecap is now over the ball of your foot and the ball of your foot is over the pedal axle. ✓ The kneecap, ball of the foot and pedal axis should be in a vertical line.

Adjust handlebar height correctly

✓ If you are just starting to train on an indoor cycle, first adjust the handlebars to the highest position. You can reduce the handlebar height over time until you find the optimal training position for you.
✓ To protect your back, the handlebars should not be set lower than the saddle.

Tips for a relaxed sitting position

✓ Let your shoulders hang loosely in a relaxed position.
✓ A little tension in the core muscles stabilizes the lower back while riding
✓ To drive as economically as possible, your upper body should move only a little



OUR TOP PICKS

---


STUDIO BIKES


Beginner BodyMax B15 Exercise Bike

✓ Robust frame with 20kg heavyweight flywheel

✓ LCD console

✓ Horizontal and vertical seat adjustment

✓ Fully adjustable handlebars

✓ Robust home studio bike, great for tall users




Advanced Taurus IC70 Pro Studio Cycle Exercise Bike

✓ Robust 20kg flywheel suits intensive use

✓ LCD console

✓ Adjustable handlebar

✓ Vertical and horizontal saddle adjustment

✓ Friction brake braking system

✓ Suitable for HIIT style training




Expert Taurus Z9.9 Pro Exercise Bike

✓ 21.5" premium touchscreen compatible with apps like Kinomaps, Zwift, Netflix, Youtube and more!

✓ 32 levels of resistance

✓ Bluetooth heart rate capability (sold separately)

✓ Ultra-quiet magnetic braking system

✓ Dual-sided pedals with SPD-system on one side and toe cage on the other

✓ Transport wheels for easy storage

✓ App Connectivity




---


UPRIGHT BIKES


Beginner cardiostrong BX30 Upright Exercise Bike

✓ 32 Variable Resistance Levels

✓ 19 Exercise Programs

✓ Adjustable Seat & Handlebar Positions

✓ Silent magnetic resistance

✓ 130kg Maximum User Weight




Advanced cardiostrong BX50 Exercise Bike

✓ Adjustable seat

✓ Cushioned saddle

✓ 19 On-board training programs

✓ Large and easy to read console

✓ Integrated tablet / mobile phone holder




Expert cardiostrong BX70i Upright Exercise Bike

✓ 32 resistance levels to help build muscle mass

✓ 18 on-board workout programs

✓ Easy-to-use 5" LCD console

✓ Step-through design provides easy access and comfort

✓ Fully adjustable handlebars and saddle to accommodate all users

✓ Transport wheels for easy relocation

✓ App Connectivity




---


AIR BIKES


Beginner/Advanced Taurus Ergo-X Classic Air Bike - Exercise Bike

✓ Powered by air resistance

✓ Engages the full body for a comprehensive workout

✓ LCD console for measuring performance and setting goals

✓ Comfortable and adjusts to fit various heights

✓ Sturdy frame allows for intensive workouts

✓ Transport wheels for easy storage




Expert Taurus Ergo-X Air Bike - Exercise Bike

✓ LCD console displays real time workout stats

✓ Heavy duty steel frame construction

✓ Wireless heart rate receiver allows you to monitor and stay in your target heart rate zone

✓ Suitable for home or commercial use

✓ Pre-programmed HIIT programs




---


RECUMBENT BIKES


Beginner/Advanced cardiostrong BC50 Recumbent Exercise Bike

✓ Low-step through seat for easy access

✓ Oversized seat with mesh back rest for extra comfort

✓ 32 adjustable resistance levels

✓ 19 exercise programmes

✓ Silent magnetic resistance for smooth, jerk-free resistance

✓ Transport wheels for easy relocation




Expert Taurus RB9.9 Light Commercial Recumbent Exercise Bike

✓ Extra-low acces for ease

✓ Excellent for rehabilitation or those with joint pain

✓ 25 On-board exercise programs

✓ 32 Resistance levels

✓ Adjustable saddle

✓ Pedals include toe clips and straps

✓ Transport wheels for easy relocation




---



WHY BUY YOUR EXERCISE BIKE FROM POWERHOUSE FITNESS
Why buy from Powerhouse Fitness? We are the longest-established fitness equipment retailer in the UK, and Europe's #1 For Home Fitness. We can offer you so many benefits when you choose to buy with us, including:
Expert sales staff offering impartial advice in-store, online, over the phone, email, live chat, and social media.
Try before you buy: Most of our exercise bikes can be tried and tested in-store, including demos of compatible workout apps. Find your nearest store here.
Interest-free finance: Available online and in-store to find the most cost-effective solution to invest in your purchase. Find out more.
Installs: All our exercise bikes come with easy-to-follow assembly instructions, however, an installation service is also available.
Delivery: We deliver anywhere in the UK, and offer a range of delivery services with our courier partners. Find out more here.
Aftercare: Our dedicated team of specialists offers world-class after-sales and care, available 7 days a week to answer any questions or queries.
Ex-Display: We offer a range of ex-display showroom model exercise bikes, providing unbeatable discounts on exercise bikes, making them cheaper for you to buy.
SALES TEAM
If you would like to find out more about our exercise bike range or have any additional questions, please do not hesitate to contact our in-house commercial sales team on sales@powerhouse-fitness.co.uk or 0141 737 2250.