Please select a product for stock availability
Shipping costs:
Free UK delivery!
Bundle contains » you save
£37.40
«
1x

1x

Key Features:
Offer a wide range of exercise options, making them ideal for spine flexibility, strength training, core conditioning, and more
Seamlessly integrated into any environment with their sophisticated and minimalistic design
Can be mounted from floor to ceiling or on the wall without the need for drilling
Crafted from solid beech wood and durable steel
Comply with all safety standards for gymnastic equipment and are certified for use in various institutions, including gyms and schools
Details
Specification
Warranty
Downloads
Description: BenchK 521 Wall Bars
BENCHK 521 WALL BARS: WHERE COMFORT MEETS FUNCTIONALITY AND STYLE
The BenchK 521 Wall Bars, featuring eight oval beech wood rungs, provide an all-in-one fitness solution that can be installed from floor to ceiling or on the wall, making them a versatile addition to your space. Their sleek and minimalistic design complements your surroundings, whether your home, office, or personal gym. These wall bars offer multiple exercise possibilities, from enhancing spine flexibility to mastering strength training and core conditioning. What sets them apart is the fixed steel 6-grip pull-up bar, adding another dimension to your workout routine. With options in black matte and white matte, the BenchK 521 Wall Bars combine solid beech wood and steel, creating sports furniture that seamlessly fits any interior.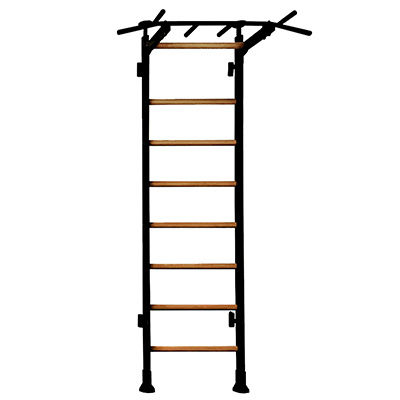 FITNESS FOR EVERY GENERATION
The BenchK 521 Wall Bars are a thoughtful fitness solution designed for all age groups, making them an ideal choice for your entire family. Whether you're an adult or have youngsters at home, these wall bars foster physical development and a love for movement, encouraging every family member to stay active.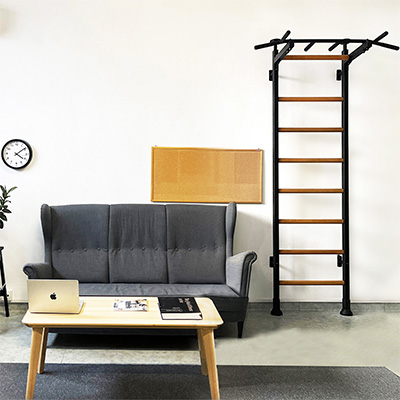 CATERING TO YOUR FITNESS JOURNEY
Whether focused on improving joint mobility, building strength, or achieving a full-body workout, the BenchK 521 Wall Bars can be adapted to your fitness level, motivating you to reach your fitness goals. For even greater workout variety, the wall bars can be equipped with an optional dip bar and workout bench (sold separately).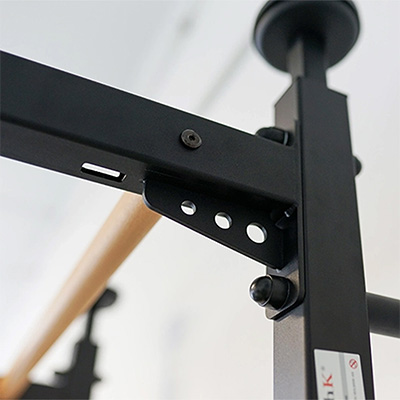 FIXED STEEL 6-GRIP PULL-UP BAR
The BenchK 521 Wall Bars include a fixed steel 6-grip pull-up bar, offering a range of exercise possibilities. From traditional pull-ups to chin-ups, wide and narrow grip variations, leg raises, hanging leg twists, and more, this pull-up bar offers a comprehensive upper body and core workout.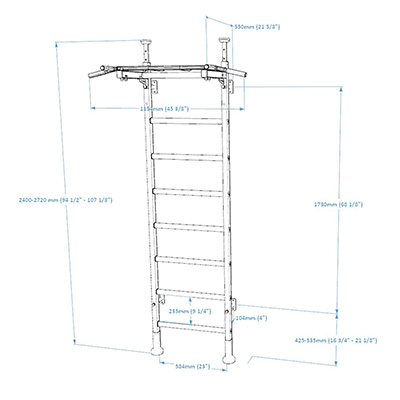 MAXIMUM FUNCTIONALITY IN MINIMAL SPACE
With a compact design that requires a mere 0.5m² of space, the BenchK 521 Wall Bars excel in functionality even in smaller areas. Crafted from steel and high-quality beech wood, they guarantee both durability and an aesthetic enhancement to your room.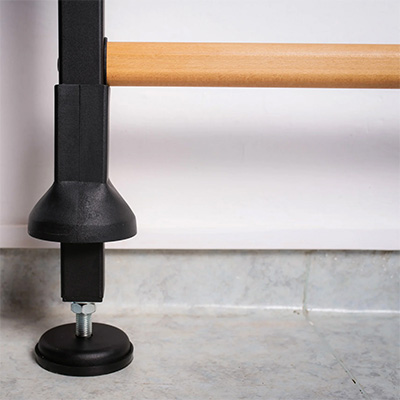 HASSLE-FREE INSTALLATION
Setting up the BenchK 521 Wall Bars is a straightforward and hassle-free experience, complete with an assembly kit for your convenience. The easy installation process ensures you can quickly begin your journey towards a healthier lifestyle without a day of delay.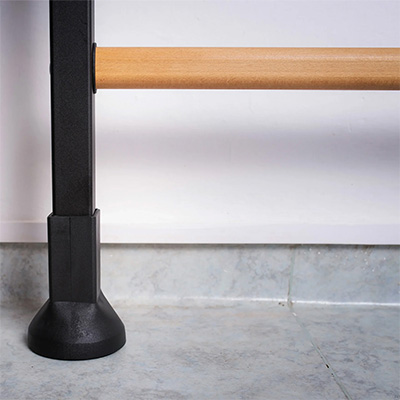 UNCOMPROMISING SAFETY AND QUALITY
Built to endure for decades, the BenchK 521 Wall Bars are manufactured using premium-quality materials and adhere to European safety standards. These wall bars aren't merely fitness equipment; they also serve as a stylish and enduring addition to your living space. 
Specification: BenchK 521 Wall Bars
Maximum User Weight
150kg
Dimensions Open
55x67x240cm (LxWxH)
Warranty conditions for BenchK 521 Wall Bars
For further information on the warranty, please refer to the manufacturer's terms of warranty. The manufacturer's warranty is an extra service and does not affect your statutory rights.
| Manufacturer's warranty | Full Warranty |
| --- | --- |
| Home | 2 years |
| Light Commercial | 2 years |
Downloads: BenchK 521 Wall Bars
User Manual
BenchK 521 Wall Bars User Manual