Please select a product for stock availability
Shipping costs:
Free UK delivery!
Key Features:
Designed with integral back support for enhanced workout comfort
Offers versatile exercises when used with BenchK wall bars
Allows users to customise the dip bar height for optimal use
Constructed with robust polyurethane for long-lasting, easy-care armrests and back support
Blends seamlessly into any room with its minimalist design and natural colours
Details
Specification
Warranty
Downloads
Description: BenchK Dip Bar DB1
BENCHK DIP BAR DB1 FOR ALL BENCHK WALL BARS
The BenchK Dip Bar DB1 is the perfect addition to your BenchK wall bar. Designed to expand your exercise options significantly, this dip bar with back support is built with your fitness needs in mind. It's available in matte black and matte white, ensuring it seamlessly integrates into your surroundings.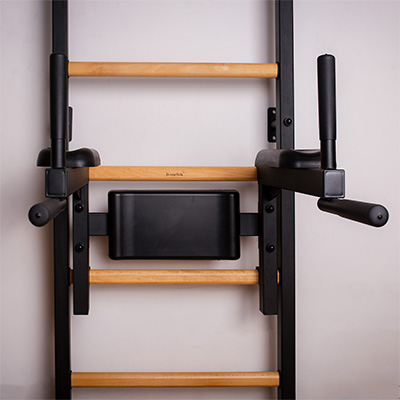 COMFORT AND SUPPORT
The BenchK Dip Bar DB1 offers exceptional comfort and support with its backrest and armrests. Experience workouts with reduced strain and enhanced stability.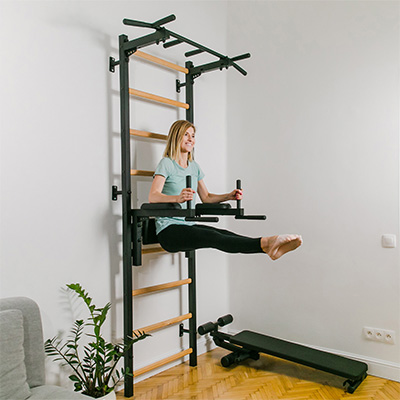 VERSATILE WORKOUTS
The BenchK Dip Bar DB1 facilitates classic dips for the chest, triceps, and shoulders. It's also ideal for effective leg raises to strengthen lower abs.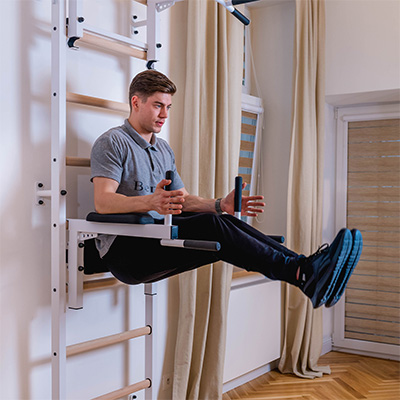 ADJUSTABLE HEIGHT
With its adjustable height, it suits users of different sizes, ensuring a comfortable and personalised workout experience, whether for strength training or core development. Customise it to your liking or remove it entirely when needed.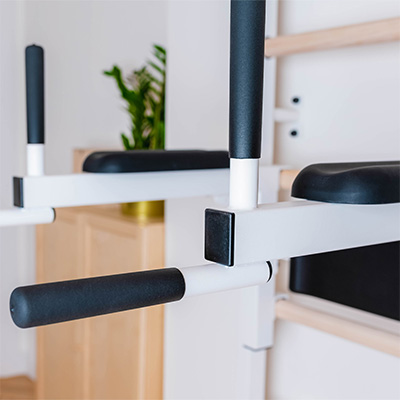 DURABILITY AND LOW MAINTENANCE
Crafted with steel and integral polyurethane foam, the armrests and back support are durable and easy to clean. This ensures a lasting, aesthetic finish with minimal maintenance.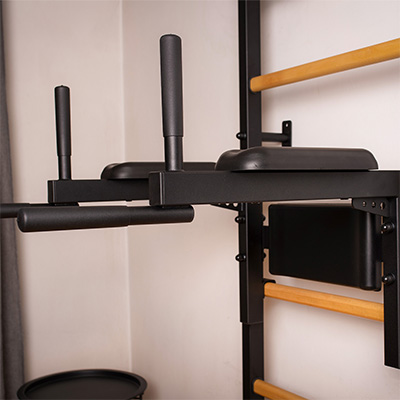 STYLISH AND DISCREET
The BenchK Dip Bar DB1's minimalist and elegant design effortlessly complements any room. Its natural colours and textures blend seamlessly with your interior decor, maintaining a sleek and discreet appearance.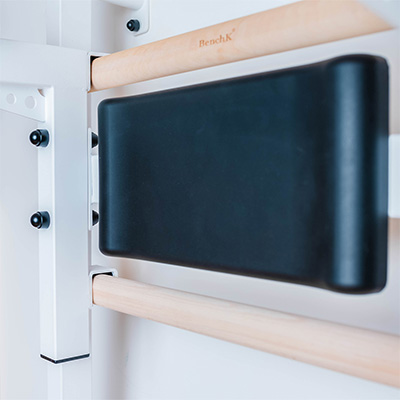 COMPLIANT WITH SAFETY STANDARDS
Rest easy, knowing the BenchK Dip Bar DB1 conforms to European safety standards for gymnastic equipment. Its precision-cut steel and sturdy construction guarantee your safety during workouts. 
Specification: BenchK Dip Bar DB1
Maximum User Weight
150kg
Warranty conditions for BenchK Dip Bar DB1
For further information on the warranty, please refer to the manufacturer's terms of warranty. The manufacturer's warranty is an extra service and does not affect your statutory rights.
| Manufacturer's warranty | Full Warranty |
| --- | --- |
| Home | 2 years |
| Light Commercial | 2 years |
Downloads: BenchK Dip Bar DB1
User Manual
BenchK Dip Bar DB1 User Manual