Please select a product for stock availability
Bundle contains » you save
£41.80
«
Key Features:
Fixed barbells ranging from 5kg to 40kg
Need to buy weight plates separately eliminated
Versatile, usable for many different exercises
Polyurethane coating minimises damage and noise
Sleek black and red design with easy-to-read weight markings
Details
Specification
Warranty
Description: Taurus Fixed Barbell
The Taurus Fixed Barbell range offers users a simple, time-saving solution to their weightlifting training needs.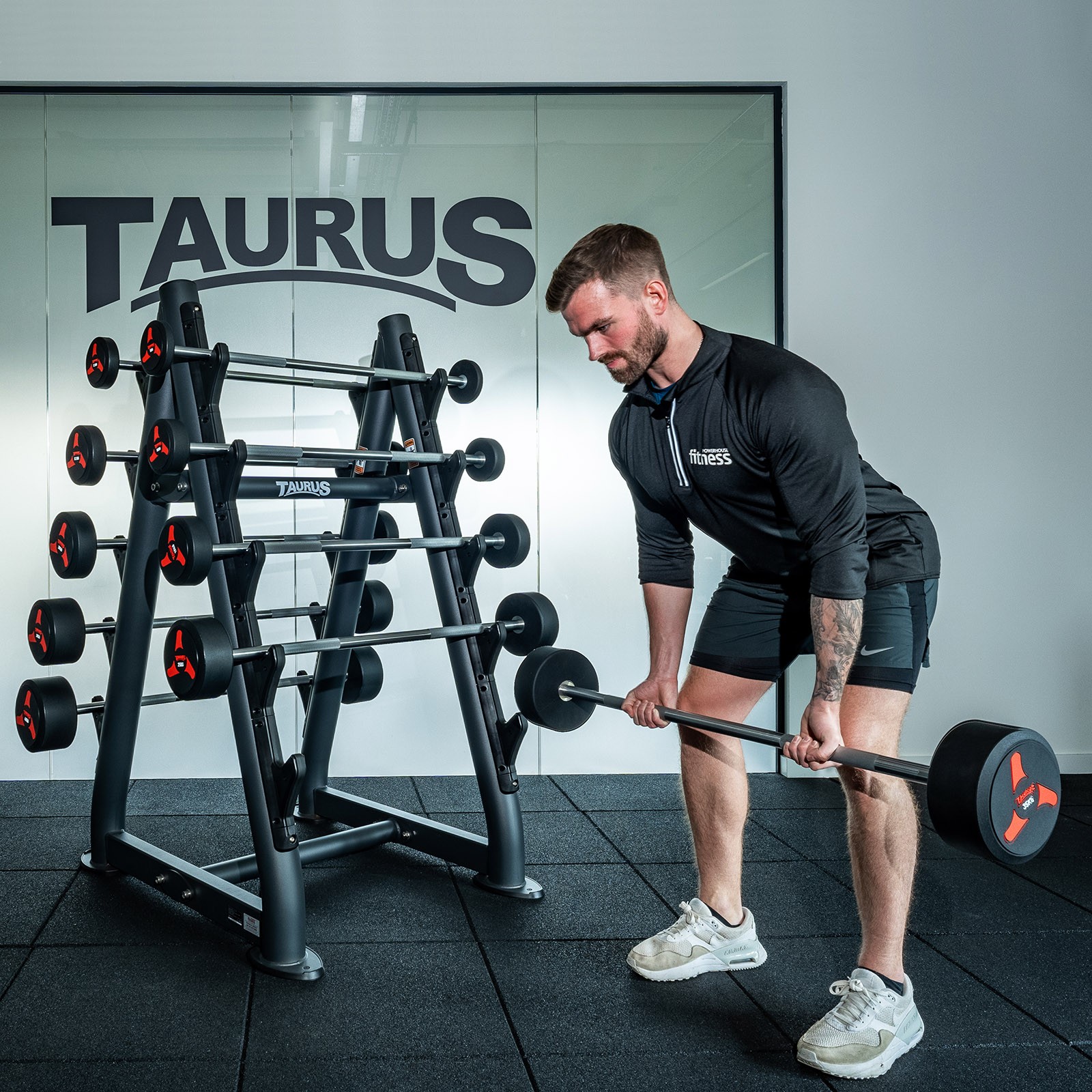 WIDE WEIGHT RANGE
Ranging from 5kg to 40kg, there's a Taurus Fixed Barbell for many different levels of user ability. Whether you're starting out in your strength training journey, looking to push yourself to new levels, or already an experienced user, the Taurus Fixed Barbell range has you covered.
NO NEED FOR PLATES
Stand-alone barbells need individual weight discs to add weight, however the Taurus Fixed Barbells are one-piece, saving time, space, and effort loading and unloading plates. You won't need to store loads of different plates, nor will you have to waste time loading them on before workouts. This also eliminates the need for collars or locks, as plates can't slide off, which in turns increases the safety and security of the barbells.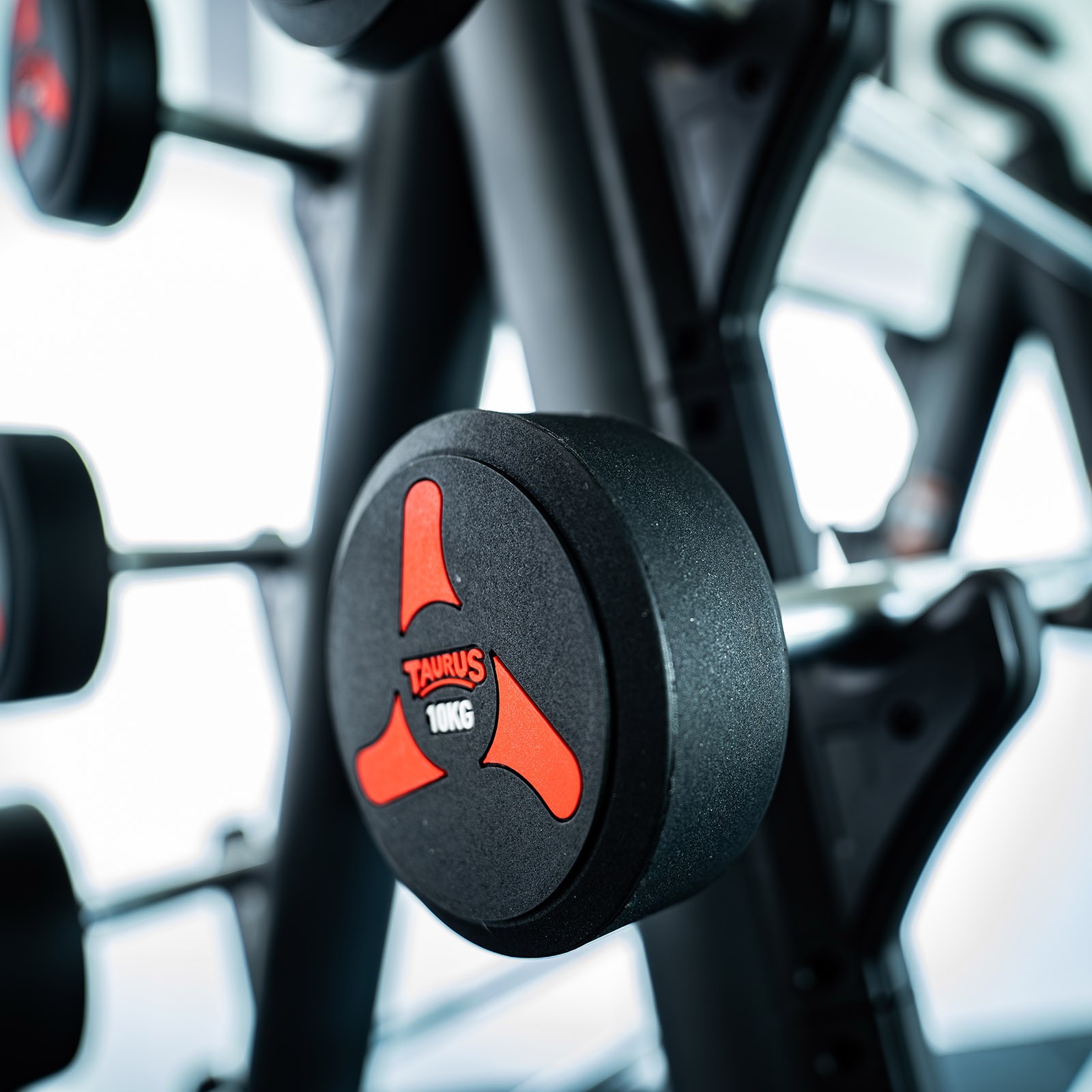 VERSATILE
Barbells are extremely versatile pieces of gym equipment. You can perform any number of exercises with them, from bench presses to squats to deadlifts. With the flexibility afforded by barbells, you can productively and efficiently work all muscle groups. Used on their own or with the aid of other equipment, such as weight benches and power racks, Taurus Fixed Barbells are the perfect weightlifting companions.
PROTECTIVE COATING
The polyurethane coating on the bars' ends helps minimise wear and tear, providing a softer layer to absorb impact. This in turn increases safety and reduces the risk of injuries. The coating also means the barbells won't make a lot of noise while in use, meaning you can train when you want without disturbing others. The barbells' shaft features knurled grips to ensure a comfortable, secure grip.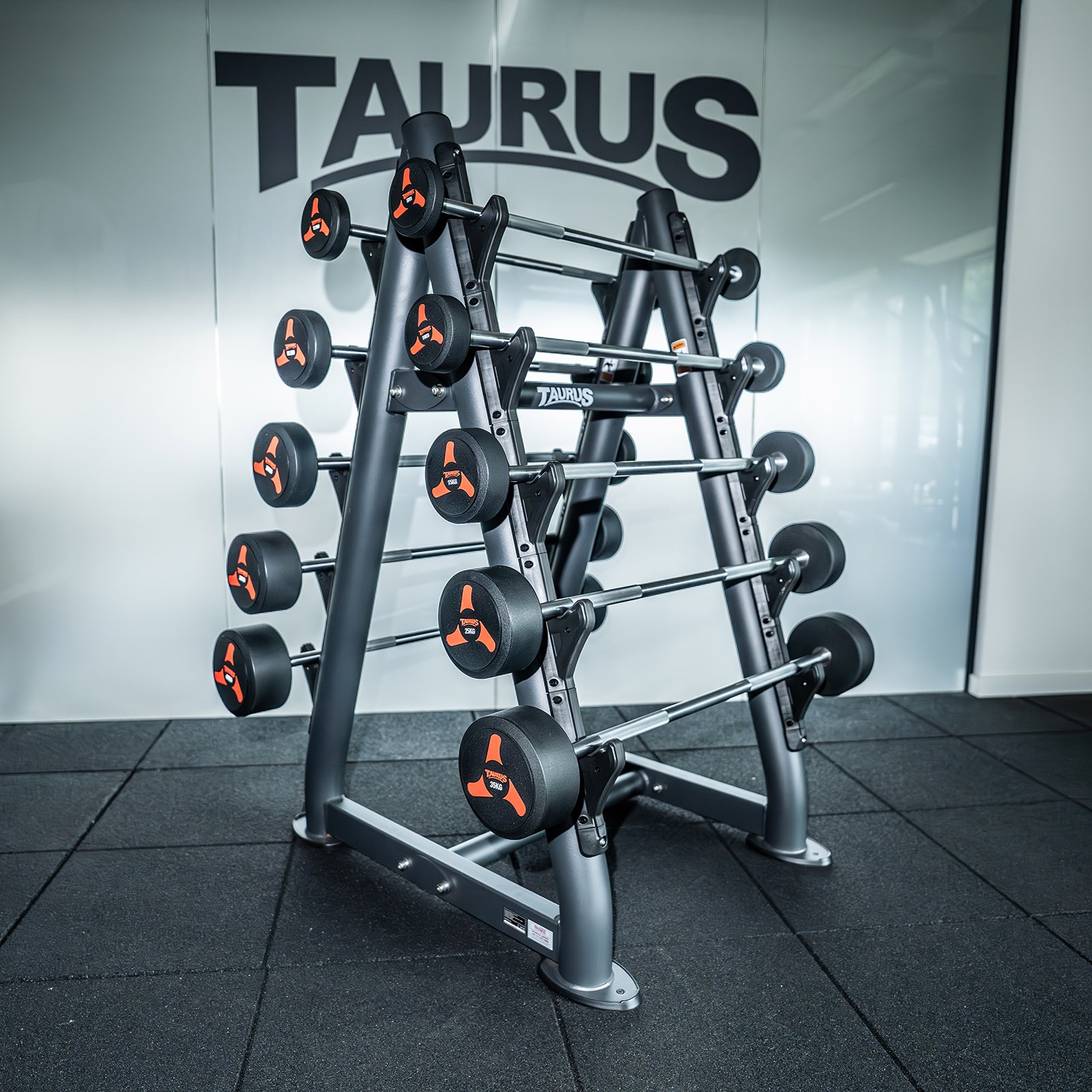 SLEEK DESIGN
The Taurus Fixed Barbells will look great in any home gym or commercial fitness facility. Their classic silver metal shaft is flanked by sleek black-and-red weights, with an attractive three-point design and Taurus branding. The weight markings are in easily-readable white, meaning you won't have to waste any time looking for the right barbell. The Taurus Fixed Barbells are made of premium-grade commercial-quality materials, and are built to last.
FULL RANGE
Taurus Fixed Barbell 5kg
Taurus Fixed Barbell 7.5kg
Taurus Fixed Barbell 10kg
Taurus Fixed Barbell 12.5kg
Taurus Fixed Barbell 15kg
Taurus Fixed Barbell 20kg
Taurus Fixed Barbell 25kg
Taurus Fixed Barbell 30kg
Taurus Fixed Barbell 35kg
Taurus Fixed Barbell 40kg
Specification: Taurus Fixed Barbell
Warranty conditions for Taurus Fixed Barbell
For further information on the warranty, please refer to the manufacturer's terms of warranty. The manufacturer's warranty is an extra service and does not affect your statutory rights.
| Manufacturer's warranty | Full Warranty |
| --- | --- |
| Home | 6 months |
| Light Commercial | 6 months |
| Commercial | 6 months |