In stock
Order by 3pm for dispatch today
Key Features:
Incorporates multiple muscle groups for a comprehensive workout
Extremely versatile; use at home, in the gym or even outdoors!
Rubber covering provides maximum durability
Rubber coated end-caps for increased grip
Minimal space required for storage and transport
Suitable for home and commercial use
Details
Specification
Warranty
Description: Taurus 15m Covered Battle Rope
Introducing the Taurus 15m Covered Battle Rope! A versatile piece of kit; sheathed in a protective canvas casing, these ultra-durable battle ropes are built to endure whatever you can throw at them!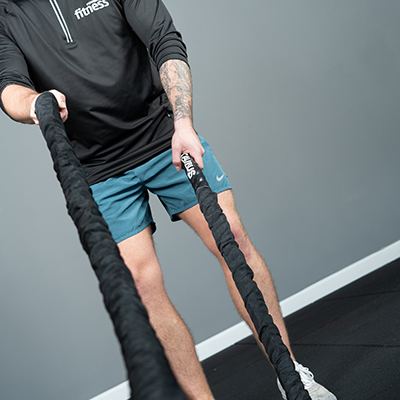 COMPREHENSIVE WORKOUT
One of the most effective tools for targeting multiple muscle groups at once, battle ropes force the user to generate all the force required which engages your arms, shoulders, back, chest, legs and core! Simultaneously, the heart rate is quickly raised which delivers a very effective cardiovascular workout, aiding in fat-burning and the development of lean muscle mass. Talk about efficiency!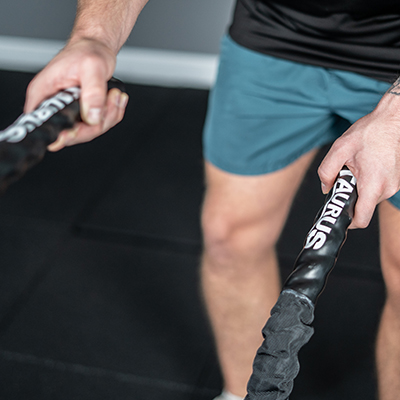 VERSATILITY
Easily incorporated into any workout plan, battle ropes complement routines like circuit training, strength training and of course HIIT (High-Intensity Interval Training). Easily transportable, you can use the Taurus 15m Covered Battle Rope anywhere you like; at home, at the gym or even outdoors. Sessions are usually short but intense, delivering huge calorific expenditure; battle ropes are easily slotted into any workout plan without adding much time.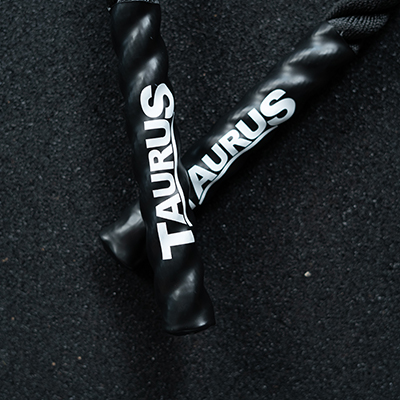 SIMPLICITY
Battle ropes are one of the simplest yet most effective tools available in your arsenal; simply anchor the ropes to a weight bench or weight plates to keep them in place and get started. Because the user generates all the force, there is no additional equipment required; as a result, you can adjust the intensity to match your fitness level. Anyone can benefit from battle ropes in their workout plan, whether you're rehabilitating or you have limited flexibility.

Specification: Taurus 15m Covered Battle Rope
Warranty conditions for Taurus 15m Covered Battle Rope
For further information on the warranty, please refer to the manufacturer's terms of warranty. The manufacturer's warranty is an extra service and does not affect your statutory rights.
| Manufacturer's warranty | Full Warranty |
| --- | --- |
| Home | 6 months |
| Light Commercial | 6 months |
| Commercial | 6 months |