Less than 5 in stock
Order by 3pm for dispatch today
Shipping costs:
Free UK delivery!
Key Features:
Highly accurate dual-frequency segmental reactance/resistance technology
Over 20 precise body composition measurements
Accurate to within 50g (for users under 100kg) and 100g (for users over 100kg)
Integrated Bluetooth technology for seamless connectivity
Syncs with the My Tanita app for progress tracking and customisation
Four user memory profiles with convenient colour-coded indicators
App Connectivity:
Details
Specification
Warranty
Downloads
Description: TANITA RD-545HR Smart Segmental Body Composition Scale

TANITA RD-545HR SMART SEGMENTAL BODY COMPOSITION SCALE: PROFESSIONAL INSIGHTS INTO YOUR HEALTH AT HOME
The TANITA RD-545HR Smart Segmental Body Composition Scale represents a leap forward in body composition scales. What was once the exclusive domain of professionals, such as dietitians and personal trainers, is now accessible to everyone. This segmental body composition scale offers comprehensive and medically precise measurements for your arms, legs, and torso, all individually assessed. It even provides unique insights into muscle quality and heart rate, setting it apart from any other body composition scale on the market. This silver scale comes with a user manual and AA batteries, ready to help you embark on your health journey.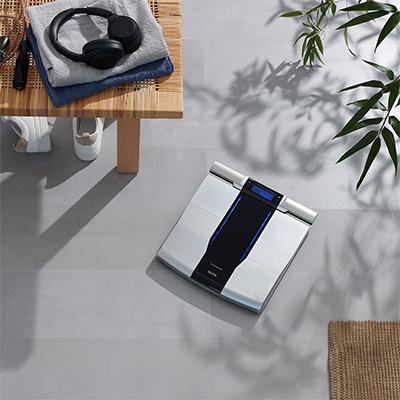 DUAL-FREQUENCY BIA TECHNOLOGY FOR MEASUREMENT ACCURACY
The RD-545HR features dual-frequency BIA technology, comparable to professional medical equipment. It delivers over 20 body composition measurements, including weight, body fat percentage, segmental body fat distribution, muscle mass, segmental muscle mass, muscle quality, segmental muscle quality, muscle score, visceral fat, total body water percentage, basal metabolic rate (BMR) in calories, metabolic age, physique rating, bone mass, body mass index (BMI), heart rate. It is suitable for children as well. The scale boasts a maximum weight capacity of 200kg, and ensures an accuracy of 50g for users under 100kg and 100g for those over 100kg.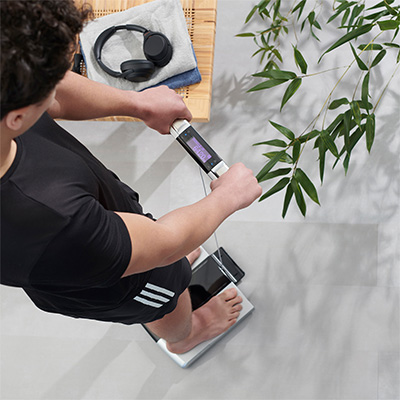 SEGMENTAL ANALYSIS
The segmental analysis of the TANITA RD-545HR Smart Segmental Body Composition Scale is nothing short of remarkable. It provides precise measurements for every area of your body, including muscle mass, muscle quality, and fat mass, each assessed separately for every body segment. The TANITA RD-545HR Smart Segmental Body Composition Scale empowers you to monitor and optimise your fitness journey with unprecedented precision, taking control of your well-being like never before. This detailed data is invaluable, whether you're recovering from an injury or fine-tuning your strength and endurance training.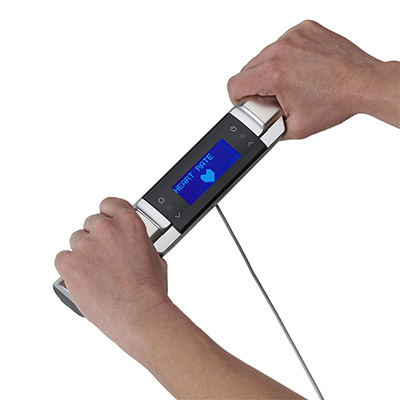 MUSCLE QUALITY AND HEART RATE UNIQUE MEASUREMENTS
The TANITA RD-545HR Smart Segmental Body Composition Scale stands out by offering unique measurements of muscle quality and heart rate, setting it apart from all other body composition scales. These exclusive features allow you to gain an in-depth understanding of your body, paving the way for setting targeted fitness goals. Whether you want to improve your muscle quality or monitor your heart rate, this scale has you covered. It's a vital tool for individuals serious about their health and well-being.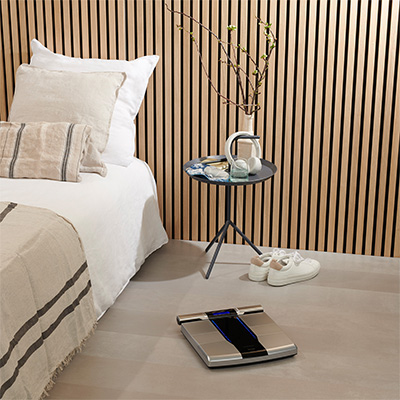 FOUR USERS MEMORY AND COLOUR-CODED INDICATORS
The TANITA RD-545HR Smart Segmental Body Composition Scale simplifies your experience with four user memory profiles and colour-coded indicators. It remembers your profile, so there's no need to re-enter your information every time. Recognising users is as simple as stepping on the scale. Each user can track their progress separately with the colour-coded indicators; it's easy to tell whose profile you're viewing at a glance, making family health tracking straightforward. The expansive screen guarantees clear result visibility, even in low-light settings, and you can establish your profile swiftly with a simple tap in less than 30 seconds.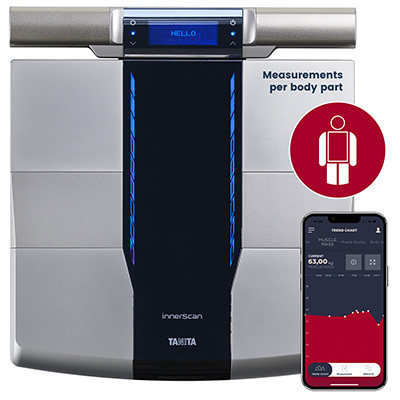 MY TANITA APP
Take your health journey to the next level with the free My Tanita App available for iOS and Android devices. It's your personal data hub, allowing you to store, analyse, and track your body composition measurements. The TANITA RD-545HR Smart Segmental Body Composition Scale effortlessly syncs with the app, delivering more than 12 measurements directly to your smartphone or tablet. This real-time monitoring and tracking have proven more effective in helping you achieve your health goals. You can set goals and monitor your progress with the My Tanita App. The app provides valuable insights into your health, helping you make informed choices about your lifestyle.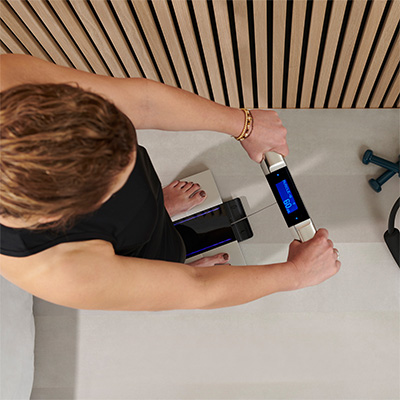 OTHER FEATURES
The TANITA RD-545HR Smart Segmental Body Composition Scale offers additional features such as athlete mode, guest mode, and integrated Bluetooth technology. It is designed to cater to many users and scenarios, ensuring everyone can benefit from its advanced technology. An athlete mode is tailored for those with active lifestyles, and it factors in muscle mass and body composition unique to athletes. A guest mode is perfect for temporary users who don't want to create profiles. An integrated Bluetooth technology easily connects to your smart devices for data sharing with your healthcare provider or trainer.
App Connectivity
My Tanita
My Tanita is a Healthcare Service provided by TANITA which helps you monitor your health and fitness progress using the most accurate BIA technology from the TANITA connected devices.
Specification: TANITA RD-545HR Smart Segmental Body Composition Scale
Maximum User Weight
200kg
Dimensions Open
35x32x6cm (LxWxH)
My Tanita
Android 5.1+, iOS 13+
Warranty conditions for TANITA RD-545HR Smart Segmental Body Composition Scale
For further information on the warranty, please refer to the manufacturer's terms of warranty. The manufacturer's warranty is an extra service and does not affect your statutory rights.
| Manufacturer's warranty | Full Warranty |
| --- | --- |
| Home | 5 years |
Downloads: TANITA RD-545HR Smart Segmental Body Composition Scale