Shipping costs:
Free UK delivery!
Key Features:
6 massage head attachments
Heated head with 2 heat levels (45C/55C)
Simple, intuitive LED touch control panel
Up to 6 hours battery life- 90 minute charge time
Quiet motion technology
Portable and lightweight
Carrying case, charging cable and user manual included
Description: Pulseroll Ignite Mini Massage Gun
Portable, quiet and efficient for powerful percussion massage on the go. Pulseroll Ignite Mini Massage Gun provides a pro-level massage to cure aches and pains, reduce tension and alleviate stress.
Feel The Heat with Pulseroll Ignite Mini Massage Gun
The Pulseroll Ignite Mini Massage Gun is a compact and powerful percussion massager designed for on-the-go muscle recovery. It features a high-speed motor with a unique heated head attachment that delivers deep tissue massage to relieve muscle tension and soreness. With its lightweight and portable design, it's easy to carry to the gym, office, or travel. The Ignite Mini offers multiple speed settings and interchangeable heads to target specific muscle groups. It promotes better blood circulation, reduces muscle fatigue, and enhances overall relaxation, making it an ideal companion for fitness enthusiasts and anyone seeking quick and effective muscle relief.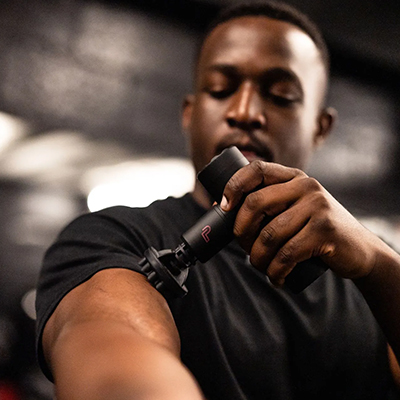 A MINI FULL OF POWER
Pulseroll products are used widely by professional athletes and well-being professionals. The Pulseroll Ignite Mini Massage Guns' unique design makes it portable and convenient. It's perfect for people on the go, but don't be fooled by its size. It packs a powerful, deep-muscle massage into a lightweight unit that can fit discreetly in your bag when you're travelling. The combination of pressure and short, sharp pulses from the mini massage gun helps to reduce muscle tightness, increase flexibility, and reduce muscle soreness. The massage gun can be used in between physio sessions, saving you money on physiotherapy visits.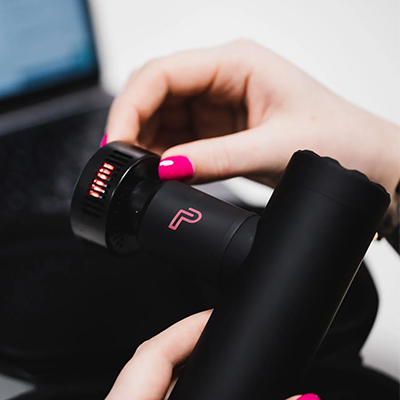 RECHARGEABLE HEATED HEAD
The Pulseroll Ignite Mini Massage Gun has the edge on the competition; a flat aluminium surface on the heated head delivers targeted heat to the muscles and blood vessels in conjunction with massage, which is especially beneficial for problematic muscles and tightness. In total, the Pulseroll Ignite Mini Massage Gun comes with six portable, easy-to-clean interchangeable heads. The mini massage gun has 4 power settings, making the mini massage gun ideal for everyone as the different settings can be utilized for people with different muscle recovery needs. When fully charged, it can last up to 6 hours.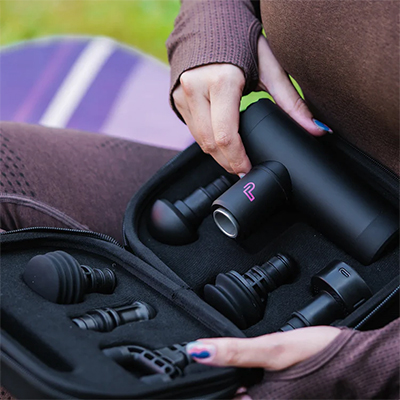 PORTABLE, LIGHTWEIGHT AND EASY TO USE
The Pulseroll Ignite Mini Massage Gun provides pocket-friendly percussion massage, both for relieving everyday aches and pains and for enhanced sports recovery. Weighing only 0.45kg, it's designed to reach any muscle group with either hand, it's perfect for use all over the body, and is especially great when targeting specific problem areas to relieve pain and improve posture. Easy to use, lightweight and super portable, the Pulseroll Quiet Motion™ motor ensures a relaxing experience so you can enjoy a top-level massage, no matter where you are. The mini massage gun comes with a carry case with a strap and zipper to allow you to alleviate your muscles anywhere with ease.
HEAD ATTACHMENTS
The Mini Massage Gun comes with six portable, easy-to-clean interchangeable heads. Each head works to target specific issues:

Domed Head: For general full-body work - ideal for beginners.

Pneumatic Head: Especially effective for treating sensitive or more painful areas.

Dual Trigger Head: For targeting muscles around the spine, or for a dual trigger point massage.

Bullet Head: For trigger point therapy, or advanced, localised deep muscle massage.

Heat Active Head: Provides a soothing massage experience by applying heat directly to the skin.

Invigor Head: Designed to invigorate tired muscles, ideal for hands and feet.
Specification: Pulseroll Ignite Mini Massage Gun