Please select a product for stock availability
Shipping costs:
Free UK delivery!
Key Features:
A dual cable system offers a versatile range of resistance exercises
The butterfly feature allows for one or two-handle training, targeting specific muscle groups with precision
Measuring just 215cm high and 40cm wide, this cable machine fits seamlessly into any space
Each of the 15 x 5kg oval-shaped weight plates is rubberised for durability and noise reduction
Choose from 3:1, 2:1, or 1:1 cable ratios, ensuring precise and balanced weight gradation
Three-dimensional training at up to 8m length
Details
Specification
Warranty
Description: NOHrD by WaterRower SlimBeam Cable Machine

NOHRD BY WATERROWER SLIMBEAM CABLE MACHINE: WHERE FORM MEETS FUNCTION
The NOHrD by WaterRower SlimBeam Cable Machine is a commercial-grade, height-adjustable, dual cable machine that takes traditional cable machines to new heights. It offers various resistance training exercises for a full-body workout experience. With the SlimBeam, you can enhance your coordination, build strength, and improve overall health and fitness. With the added benefit of a 75kg weight stack composed of 15 x 5kg rubberised weight plates, the SlimBeam redefines your fitness journey. Available in a variety of wood options, including Ash, Cherry, Club, Oak, and Walnut, it's both functional and stylish.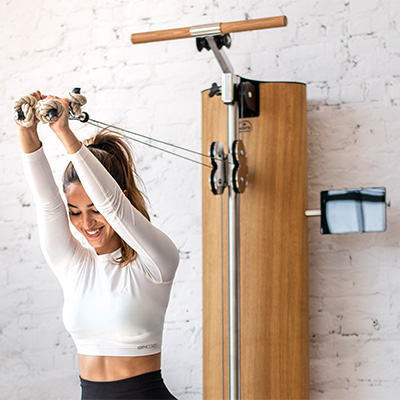 CABLE STRENGTH TRAINING
Cable training stations have stood the test of time for good reason. Trusted by physiotherapists, fitness trainers, and elite athletes, cable training systems provide proven effectiveness. The NOHrD by WaterRower SlimBeam Cable Machine's cable technology enhances your strength training experience by precisely engaging targeted muscle groups. This leads to more profound results, helping you push your limits and achieve your fitness goals.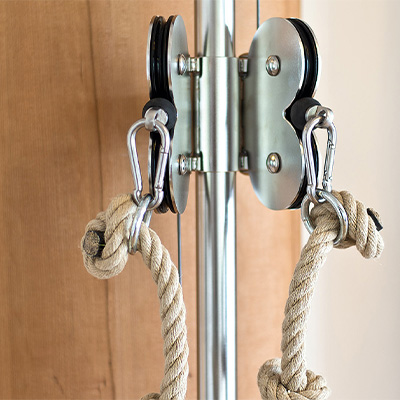 THE BUTTERFLY EFFECT
With the NOHrD by WaterRower SlimBeam Cable Machine's butterfly functionality, you can train with one or two handles, focusing on single or dual-sided exercises. The adjustable butterfly can be set at any height, providing flexibility in your routines. The smooth movement of the cable machine's cables over ball-bearing wheels ensures a consistent and comfortable workout.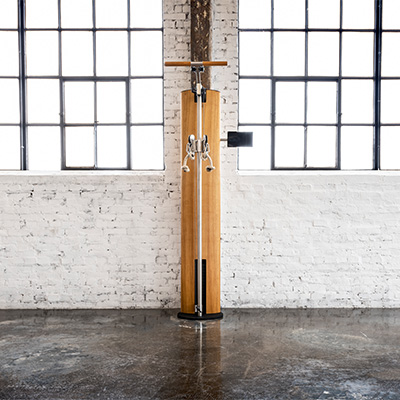 SPACE-SAVING
The NOHrD by WaterRower SlimBeam Cable Machine boasts a compact design, measuring only 215cm high and 40cm wide. Fixed just 10cm from your wall, it protrudes a mere 20cm into your room, with a base covering less than 0.25m2. The cable machine's compact design ensures you don't compromise on performance, making it the perfect addition to your home gym.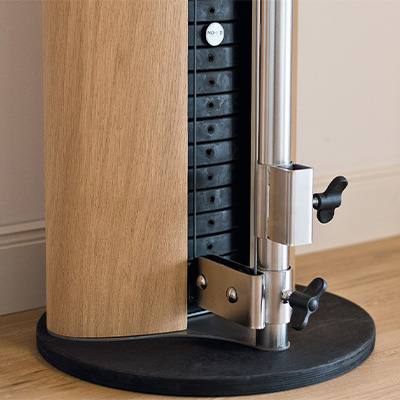 RUBBERISED WEIGHT PLATES
The NOHrD by WaterRower SlimBeam Cable Machine comes with a 75kg weight stack that includes 15 x 5kg weight plates and a 5kg base weight. Each oval-shaped weight plate is rubberised, ensuring durability and minimising noise during your workouts.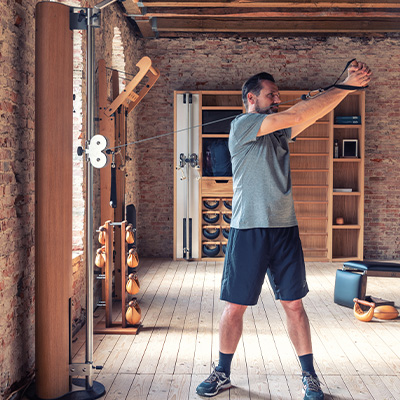 3:1, 2:1, 1:1 CABLE RATIOS
Tailor your workout with cable ratios of 3:1, 2:1, or 1:1, providing precise and balanced weight gradation. This precision allows for a weight extension length of up to 8m, ensuring you can tailor your workouts to your needs. Maximise your results with up to 25kg of resistance distributed over 15 rubberised weight plates.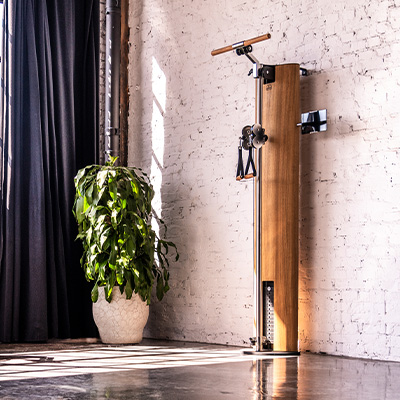 A DESIGN REIMAGINED
The award-winning NOHrD by WaterRower SlimBeam Cable Machine redefines fitness equipment aesthetics with its sleek and graceful presence. Crafted from sustainably sourced hardwood, this cable machine blends style and functionality. Its curved silhouette and high-quality wood construction make it a standout addition to any fitness space.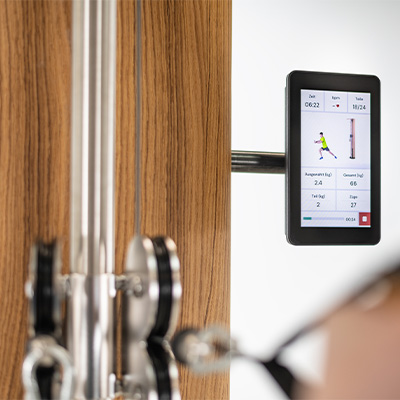 ADVANCED TRAINING WITH THE NEW PERFORMANCE MONITOR
The NOHrD by WaterRower SlimBeam Cable Machine's monitor is designed to seamlessly integrate with your cable machine. Hassle-free pre-assembly ensures you can expand your setup for advanced training features. The built-in electronics capture essential metrics like set weight, total weight lifted, and repetitions completed, helping you track your progress effectively.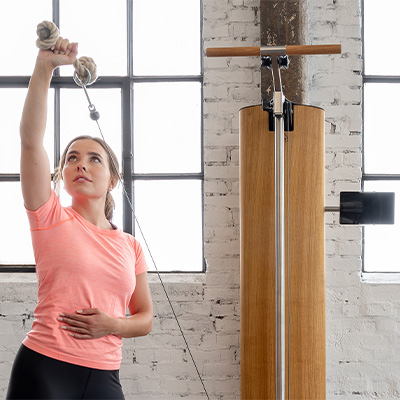 ELEVATED DIGITAL EXPERIENCE
Stay engaged and motivated with your progress, displayed conveniently on-screen. Immerse yourself in new full-body workouts every day with the Workout-of-the-Day feature. Access detailed exercise demonstrations through videos, ensuring precision in every move. Note that a power connection is required to operate your monitor.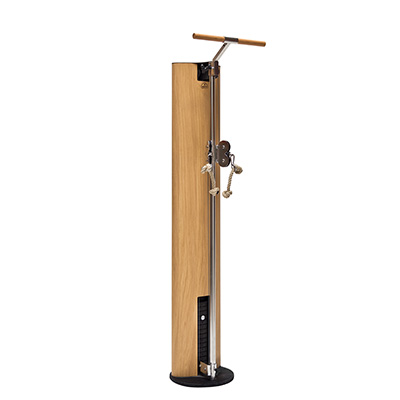 DURABLE AND SUSTAINABLE
The NOHrD by WaterRower SlimBeam Cable Machine is crafted from premium, sustainably sourced hardwood from the Appalachian mountains in North America. This high-quality hardwood guarantees your SlimBeam's longevity while promoting responsible and environmentally-conscious manufacturing practices. With exceptional craftsmanship, your SlimBeam is built to withstand the test of time, ensuring that it remains a reliable fitness companion for years to come.
Specification: NOHrD by WaterRower SlimBeam Cable Machine
Maximum User Weight
150kg
Warranty conditions for NOHrD by WaterRower SlimBeam Cable Machine
For further information on the warranty, please refer to the manufacturer's terms of warranty. The manufacturer's warranty is an extra service and does not affect your statutory rights.
| Manufacturer's warranty | Parts | Frame |
| --- | --- | --- |
| Home | 3 years | 5 years |
| Light Commercial | 3 years | 5 years |
We offer 0% finance on hundreds of products *
* Subject to status and minimum spend of £500.
For more information - click here.
---
To pay on finance simply choose 'V12 Finance' at the checkout.
---
With finance the first payment is typically taken 30 days after the delivery of your goods.
---
3 great reasons to buy on finance
No messy paperwork
Instant decision
0% Interest Free finance (on selected products)
---
Only available to UK residents over the age of 18. Subject to terms and conditions. Signature on delivery may be required. Goods may require to be shipped to the address given on your finance application.
Step 1: Enter Deposit
Deposit of
-
followed by
-
monthly payments of
-
. Total amount payable
-
APR
-
% representative.
Step 2: Select a finance option
Interest Free Finance (6 Months)
Interest Free Finance (12 Months)
Classic Credit (24 Months) 15.9%
Classic Credit (48 Months) 15.9%