Please select a product for stock availability
Shipping costs:
Free UK delivery!
Key Features:
Advanced PM5 console with connectivity features
Can be wall-mounted or free-standing - a stand available as an optional accessory
Concept2's renowned durable construction
A whole body strength and cardio workout
App Connectivity:
Details
Specification
Warranty
Description: Concept2 SkiErg With PM5 Console
The Concept2 SkiErg is available now! Whether you're an elite cross-country skier looking to improve your power, or someone looking for a great workout, the SkiErg will help you achieve your goals.
TAKE A CLOSER LOOK
The Concept2 SkiErg with PM5 console is a premium ski training machine designed for a full-body workout. Its smooth and natural motion mimics cross-country skiing, making it ideal for cardio, strength, and endurance training. The PM5 console provides comprehensive performance data, including time, distance, and calories burned, allowing for effective tracking of your progress. The ergonomic handle and adjustable resistance ensure a customisable and comfortable workout experience. Its robust construction ensures durability, and it's a versatile addition to home gyms, sports training, or rehabilitation programs.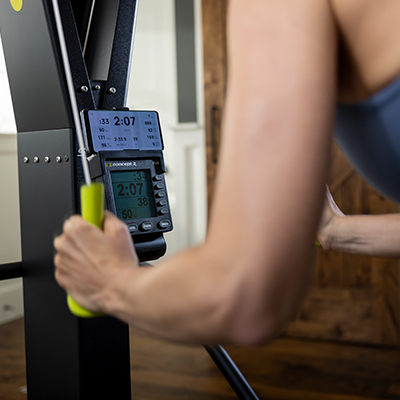 PM5 PERFORMANCE MONITOR
The Performance Monitor is what sets the Concept2 SkiErg apart from other cross-country training devices: packed with features yet easy to use, it allows you to accurately assess your output, monitor your progress, and compare your scores with others. Each SkiErg comes with the most advanced Performance Monitor, the PM5.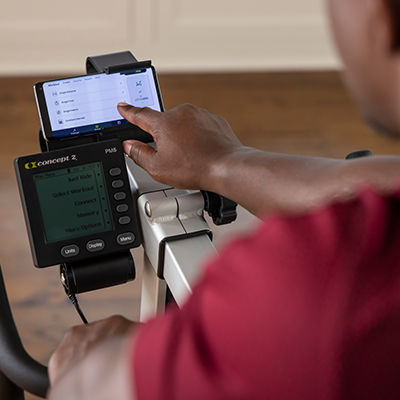 GET CONNECTED
The PM5 monitor has Bluetooth and ANT+ wireless connectivity, allowing it to connect to many heart rate belts, fitness devices and apps. The free Concept2 ErgData app helps you track your workouts and sync with the Concept2 Online Logbook. Third-party apps provide additional features to keep you motivated. A smartphone cradle is included.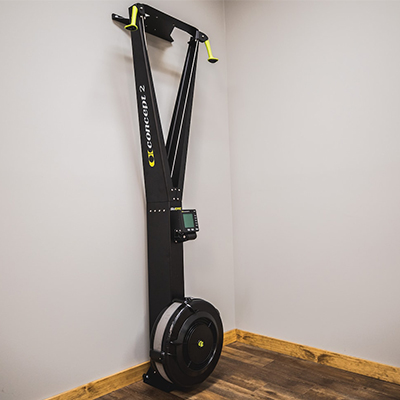 FREE-STANDING OR WALL-MOUNTED
The SkiErg can be either mounted on a wall or used with the optional floor stand. Wall mounting provides the most compact option, while the floor stand, with its anti-skid deck and caster wheels, provides an all-in-one solution that makes the SkiErg mobile. Either way, the SkiErg is easy to assemble, and we provide all the tools you'll need to do the job.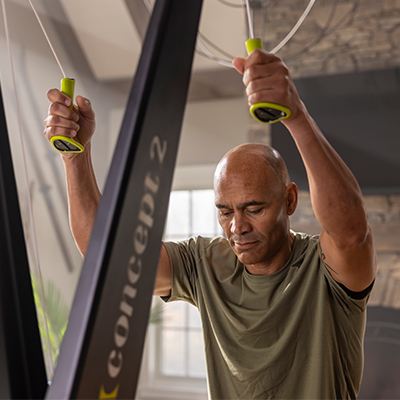 ERGONOMIC STRAPLESS HANDLES
The Concept2 SkiErg with PM5 console boasts ergonomic strapless handles designed to provide a secure and comfortable grip and eliminate the need for constant adjustments. Suitable for all hand sizes, the strapless design ensures a hassle-free and personalised workout experience. Moreover, these handles are engineered to stay dry, even in high-intensity, sweat-inducing workouts. The SkiErg's handles are perfect for extended training sessions, ensuring that your grip remains firm and comfortable throughout your workout.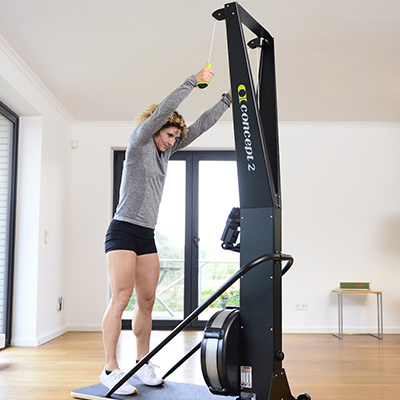 FLYWHEEL AND DAMPER
The SkiErg responds to your effort on every pull, so you always control exertion and resistance. The spiral damper allows for quick adjusting of the airflow to the flywheel, so you can change the feel of the pull to suit your preference. Whether you want a workout to feel like you're on flat terrain or an uphill climb, the SkiErg will respond to your needs. The SkiErg relies on high-strength cords in its drive system. Much stronger than steel, the cords are also incredibly lightweight, resulting in a responsive and smooth system.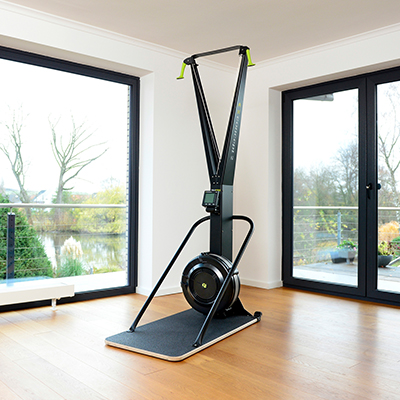 DURABLE CONSTRUCTION
Concept2 is renowned for its commitment to crafting fitness equipment that stands the test of time, and the SkiErg is no exception with its robust, durable, and high-quality construction. Whether it's in a Nordic ski centre, a home gym, a health club, or a military base, the SkiErg is built to withstand rigorous use. It performs exceptionally well in various settings, ensuring that your investment lasts for years to come. With the Concept2 SkiErg, you focus on your workout and fitness goals, not on maintenance or wear and tear.

EASY ASSEMBLY
Assembling the Concept2 SkiErg is easy. With just a total of twelve screws and all the necessary tools included with clear instructions with lots of pictures, you'll have your SkiErg ready to go in no time. Additionally, to further simplify the assembly process and ensure that you can begin enjoying your SkiErg quickly and without any complications, Concept2 offers an instructional video guide. This video provides step-by-step visual instructions on how to assemble and, if desired, wall mount your brand-new Concept2 SkiErg. So, whether you prefer written instructions with pictures or a video guide, Concept2 has you covered, ensuring a seamless setup experience for your convenience.

App Connectivity
ErgData
ErgData from Concept2 is your personal training partner. Set up workouts from your phone or tablet, view customized stats and information during workouts, track your progress, sync with the Concept2 Online Logbook, take part in the Workout of the Day and much more.
Specification: Concept2 SkiErg With PM5 Console
Dimensions Open
52x40x212cm (LxWxH)
ErgData
Android 8+, iOS 13+
Warranty conditions for Concept2 SkiErg With PM5 Console
For further information on the warranty, please refer to the manufacturer's terms of warranty. The manufacturer's warranty is an extra service and does not affect your statutory rights.
| Manufacturer's warranty | Parts | Frame |
| --- | --- | --- |
| Home | 2 years | 5 years |
| Light Commercial | 2 years | 5 years |
| Commercial | 2 years | 5 years |