In stock
Order now for dispatch tomorrow
Shipping costs:
Free UK delivery!
Key Features:
Bluetooth and ANT+ wireless connectivity
Integrated device holder included with purchase
Saddle and handlebar positions are easily adjustable
Belts are self-tensioning to help extend life and reduce maintenance
Aluminum frame makes it both light and durable
Requires very little assembly
Details
Specification
Warranty
Description: Concept2 BikeErg
The Concept2 BikeErg is the flagship exercise bike from the critically acclaimed Concept2 range. Featuring the most advanced PM5 monitor yet, the BikeErg is sure to help you smash your goals.

TAKE A CLOSER LOOK
The Concept2 BikeErg is a versatile and durable indoor exercise bike designed for serious cyclists and fitness enthusiasts. It offers a smooth and customizable riding experience with adjustable resistance levels. The Performance Monitor tracks essential data like distance, speed, and calories burned, providing real-time feedback. Its ergonomic design ensures comfort during long rides, and the sturdy build quality that Concept2 are renowned for guarantees durability. Compatible with various fitness apps and programs like ErgData and Zwift, the Concept2 BikeErg is an excellent choice for a challenging cardio workout and tracking progress.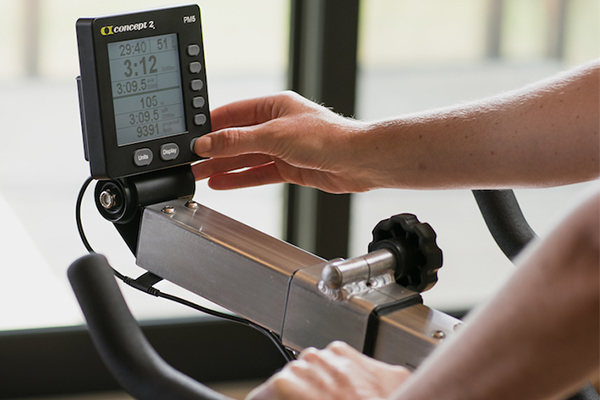 PM5 PERFORMANCE MONITOR
Every BikeErg includes the most advanced Concept2 Performance Monitor, the PM5. The powerful PM5 provides repeatable, comparable data for every ride. The PM5 offers automatic "Just Ride" mode or allows you to set up a variety of workouts. The monitor gives you a wide range of data, including pace, watts, cadence (rpm) and Calories and automatically stores this information. The BikeErg includes an integrated device holder, keeping your smartphone or tablet securely in place and is easily and quickly adjustable. The device holder is removable, relocating the Performance Monitor to the end of the handlebar rail.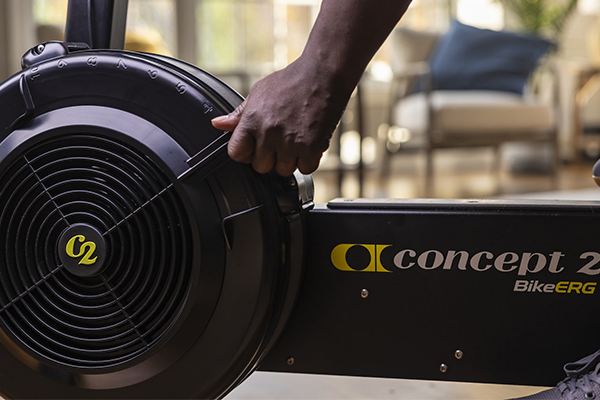 ADVANCED FLYWHEEL
The BikeErg has the same flywheel and Performance Monitor as our Concept2 Indoor Rowers and SkiErgs, creating a responsive, continuous ride. The flywheel puts you in full control of your exertion and resistance at all times. The damper allows you to quickly adjust the airflow to the flywheel during the workout. This has a similar effect to changing gears on a bicycle. Opening the damper and letting more air into the flywheel is like akin to shifting into a heavier gear. Closing the damper lightens the "gearing".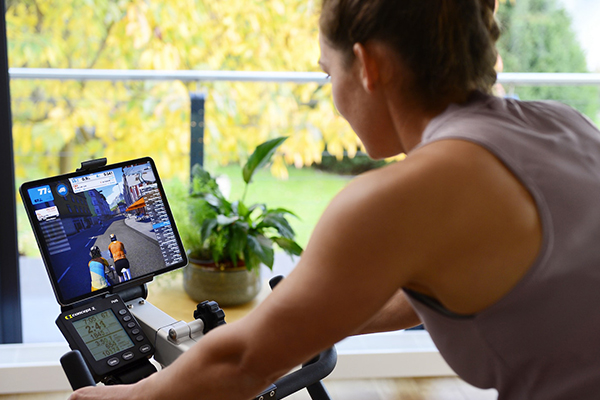 BLUETOOTH AND ANT+ CONNECTIVITY
The PM5 monitor on the BikeErg features Bluetooth and ANT+ wireless connectivity, allowing it to connect to many heart rate belts, fitness devices and apps. The free Concept2 ErgData app helps you track your workouts and can sync with the Concept2 Online Logbook. Third-party apps, such as Zwift, can provide additional features to help keep you motivated.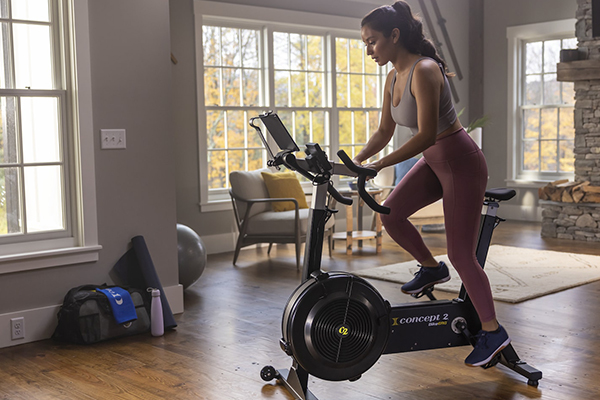 FULLY ADJUSTABLE
Both the saddle and handlebar positions are easily adjustable. You can set the saddle height with a secure, easy, tool-free ratcheting system. The fore and aft saddle position and angle are adjustable for custom fitting. The handlebars move up and down, forward and back, and with three different handlebar riding options, you can easily find the best setting for you. Prefer your own set-up? The BikeErg fits most standard bike parts, so you can easily use your own saddle, handlebars and pedals for the ultimate personalized experience.
LIGHTWEIGHT AND MOBILE
The BikeErg's aluminium frame makes it both light and durable, while caster wheels make it easy to move around. At just 68 lb (31 kg), it's lighter than most other stationary bikes.
EASY ASSEMBLY
The BikeErg requires very little assembly; all necessary tools are included, with clear instructions and lots of pictures.
RECOMMENDED ACCESSORIES
As with all indoor fitness bikes, it is always recommended to place a CV mat underneath the bike to protect the machine and your flooring.

We recommend a heart rate monitor for increased accuracy, delivering more efficient results in your training.
App Connectivity
ErgData
ErgData from Concept2 is your personal training partner. Set up workouts from your phone or tablet, view customized stats and information during workouts, track your progress, sync with the Concept2 Online Logbook, take part in the Workout of the Day and much more.
Kinomap
Kinomap is an interactive indoor training application for cycling, running, walking, and rowing, compatible with an exercise bike, home trainer, treadmill, elliptical or rowing machine. The application provides access to the largest geolocated video sharing platform with thousands of routes around the world.
Zwift
Ride with real people across the globe. Choose from countless routes with amazing views. Race, workout, or just go for a casual pedal. Get fit as you make friends on Zwift, the place where indoor riding is actually fun and delivers real results.
Specification: Concept2 BikeErg
Maximum User Weight
136kg
Dimensions Open
122x61x122cm (LxWxH)
ErgData
Android 8+, iOS 13+
Kinomap
Android 6+, iOS 12+
Zwift
Android 9+, iOS 13+
Warranty conditions for Concept2 BikeErg
For further information on the warranty, please refer to the manufacturer's terms of warranty. The manufacturer's warranty is an extra service and does not affect your statutory rights.
| Manufacturer's warranty | Parts | Frame |
| --- | --- | --- |
| Home | 2 years | 5 years |
| Light Commercial | 2 years | 5 years |
| Commercial | 2 years | 5 years |