Please select a product for stock availability
Shipping costs:
Free UK delivery!
Bundle contains » you save
£1.00
«
Key Features:
15 Dumbbells in 1, adjustable from 2kg to 24kg
Weight selection dial makes it easy to adjust weight quickly
Experience on-demand strength classes for your SelectTech with the JRNY app
Space efficient & space-saving design
Sold as singles- pairs available as bundles
Pair with the Bowflex SelectTech Dumbbell Stand
Details
Specification
Warranty
Downloads
Description: Bowflex SelectTech Dumbbell 552i
Experience endless workout possibilities with the Bowflex SelectTech 552i Dumbbell!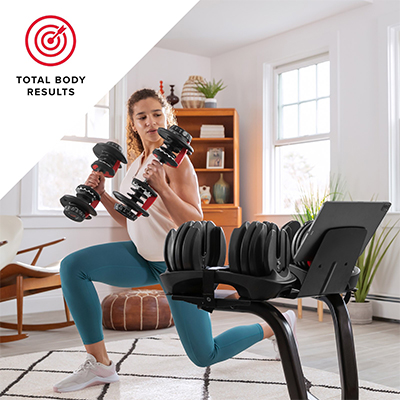 15 DUMBBELLS IN ONE
The Bowflex SelectTech Dumbbell 552i is the perfect solution for limited space. Replacing 15 dumbbells with one unit, you can adjust the weight from 2kg to 24kg using a super intuitive selection dial, allowing for a fully customisable workout. And, thanks to durable moulding around the metal plates, you can workout with minimal noise.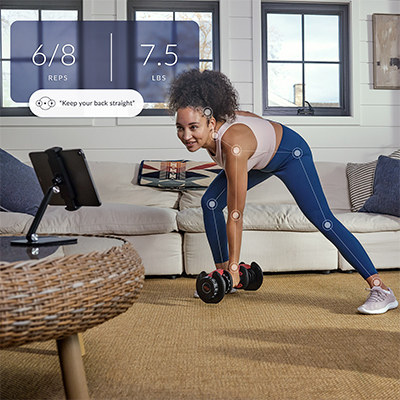 JRNY MOTION TRACKING COMPATIBLE
The JRNY app with Motion Tracking allows you to experience a workout with real-time guidance, such as rep counting, form guidance and adaptive weight targets to set goals for your future workouts!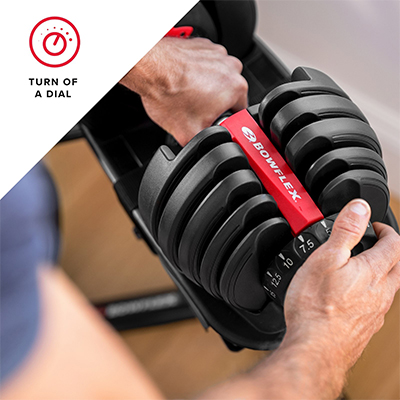 FULLY CUSTOMISABLE WORKOUT
The Bowflex SelectTech Dumbbell 552i allows for limitless workout possibilities; the perfect all-in-one piece of equipment for comprehensive upper and lower body training. This versatility makes them an invaluable addition to any home gym, accommodating individuals of all fitness levels. Their adjustable design allows you to increase the weight incrementally as you advance on your fitness journey, suiting beginners and advanced lifters alike.
JRNY APP WITH MOTION TRACKING
Free your mind and align your body with true personal training from the comfort of your home. Grab your tablet or phone and get started today.

Rep Tracking: The JRNY app will count how many reps you complete for each exercise, simplifying the workout experience.

Form Guidance: As you complete an exercise, the JRNY app will offer real-time feedback to assist you with your form. 

Adaptive Weight Targets: The JRNY app will learn as you progress, recommending when to increase or decrease your weight the next time you complete that exercise.
TAKE A LOOK
Take a look at the Bowflex SelectTech Dumbbell 552i in action!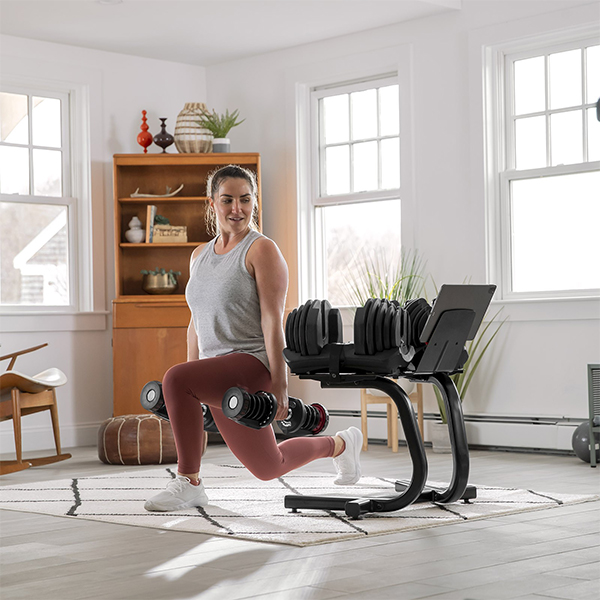 BESPOKE STAND
Your workout just got smarter. The Bowflex SelectTech Stand with an integrated media rack provides one convenient place for weights AND technology, making it the perfect combination of form meets function. Ergonomically designed to protect your lower back, the SelectTech Dumbbell Stand eliminates the need to bend to pick up heavy weights off the floor. The built-in media rack securely holds your device where you can easily access entertainment or follow along to workout videos. A space-saving design keeps your workout space clear and tidy. The stand is designed for use with the Bowflex SelectTech 552, 1090i and 560 dumbbells and is sold separately.
Specification: Bowflex SelectTech Dumbbell 552i
Dimensions Open
40x20x23cm (LxWxH)
Warranty conditions for Bowflex SelectTech Dumbbell 552i
For further information on the warranty, please refer to the manufacturer's terms of warranty. The manufacturer's warranty is an extra service and does not affect your statutory rights.
| Manufacturer's warranty | Parts |
| --- | --- |
| Home | 2 years |
Downloads: Bowflex SelectTech Dumbbell 552i
User Manual
User Manual