*
Use code '
PAYDAY
' for
5% discount
at the checkout
5% discount
|

was

£119.00
|

on selected items
|
You pay

£113.05
Key Features:
5-in-1 Kettlebell
Modern space-saving design
Seamless transition between weights
Helps to improve balance and strength
Suitable for functional training, physiotherapy or performance training
Details
Specification
Warranty
With the turn of a dial, unleash 5 kettlebells' in 1, with the BodyMax Selectabell Kettlebell.
5 WEIGHT OPTIONS IN 1 KETTLEBELL
Weighing 13.5kg in total, the kettlebell has five different weight options, that will satisfy users of all abilities and ages.
The 5 different weights on offer with the Selectabell are; 4.5kg, 6,75kg, 9kg, 11.25kg and 13.5kg. To select your weight, you simply turn the dial on top of the kettlebell, select your desired weight, click in place and lift up.
The seamless transition between weights make the kettlebell extremely user-friendly, and a lot quicker than having to put a regular, more conventional kettlebell down and picking up another. This can do it all for you, with only 1!
TRAINING IN SMALL SPACES
With a kettlebell you can perform a workout in very little space that will get your heart pumping and exercise your whole body. The beauty of the Selectabell Kettlebell is that you can combine weight training and cardio workouts with minimum investment, and with minimum floor space.
A kettlebell workout can burn around 600 calories per session, they're also a fantastic way to rehabilitate your body and to workout areas that are usually hard to target. Incorporating a kettlebell into your home strength workout is great for goblet squats, split squats, arm bars, deadlifts, upright rows, bent over rows and more.
Kettlebells are not only great for helping you to burn calories, but they will also help you work parts of your body which are normally more difficult to target, such as the hip flexors. And as they're based on compound movements, they're perfect for building strength, endurance and muscle.
COMPACT AND PORTABLE
Whether you are looking for a new piece of functional kit or a space-saving solution, the Selectabell Kettlebell is the perfect addition to your home-gym. Not only that, being lightweight, the kettlebell is extremely portable, meaning you are able to use it anywhere you wish, be that in your home or even outdoors.
Part of the Selectabell range, BodyMax also offer space-saving Selectabell Dumbbells and a Selectabell Barbell, that includes 2 different bars
WARRANTY
2 Years Parts
Straight Bar - 9kg, 13.5kg, 16kg, 22.5kg, 27kg, 31.5kg & 36kg
WARRANTY
2 Years Parts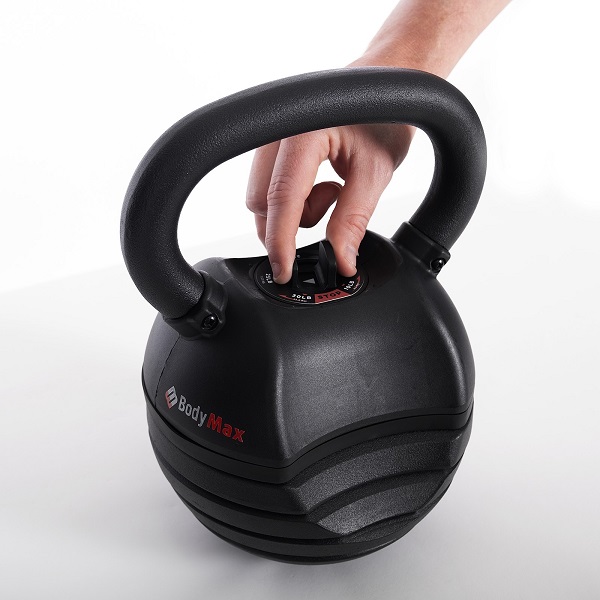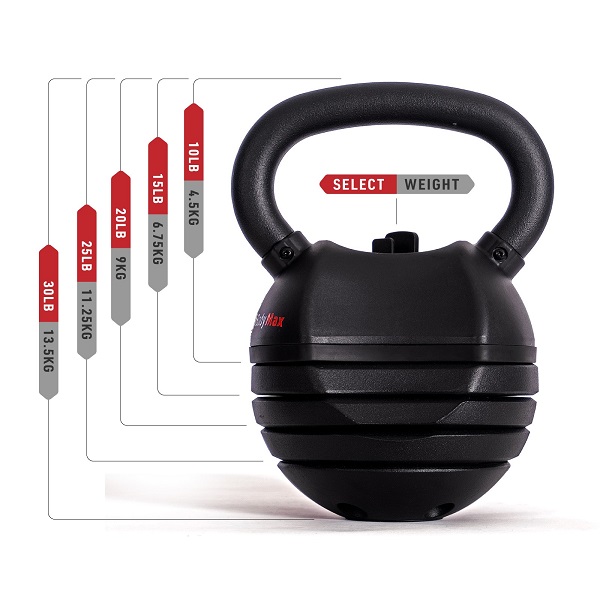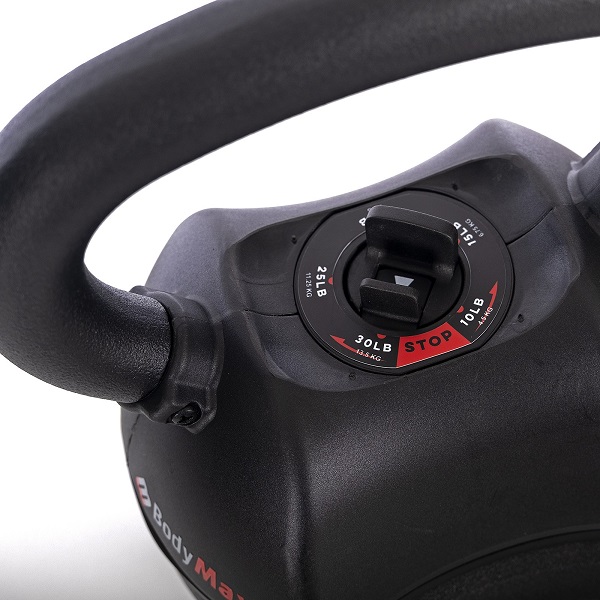 Warranty conditions for BodyMax Selectabell Kettlebell 13.5kg/30lbs
For further information on the warranty, please refer to the manufacturer's terms of warranty. The manufacturer's warranty is an extra service and does not affect your statutory rights.
| Manufacturer's warranty | Full Warranty |
| --- | --- |
| Home | 12 months |