Please select a product for stock availability
Shipping costs:
Free UK delivery!
Bundle contains » you save
£35.29
«
Key Features:
ISO system for precise exercise control
Compatible with standard and Olympic plates
Dedicated ab exercise capabilities
Conveniently foldable for space-saving storage when not in use
Designed for varied workouts
Durable construction for long-lasting use
Details
Specification
Warranty
Downloads
Description: BodyMax IG3 Leverage Bench

ELEVATE YOUR STRENGTH TRAINING WITH THE BODYMAX IG3 LEVERAGE BENCH
The BodyMax IG3 Leverage Bench is a robust and purpose-built fitness machine designed to provide a secure and efficient platform for a wide range of strength training exercises. Its standout feature lies in its innovative leverage and guided movement system that seamlessly transitions between flat, incline, and decline positions. This versatility allows for precise muscle targeting, making it an ideal companion for any fitness programme, even in limited spaces.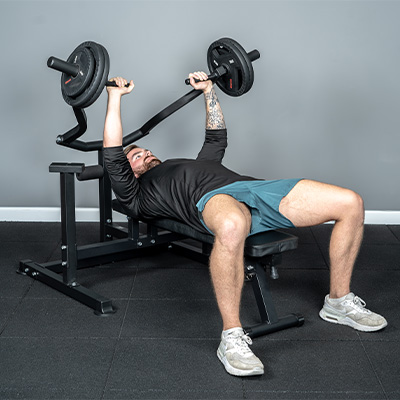 ISO SYSTEM FOR PRECISE EXERCISE CONTROL
The BodyMax IG3 Leverage Bench boasts an ISO system that grants you precise control over your exercises. With its smooth transitions between flat, incline, and decline positions, you can focus on specific muscle groups.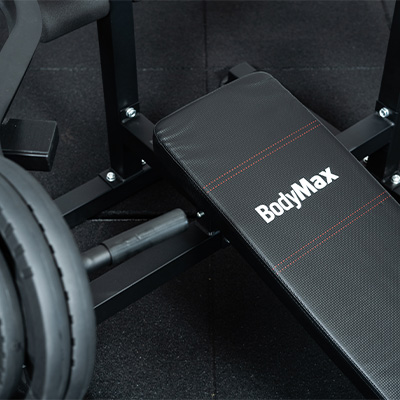 COMPATIBLE WITH STANDARD AND OLYMPIC PLATES
The BodyMax IG3 Leverage Bench comes equipped with Olympic sleeves adapters, ensuring compatibility with both standard and Olympic weight plates, making it an adaptable addition to your fitness arsenal, with a maximum load weight of 100kg, 50kg on each side.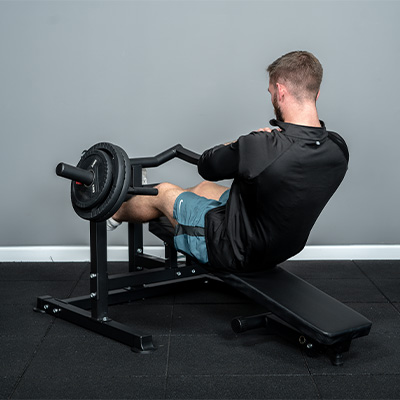 SCULPT YOUR CORE WITH EASE
The BodyMax IG3 Leverage Bench features a foot hook for effective ab exercises. Strengthen your abdominal muscles and work towards a defined midsection without the need for additional equipment. It's a time-efficient way to enhance your overall strength and appearance.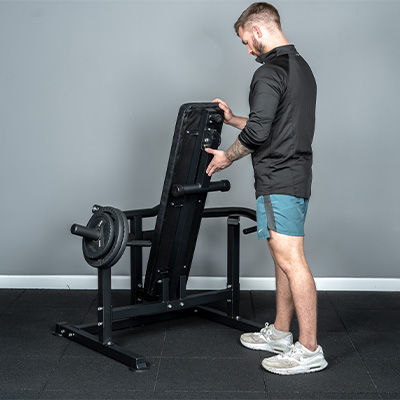 EXPAND YOUR EXERCISE OPTIONS
The BodyMax IG3 Leverage Bench offers an all-round workout experience. This piece of equipment is versatile and suits various strength training exercises. Its controlled, injury-preventing movements enable you to perform exercises such as bench presses and incline presses. Beyond its primary functions, you can incorporate other exercise equipment for a comprehensive training routine. This versatility allows you to diversify your workouts, preventing plateaus and ensuring continuous progress.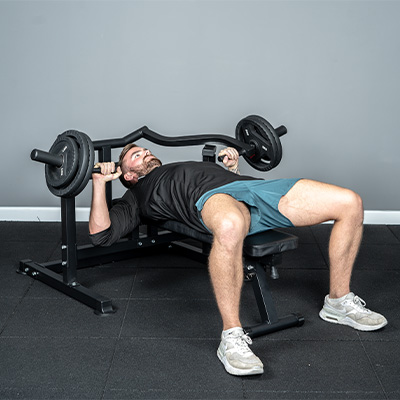 PROGRESSIVE RESISTANCE
With the BodyMax IG3 Leverage Bench, you control the resistance. Adjust it easily by adding or removing weight plates. This follows a fundamental strength training principle called progressive overload. In simple terms, this feature enables you to gradually increase the weight over time, ensuring consistent progress in your strength training regimen.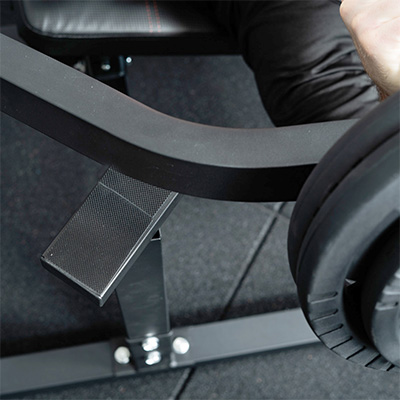 INVEST IN QUALITY AND DURABILITY
The BodyMax IG3 Leverage Bench is built to withstand rigorous training sessions. Its sturdy construction ensures stability, while high-quality materials guarantee longevity. This bench is built with sturdy gauge steel, upholstery, and has a sleek black finish. It offers easy adjustability for personalised comfort, and its foldable design provides space-saving storage when not in use. The bench's independent adjustable press arms ensure even muscle development, accommodating users of all sizes. The converging press arm movement optimises your workout mechanics. It also has standard/Olympic weight plate holders (please note that weight plates are not included).
Specification: BodyMax IG3 Leverage Bench
Maximum User Weight
150kg
Dimensions Open
150x158x77cm (LxWxH)
Warranty conditions for BodyMax IG3 Leverage Bench
For further information on the warranty, please refer to the manufacturer's terms of warranty. The manufacturer's warranty is an extra service and does not affect your statutory rights.
| Manufacturer's warranty | Parts |
| --- | --- |
| Home | 2 years |
Downloads: BodyMax IG3 Leverage Bench
User Manual
Bodymax IG3 Leverage Bench User Manual