Pre-order
Pre-Order today for dispatch in 8 weeks
Shipping costs:
Free UK delivery!
Key Features:
Compatible with Olympic weight plates
300kg maximum weight capacity
Bar weight is 30kg without added weight plates
Highest quality welds for strength and safety
Designed for commercial and home use
Description: BodyMax 30kg 1.6m Olympic Shrug Trap Bar
The BodyMax 1.6m Shrug Trap Bar is something no home gym or commercial fitness space should be without. This beautifully crafted piece of equipment is made to withstand the rigours of a busy commercial gym and help you achieve your fitness goals.
MAXIMUM POWER WITH YOUR LIFTS
The BodyMax 1.6m Olympic Shrug Trap Bar is perfect for novice and frequent gym users. This ingenious piece of equipment helps minimize the amount of stress places on the lumbar spine. By stepping into the movement, the weight is more evenly placed which means you can safely and comfortably achieve maximum power in your lifts. The BodyMax 1.6m Shrug Trap Bar is an essential for those who are serious about weight training.
HIGHEST QUALITY MATERIALS
The BodyMax 1.6m Olympic Shrug Trap Bar is great for building powerful muscles and creating spectacular definition in the upper and lower torso. With a maximum weight capacity of 300kg the BodyMax 1.6m Olympic Shrug Trap Bar is built to withstand the constant use in a commercial fitness facility and is the perfect tool for your fitness journey. The high-quality welds ensure that your BodyMax 1.6m Olympic Shrug Trap Bar is secure and built to last.
VARIETY OF EXERCISES
The BodyMax 1.6m Olympic Shrug Trap Bar allows users to achieve a wide range of exercises. Here are some you can try!


Trap Bar Deadlift – The Trap bar deadlift is one of the best exercises that works your whole body. It strengthens the glutes, quads, hamstring and helps develop strong traps, back and core muscles. It is one of the best deadlift variations as it builds explosive power.


Trap Bar Shrugs – Trap bar shrugs helps build strength in your trapezius muscles and neck.


Trap Bar Farmers Walk – The Trap bar famers walk is a great exercise for developing core muscles as it forces your core and hips to stabilize whilst you are walking. This helps build power and balance.
BENEFITS
Strength training has many benefits such as gaining muscle mass and protecting bones and joints, strength training helps those looking to lose weight as it boost metabolism which speeds up the rate in which your body burn calories, it is also beneficial for increasing energy levels and improving moods due to the elevated levels of Endorphins.
MEASUREMENTS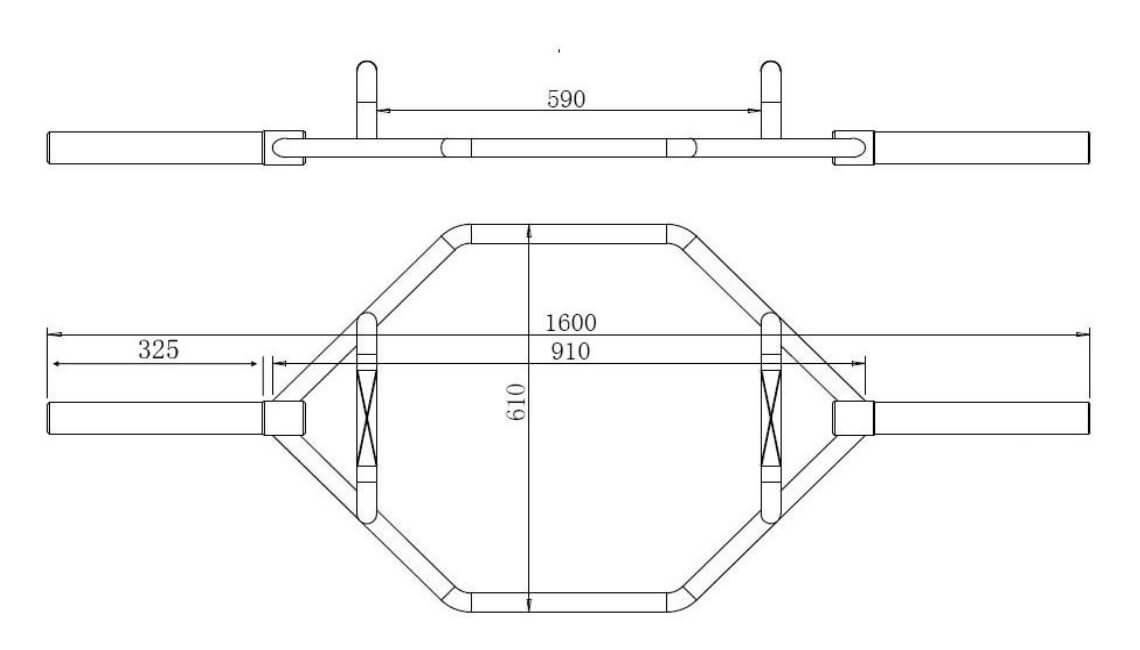 Grip Diameter: 30mm
Sleeve Diameter: 49.5mm
Specification: BodyMax 30kg 1.6m Olympic Shrug Trap Bar
Maximum User Weight
300kg
Dimensions Open
143x60x0cm (LxWxH)