Please select a product for stock availability
Shipping costs:
Free UK delivery!
Key Features:
Crafted with precision and care in Germany, the Bellicon Classic Black Trampoline boasts top-tier quality
Choose from three sizes (100cm, 112cm, and 125cm) to match your exercise preferences and space
Experience quiet, robust, and stable workouts with the patented rope ring suspension system
Designed for all ages, it's the ideal fitness companion for the entire family
Suitable for everyone, from beginners to professional exercisers
Details
Specification
Warranty
Downloads
Description: Bellicon Classic Black Trampoline
Introducing the next-gen Bellicon Classic Black Trampoline – a first-class piece of equipment from bellicon, the premium German brand. Enhance your fitness journey with this premier trampoline, expertly designed to cater to individuals of all ages and fitness levels. Whether you are a beginner or a professional, this advanced trampoline will provide steadfast support throughout. Experience the rebounder's high quality, stability, and durability, developed in collaboration with fitness experts and medical specialists. Explore its versatile uses for improving health, getting fitter, and relaxing.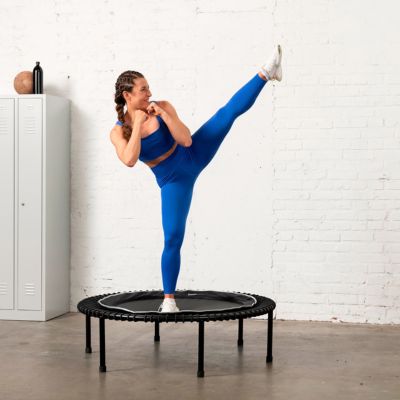 EXPERIENCE HOLISTIC TRAINING, PERSONALISED TO YOU
Embark on a fitness journey tailored exclusively for you. The Bellicon Classic Black Trampoline offers a holistic approach to training, catering to your unique needs and aspirations. Enjoy an array of workout options that nurture your body, mind, and soul, empowering you to sculpt a healthier, fitter, and more balanced version of yourself.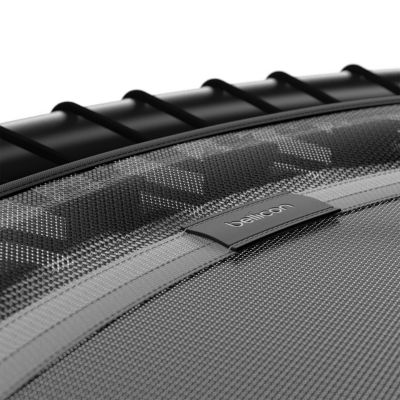 UNCOMPROMISED QUALITY
Uncompromising quality is what defines the Bellicon Classic Black Trampoline. Crafted with the utmost precision and care in Germany, this trampoline meets the highest industry standards. Every detail, from the robust materials to the innovative design, reflects the brand's commitment to delivering a product that prioritises your well-being and the environment. The rebounder features an anti-bacterial stainless steel frame and a durable powder-coated steel finish, ensuring long-lasting quality and performance you can count on.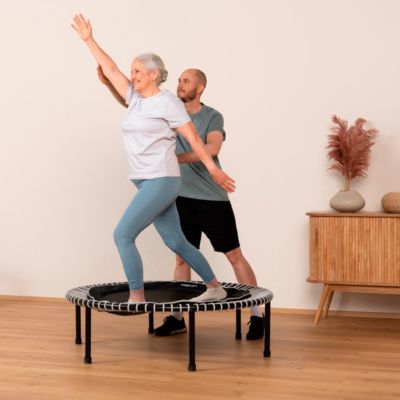 EXTRA STABILITY, EFFORTLESS SETUP
Experience a workout like no other, characterised by extraordinary stability and convenience. With its 30cm high screw-on legs, equipped with rubber caps the Bellicon Classic Black Trampoline offers maximum support and provides an unshakable foundation for your fitness endeavours. Setting up your trampoline becomes a breeze, allowing you to focus solely on your workout sessions. With a remarkable user weight capacity of up to 120 kg, your journey to fitness is unbounded.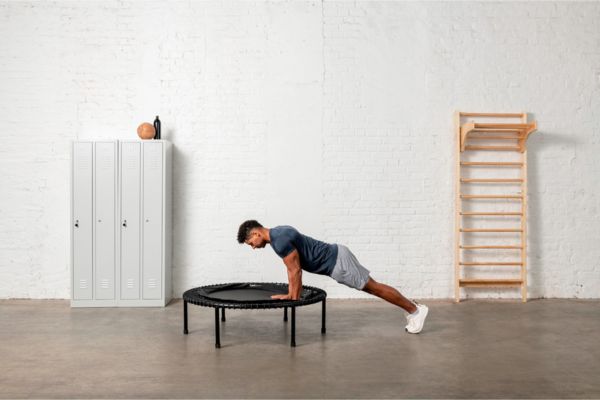 TRANSFORM YOUR WELLNESS JOURNEY
Unlock a world of possibilities as you transform your wellness journey with the Bellicon Classic Black Trampoline. From managing diabetes and osteoporosis to enhancing balance, shedding weight, and boosting mobility, it offers multifaceted benefits and caters to your specific needs. Whether you seek stress relief, improved sleep, mindfulness, or meditation, this premium equipment empowers you to shape your wellness narrative.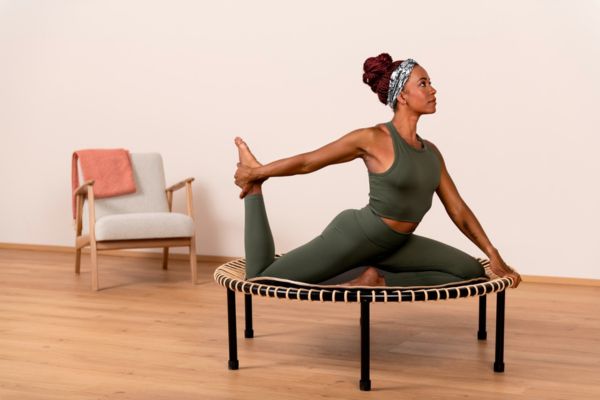 GENTLE ON JOINTS
Prioritise the health of your joints with the Bellicon Classic Black Trampoline's gentle and accommodating designs, ensuring a smooth and joint-friendly exercise. Unlike metal spring alternatives, the trampoline minimises impact, safeguarding your back and joints, and maximising the effectiveness of your workout.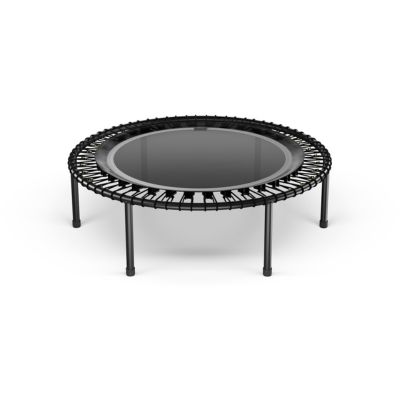 VERSATILE AND CONVENIENT
Simplify your fitness routine with the Bellicon Classic Black Trampoline's versatility and convenience. Its fold-up legs (a folded height of just 8cm) ensure hassle-free storage and transport, allowing you to integrate workouts seamlessly into your daily life.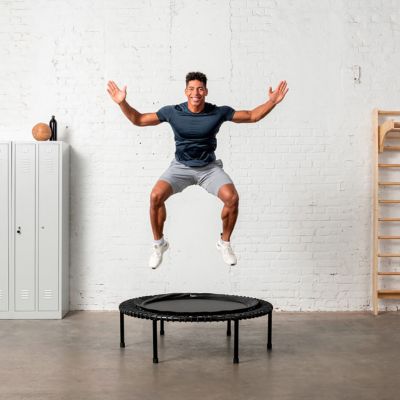 EXTRA-CLASS JUMPING MAT
Experience comfort and support like never before. The Bellicon Classic Black Trampoline boasts a robust, breathable, and high-quality jumping mat. Presented in a sleek matte black finish, it features a grey colour ring for orientation, adding both style and functionality to your workout routine.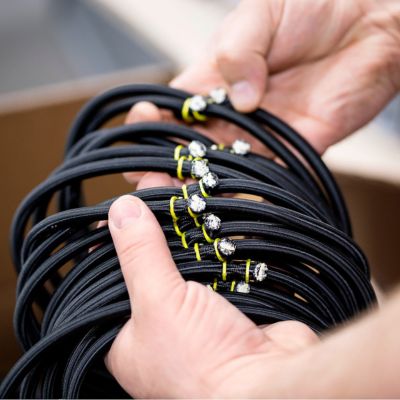 PATENTED ROPE RING SUSPENSION
The bellicon's patented synthetic bungees are designed to stretch up to three times their original length, ensuring your workout is as invigorating as it is effective.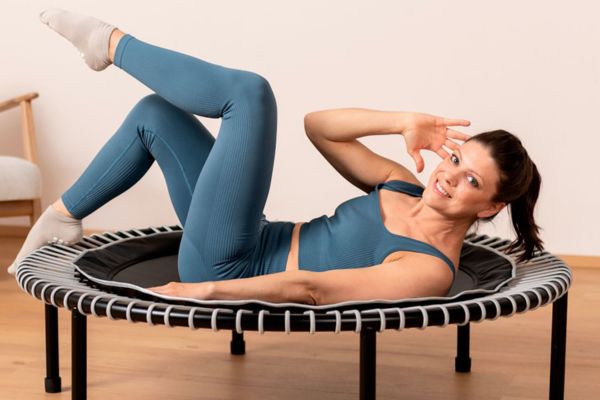 ACCESS 700+ WORKOUTS ON BELLICON HOME
Unleash your potential with the "bellicon Home" online trampoline training portal. Access over 700+ motivating workout videos and nine workout types from yoga to jumping fitness. Achieve your fitness and health aspirations with flexible access, progress tracking, and a 30-day free trial.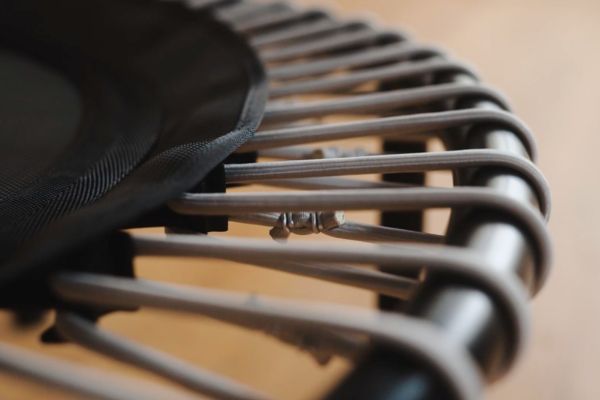 CHOOSE YOUR DIAMETER
Tailor your workouts to your preferences with three available sizes. 
100cm. Ideal for light bouncing and simple exercises. Mat surface diameter: 67cm. Product weight: 12.5kg. Product dimensions: 104cm x 105cm x 11cm (LxWxH). 
112cm. Perfect for a diverse and balanced workout. Mat surface diameter: 79cm. Product weight: 13.5kg. Product dimensions: 115cm x 116cm x 11cm (LxWxH). 
125cm. Unparalleled comfort for standing or lying exercises. Mat surface diameter: 97cm. Product weight: 15.5kg. Product dimensions: 128cm x 128cm x 11cm (LxWxH).
Elevate your fitness journey with the Bellicon Classic Black Trampoline – premium equipment for all fitness enthusiasts. Experience unmatched quality, stability, and versatility, meticulously designed by German precision and expertise. Transform your health, strength, and well-being.
Specification: Bellicon Classic Black Trampoline
Warranty conditions for Bellicon Classic Black Trampoline
For further information on the warranty, please refer to the manufacturer's terms of warranty. The manufacturer's warranty is an extra service and does not affect your statutory rights.
| Manufacturer's warranty | Full Warranty |
| --- | --- |
| Home | 2 years |
| Light Commercial | 2 years |
Downloads: Bellicon Classic Black Trampoline
User Manual
Mat and Bungee instructions
Other
Safety instructions
We offer 0% APR finance* as well as classic credit options on hundreds of products
* Subject to status and minimum spend of £500.
For more information - click here.
---
To pay on finance simply choose 'V12 Finance' at the checkout.
---
With finance the first payment is typically taken 30 days after the delivery of your goods.
---
3 great reasons to buy on finance
No messy paperwork
Instant decision
0% APR Interest Free finance (on selected products) over up to 12 months or Classic Credit at 15.9% APR Representative for up to 4 years
---
Only available to UK residents over the age of 18. Subject to terms and conditions. Signature on delivery may be required. Goods may require to be shipped to the address given on your finance application.
Step 1: Enter Deposit
Step 2: Select a finance option
| Loan Term | 6 Months | 12 Months | 24 Months | 48 Months |
| --- | --- | --- | --- | --- |
| Cash Price | £578.00 | £578.00 | £578.00 | £578.00 |
| Amount of Deposit | £289.00 | £289.00 | £289.00 | £289.00 |
| Total Amount of Credit | £289.00 | £289.00 | £289.00 | £289.00 |
| Annual Rate of Interest | -146.03% | -73.02% | -34.32% | -16.02% |
| Monthly Repayment | £13.00 | £6.50 | £3.78 | £2.16 |
| Representative APR | 0.00% | 0.00% | 15.90% | 15.90% |
| Total Cost of Credit | -£211.00 | -£211.00 | -£198.37 | -£185.09 |
| Total Amount Payable | £367.00 | £367.00 | £379.63 | £392.91 |