Shipping costs:
Free UK delivery!
Key Features:
Extra savings - see related package deals
Belt-Driven Fan Resistance
LCD Console With Interval Programs
Heavy Duty Steel Frame Construction
Wireless Heart Rate Receiver
Commercial Rated
2 Years Home, 1 Year commercial (Parts & Labour) Warranty
The new Taurus Ergo-X Air Bike is the ideal workout partner for performing high-intensity interval training (HIIT) or even gentle cardiovascular workouts, and everything else in between. Whether your goal is a light workout to maintain a healthy life-style or to train with maximum intensity, the Taurus Ergo-X Air Bike is the perfect companion.
Product Details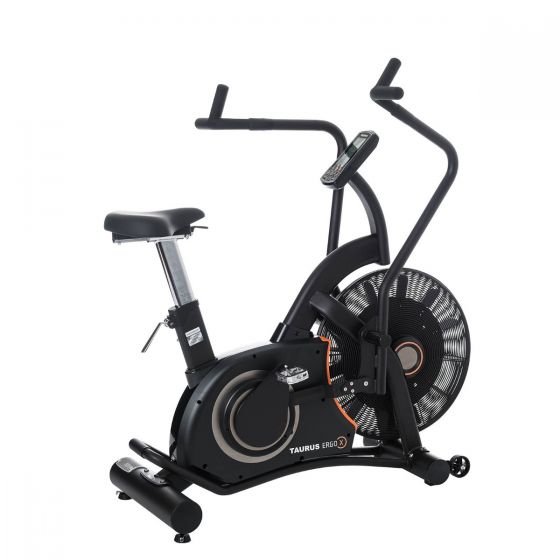 Flexible and Durable
The Taurus Ergo-X Air Bike is also an ideal solution for commercial fitness facilities with unbeatable durability, engineered to compete with the best air bikes on the market.
Air bike design demands the toughest of fundamental components. Machine weight and component quality are of the highest importance to ensure it can handle the most intense of workouts!
The belt-driven fan resistance means you will have years of use with minimal maintenance. The fan resistance makes it easy to increase resistance during your workouts - just pedal faster!
The bike is built to last for home use and commercial grade facilities! The solid, sturdy construction ensures stability for users.
Commercial warranty which covers: 5 Years Frame, 1 Year Parts, 6 Months Wearable Items and 6 Months Labour
Easy to Read LCD Screen and Guaranteed Comfort
The easy to read LCD display makes it easy to track and monitor your intenstiy and progress during your workouts.
The Taurus Ergo-X Air Bike allows you to quickly and easily monitor your time, speed, distance, calories, and intervals!
The bike is entirely powered by the user cycling, so there is no mains power required!
The oversized seat with 4-way adjustment ensures a comfortable workout for any user!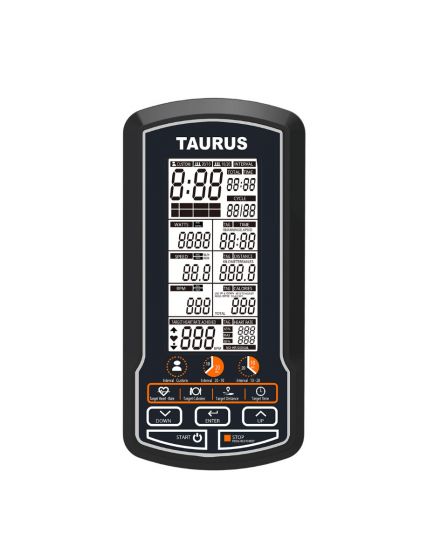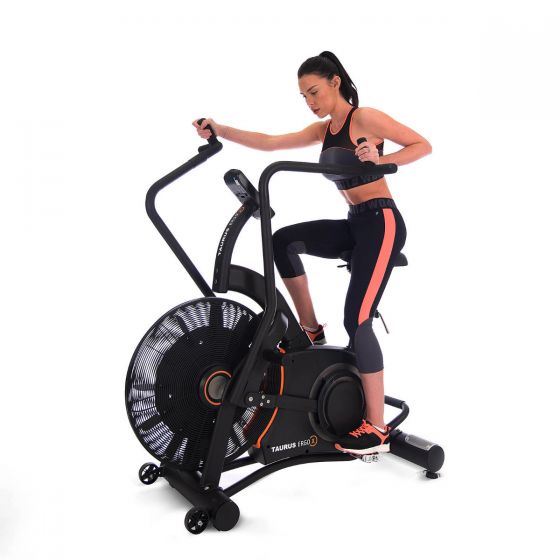 Dual-Action Design and Easy Transport
Take your workouts and performance to the next level! Get a full body workout from the Taurus Egro-X Air Bike!
The Dual action design means that you will be constantly be working both your lower and upper body.
If you want to focus purely on an upper body workout, simply use the convenient foot pegs to take your lower body completely out of the equation!
The comfortable rubber grip handles have a range of F-grip positions, meaning you can programme your workout, your way.
The Ergo-X features front wheels and a carry handle to enable easy transportation of the bike to different locations for training or storage when not in use.
Benefits
Indoor cycles are hugely popular and are a fantastic solution for training at home, as they typically don't require much space and can be easily manoeuvred from place to place. The added bonus of including the upper body in your workouts makes the Ergo-X an essential for anyone who wants to take their training to the next level. The massive range of benefits include: -



Increased calorie burning




Overall improvements to general health and fitness




Improved whole body muscle tone




Low impact exercise which sustains joint health



Maximum User Weight
160kg
Dimensions Open
124x38x144cm (LxWxH)
Display Feedback
Watts, Time, Speed, Distance, RPM, Distance, Heart Rate, Calories,
Packages including Taurus Ergo-X Air Bike