Shipping costs:
Free UK delivery!
Key Features:
12-in-1 adjustable barbell kit
Includes Straight bar and EZ bar option
Smooth and simple weight adjustment
Perfectly balanced weight
Adjustable from 6.75kg up to 36kg
Details
Specification
Warranty
The BodyMax Selectabell Barbell combines a range of fixed bar options in one robust, compact weight lifting package.
EASY TO USE
Replacing 14 fixed weight bars (7 straight bar and EZ-Bar weight options) this incredible new addition is designed to offer incredible value for compact spaces while allowing quick and easy weight transition between sets.
QUICK ADJUSTMENTS
Simply lift and slide the weight selector pin and you can rapidly increase or decrease your weight to match your strength training goals. Perfectly balanced to ensure that as the resistance is altered the shape of the barbell never changes.
FREE WEIGHT EXPERIENCE
Both the barbell and EZ Curl bar can be removed and replaced at 180 degrees, allowing you to handle it just like you would a free-weight at the gym.
ROBUST
This exceptionally sculpted and robust performer, will help you gain lean body mass, lose fat and improve your general fitness level in the comfort of your own home gym.
WEIGHT OPTIONS
EZ Bar - 6.75kg, 11.25kg, 15.75kg, 20.25kg, 24.75kg, 29.25kg & 33.75kg
Straight Bar - 9kg, 13.5kg, 16kg, 22.5kg, 27kg, 31.5kg & 36kg
WARRANTY
2 Years Parts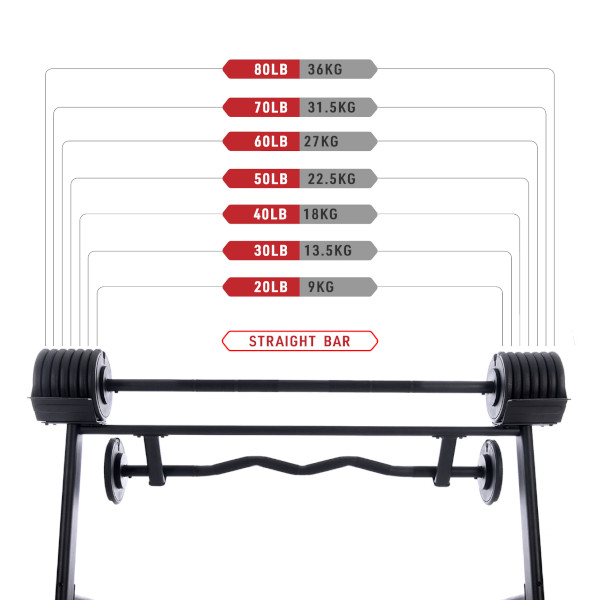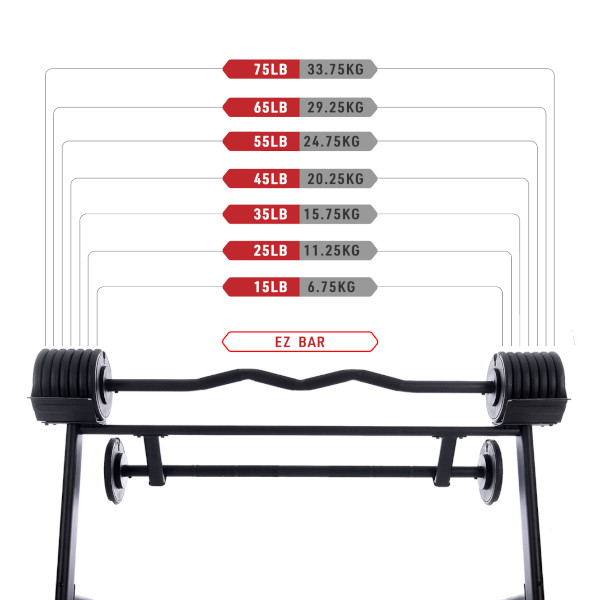 Dimensions Open
130x43x75cm (LxWxH)
Warranty conditions for BodyMax 80lbs/36kg Selectabell Adjustable Barbell & Stand
For further information on the warranty, please refer to the manufacturer's terms of warranty. The manufacturer's warranty is an extra service and does not affect your statutory rights.
| Manufacturer's warranty | Full Warranty |
| --- | --- |
| Home | 2 years |