Shipping costs:
Free UK delivery!
*
Use code '
PAYDAY10
' for
10% discount
at the checkout
10% discount
|

was

£269.00
|

on selected items
|
You pay

£242.10
Shipping costs:
Free UK delivery!
*
Use code '
PAYDAY10
' for
10% discount
at the checkout
10% discount
|

was

£269.00
|

on selected items
|
You pay

£224.99
Key Features:
Extra savings - see related package deals
Sold as a single dumbbell
Replaces 18 dumbbells
Adjustable from 2kg up to 36kg
Scratch-resistant coating
High quality storage tray
Details
Specification
Warranty
Powerhouse Fitness are proud to bring you the latest addition to the BodyMax Selectabell Dumbbell range. The BodyMax 36kg Selectabell 18-in-1 Dumbbell is without question the most flexible adjustable dumbbell currently available on the market!
PRODUCT DETAILS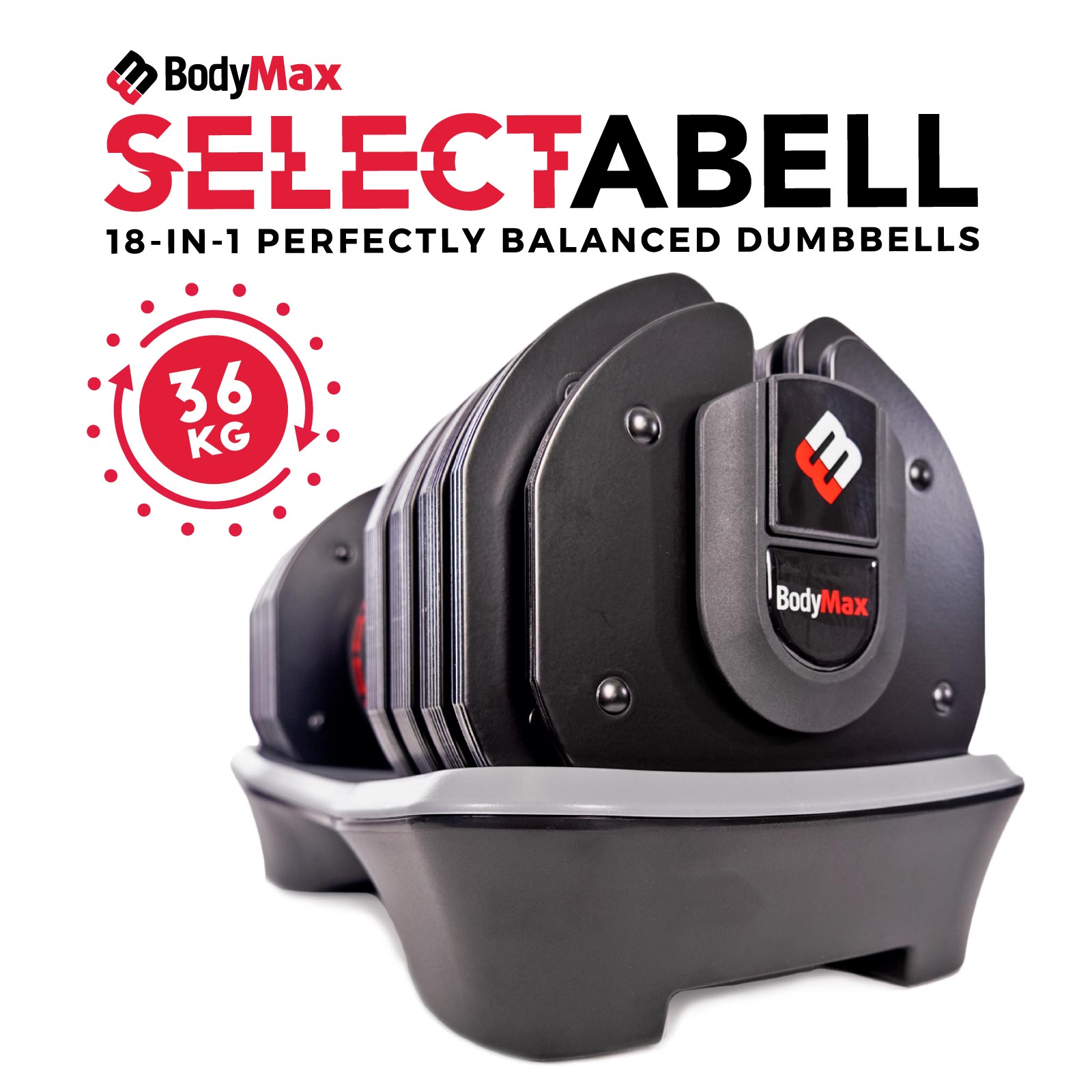 FLEXIBLE AND ADJUSTABLE

The BodyMax Selectabell Dumbbell has been designed and manufactured with the customer in mind. Our range of package options will appeal to customers of all abilities and levels of training.

A market leader in the home fitness industry, the BodyMax 36kg Selectabell 18-in-1 Dumbbell is the best adjustable dumbbell available to enhance your home gym set-up.

With an incredible 18 variations, it can be adjusted in no time at all from 2kg up to 36kg. With a quick adjustment of the safety locks, the patented internal adjustment mechanism engages and the desired weight on the handle can be selected with absolutely no fuss, replacing the need for 18 dumbbells of equivalent weight while ensuring minimal space is required.

The ergonomically shaped handle provides a comfortable grip during exercise while the patented locking system is reinforced with nylon and fibre-glass components making it incredibly resilient.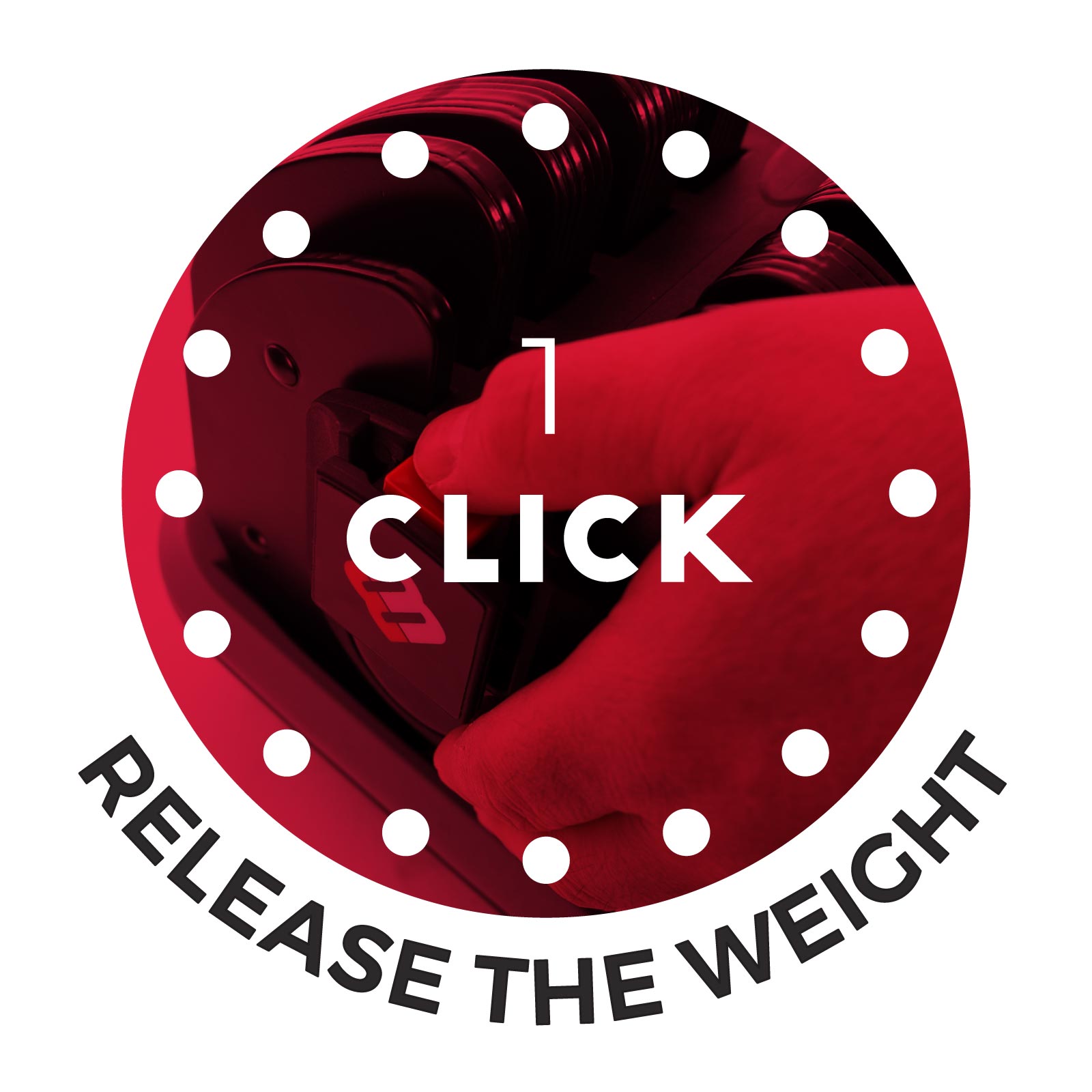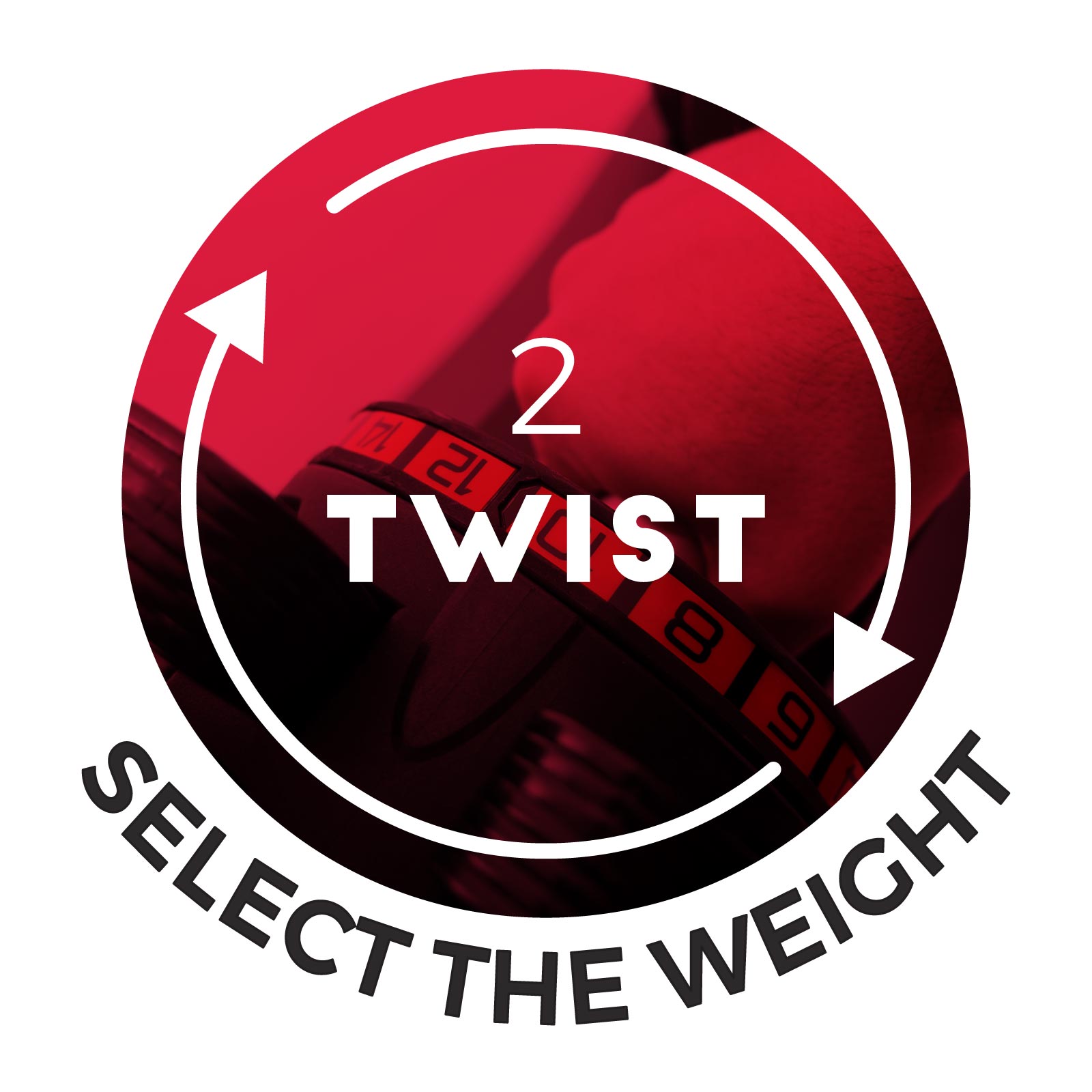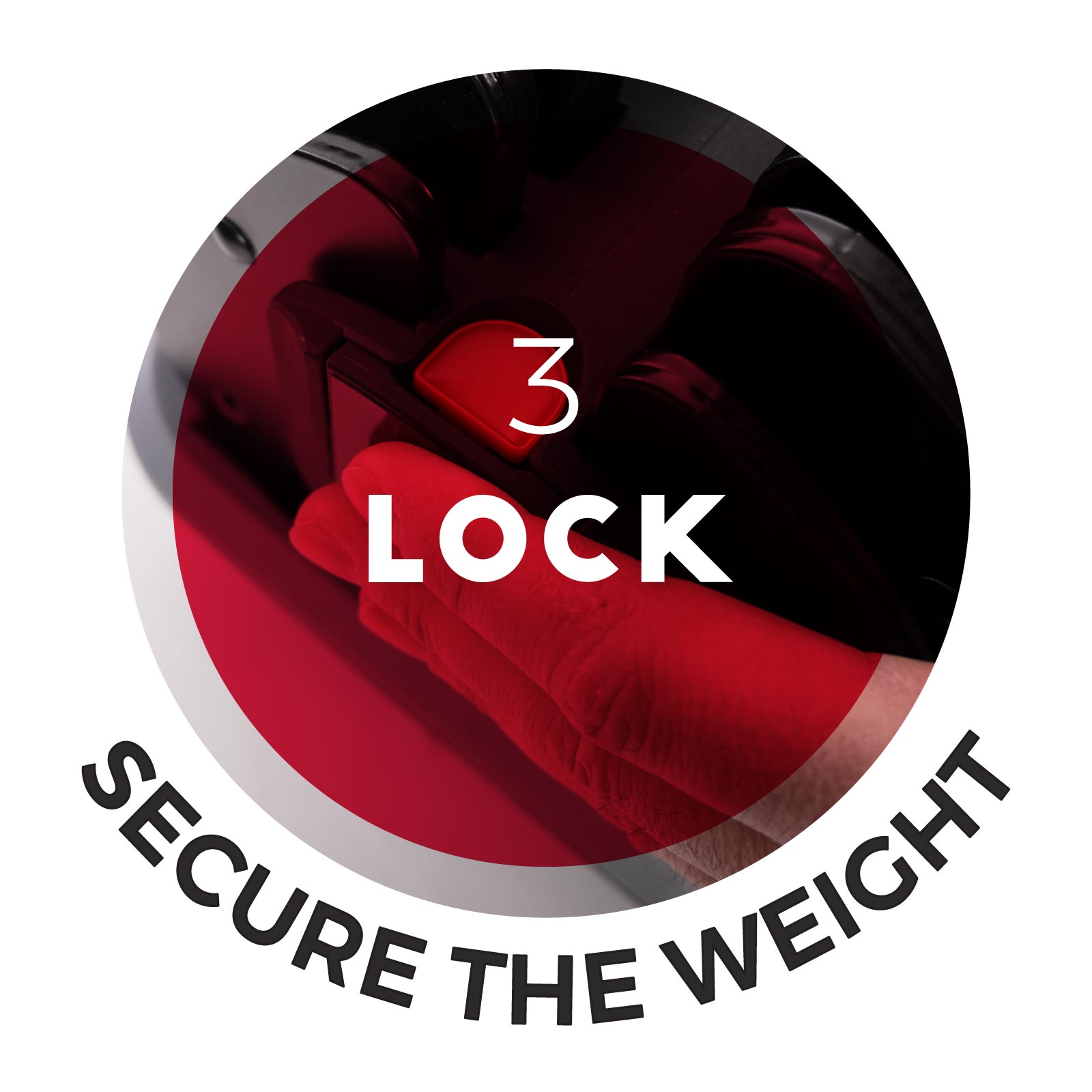 RELEASE THE WEIGHT

Straddling either side of this beautifully designed dumbbell, is located a humble button. By applying gentle yet authoritative pressure to these buttons, you will release the locking mechanism and open up the universe of possibilities contained within the BodyMax Selectabell.

Whether you're new to excercise and looking to invest in your first piece of gym equipment, or a seasoned athlete wanting to add another weapon to your arsenal – this sleek and adaptable dumbbell is perfect to help you achieve your fitness goals.

The BodyMax Selectabell can be used in specific weight training sessions to increase muscle strength, improve definition, and add size to every major muscle group.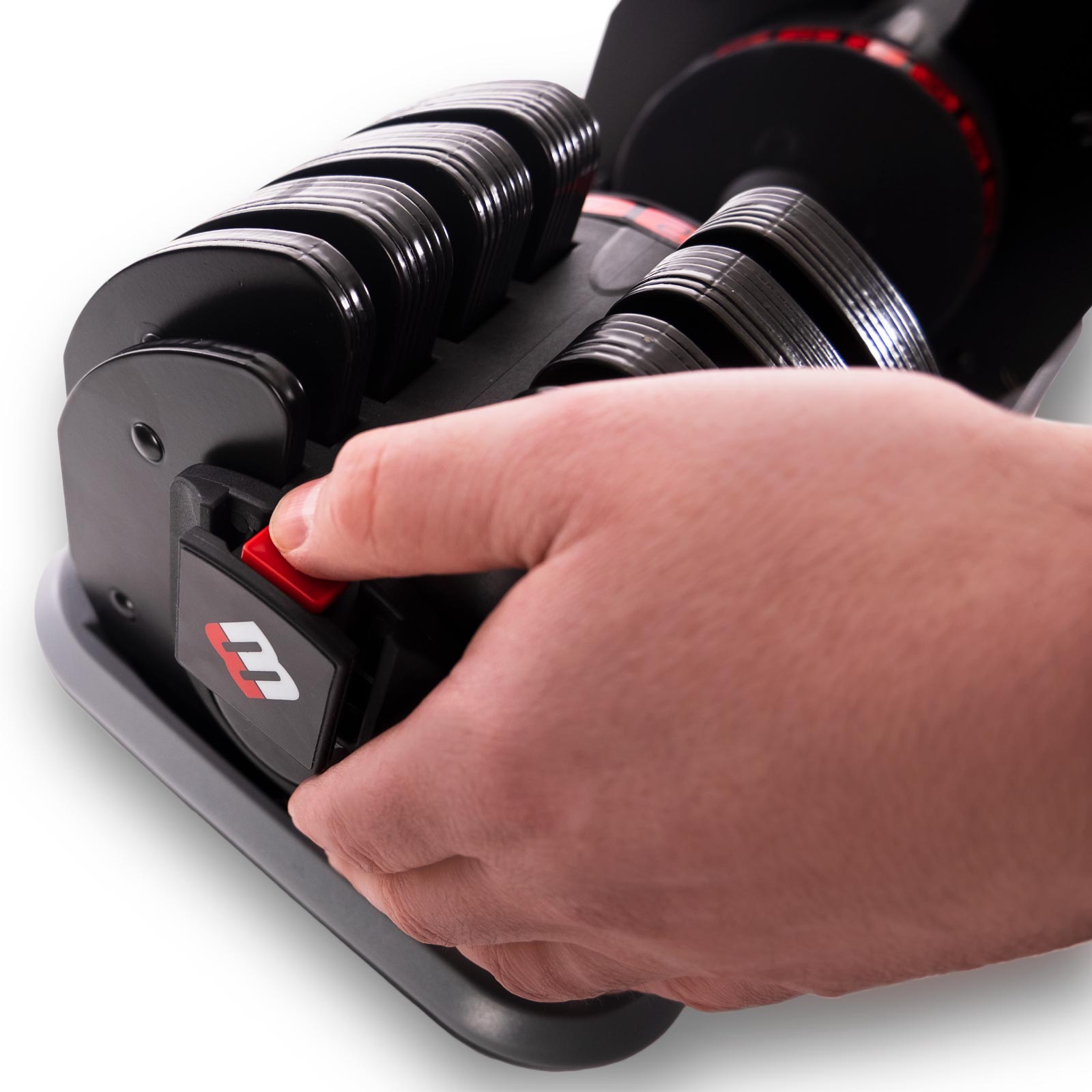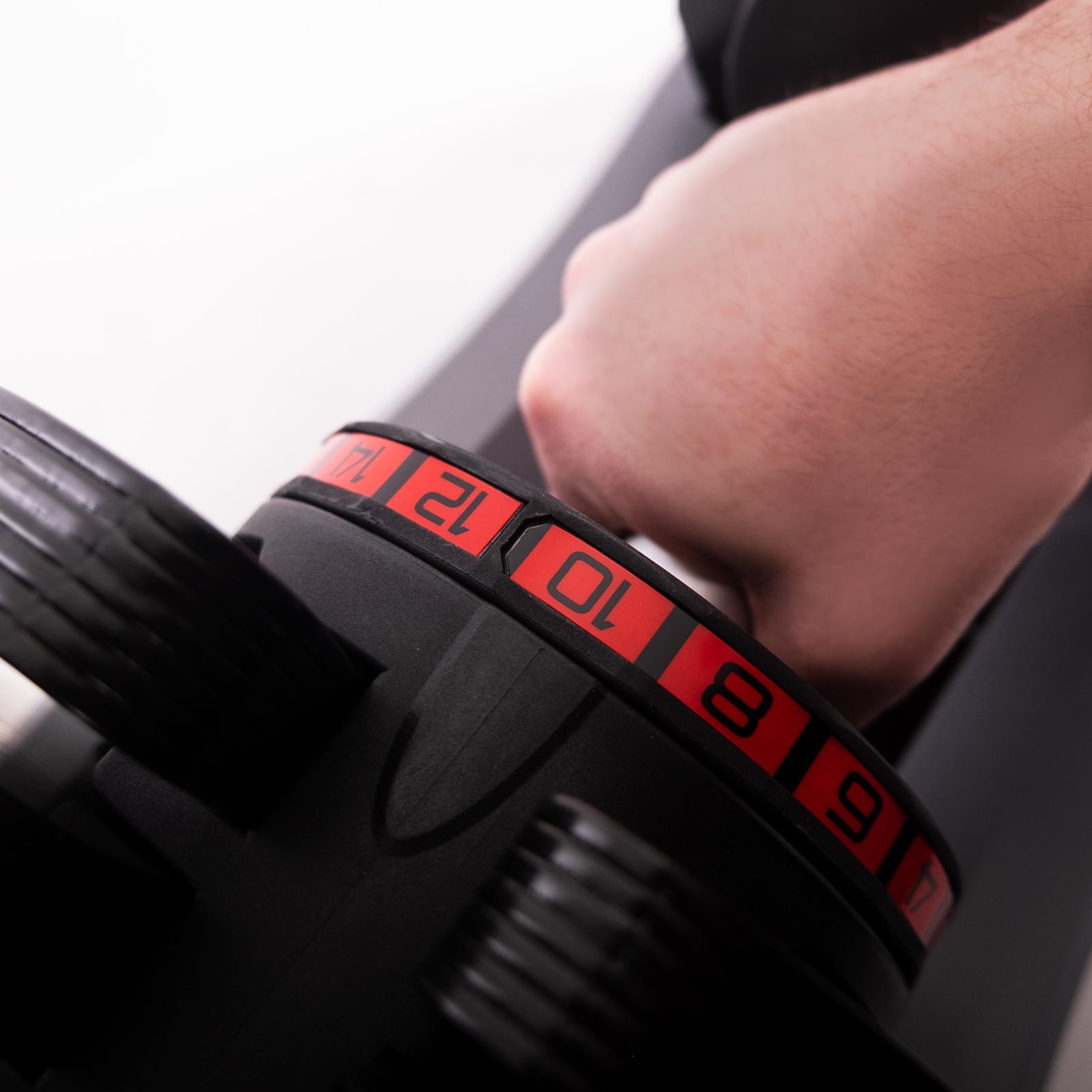 SELECT THE WEIGHT

Once you have unlocked this cave of mysticism, it is time to make your first wish. Guide your hand towards the unbreakable bond which keeps the two heads of the Selectabell together in an eternal embrace. With the easiest of turns, you can select the weight of your choice and prepare for the ride of your life.

The BodyMax Selectabell is also a fantastic addition to circuit or functional training workouts to give further challenges to help maximise your progress. With the option of buying the BodyMax Selectabell as an individual or as part of a pair, you have total control over how you can include this highly versatile piece of equipment in your training programme.

If you want your home gym to be the envy of everyone you know, the robust and stylish stand is available to keep your space organised and clutter-free.
SECURE THE WEIGHT
Finally, before you take the plunge and begin your exploration into the world of wonders that is the BodyMax Selectabell, one final action is required. Place your hands on either side of the Selectabell and thrust the locking mechanism back into place.
BENEFITS
Resistance exercise training has a massive range of benefits for everyone! This can be anything where you're putting your muscles under stress (lifting weights, using resistance bands, performing bodyweight exercises like push-ups or pull-ups). No matter whether you want to get a little bit healthier or you've got your eyes set on competitive weight lifting, resistance exercise will help! Resistance training has many benefits to the whole body, including: -



Improved muscular strength, power, and endurance




Increased muscular tone




Development of good posture




Aids in the improvement of bone density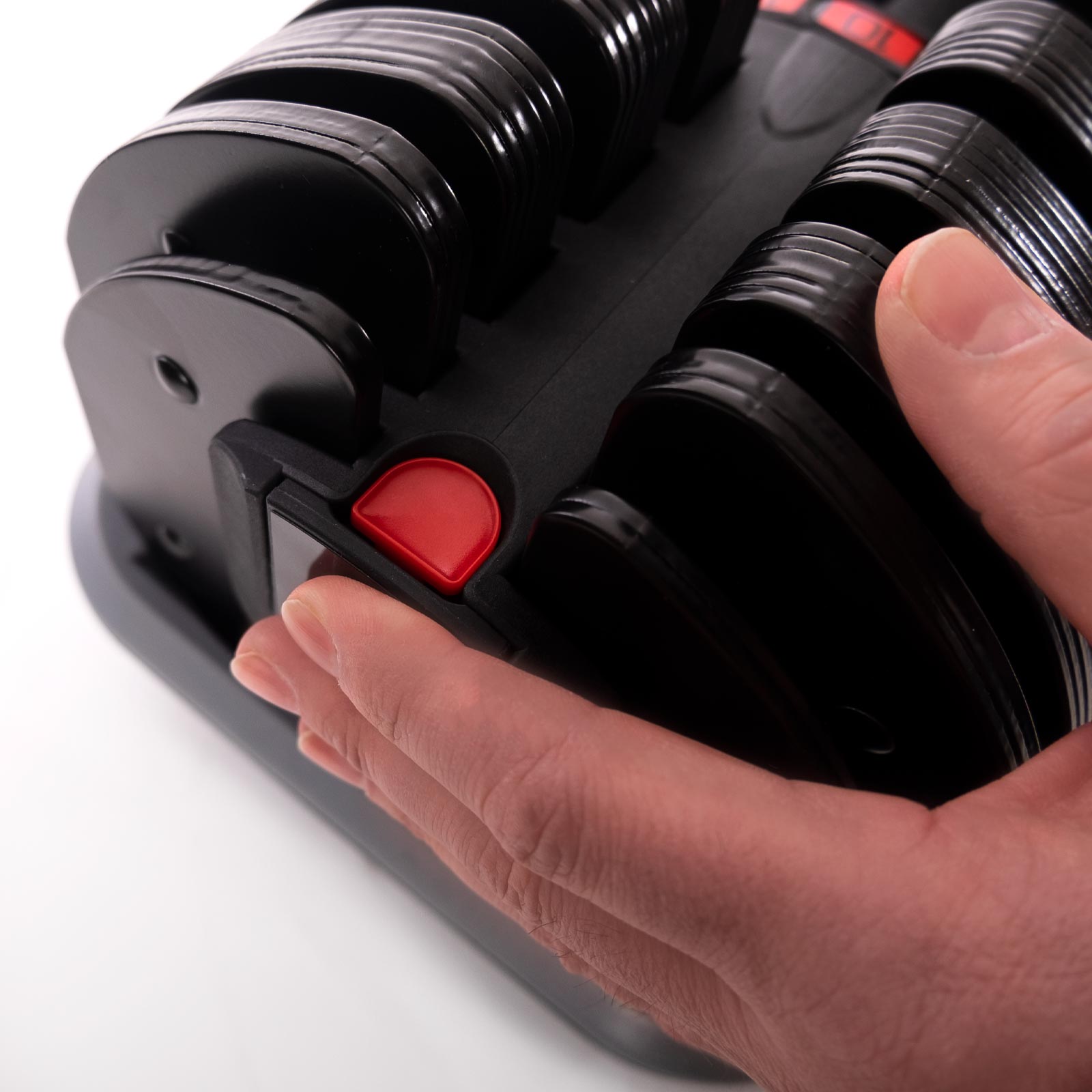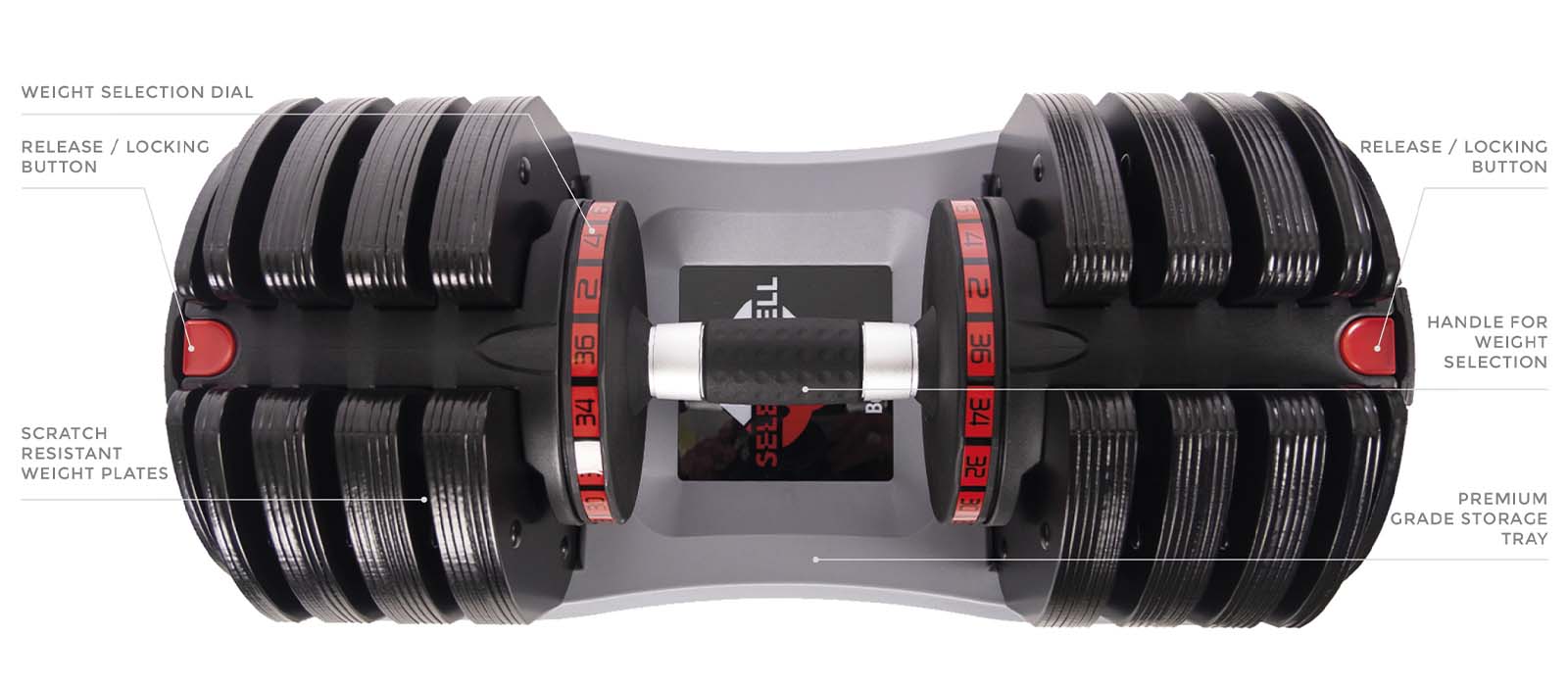 WARRANTY
2 Years Parts
Individual Dumbbell dimensions: 54 x 22 x 24 cm
Dimensions Open
54x22x24cm (LxWxH)
Warranty conditions for BodyMax 36kg Selectabell 18-in-1 Dumbbell
For further information on the warranty, please refer to the manufacturer's terms of warranty. The manufacturer's warranty is an extra service and does not affect your statutory rights.
| Manufacturer's warranty | Full Warranty |
| --- | --- |
| Home | 2 years |
Packages including BodyMax 36kg Selectabell 18-in-1 Dumbbell