Shipping costs:
Free UK delivery!
Key Features:
Waterproof and UV proof.
For indoor and outdoor use.
Innovative and sophisticated design.
You can play Teqball, Teqtennis, Teqpong, Teqvolley and Qatch
Details
Specification
Warranty
Teqball One is the fantastic non-foldable version of the Teqball Smart table, a wonderfully designed and innovative piece of sports equipment, that has created a new football based sport, called Teqball.

Product Details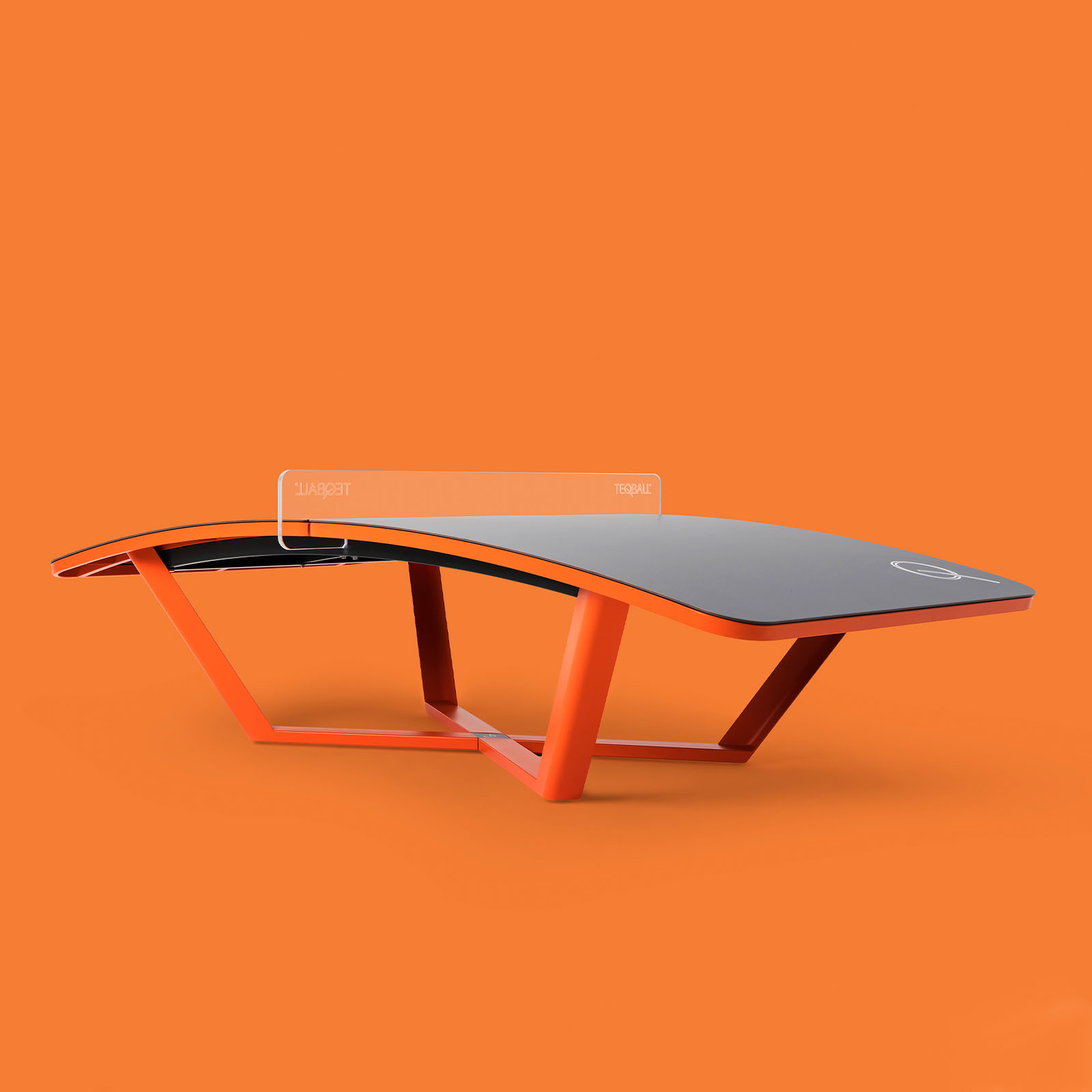 WHAT IS TEQBALL?
Teqball is perfectly suitable for professional footballers as well as amateur enthusiasts whose ambition is to develop their technical skills, concentration and stamina. However, it is not only our skills we can improve on this specially-bent board.
The net is solid and thus the ball bounces back from it, so this way the concept of uninterrupted games is no longer a dream. The structure of a Teqball table, aligned with the rules, does not allow luck or chance to interfere with the game; players can only rely on their skills and abilities.

The Teqball tables are made to meet our exacting standards of quality and durability, with Teqball SMART having the added advantage of being easy to move to any location, indoor or outdoor. This is made possible by the addition of lockable wheels and by its foldable structure.
Folding the sides of the table up helps to save place after practices and games. The Teqball SMART table can also be folded up on just one side to create a rebound wall to play and practice against.

HOW DOES IT WORK?
Football isn't the only sport one can play on the Teqball table, four other sports can also be played on the Teqball ONE and Teqball SMART tables: Teqtennis, Teqpong, Qatch and Teqvolley.
With these versatile ways of sporting and working-out, everyone can find the ideal sports activity independently of their age, sex and physical abilities We are absolutely convinced that all family members would soon discover the pleasures of sport on the Teqball table!
Teqball can be played with a football however a size 5 is recommended. Teqball can certainly be played by rules created by the players, but the official rules of the game are very simple.
The ball must be returned to the opponen't side onto the table by touvhing it a mximum of three times. The opponent and equipment cannot be touches, the ball cannot be touch by the same body part in succession and finally, within a play a player can return the ball with the same body part only twice after each other.
These rules make this sport tremendously spectacular and suitable for even professional football teams for training purposes. Teqball can be played by 2 players (singles game), by 3 players (Canadian doubles), by 4 players (doubles game) or even by several more players similar to the 'Round-the-table' game in Ping Pong. On our Teqball Smart tables individual games and training sessions can also be conducted.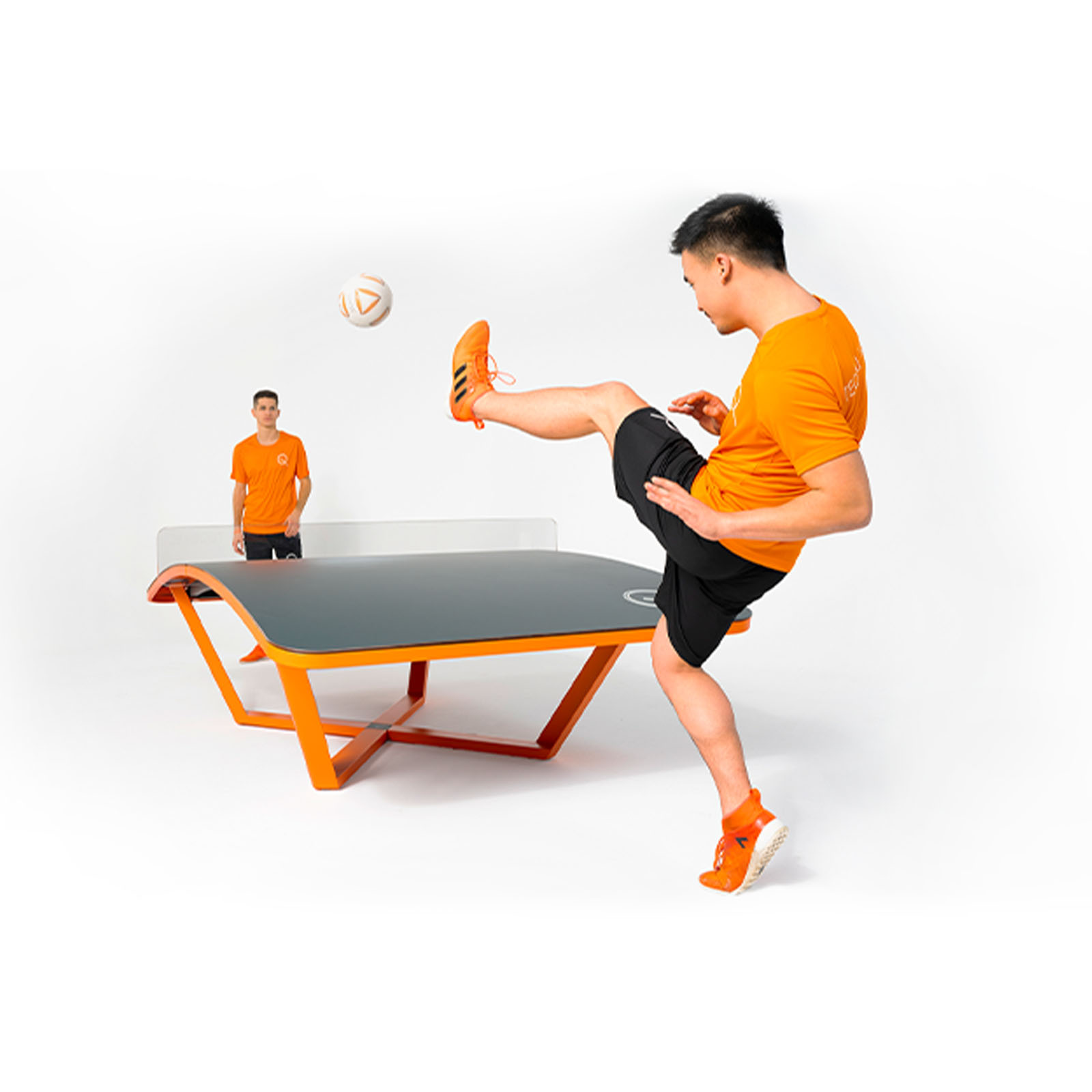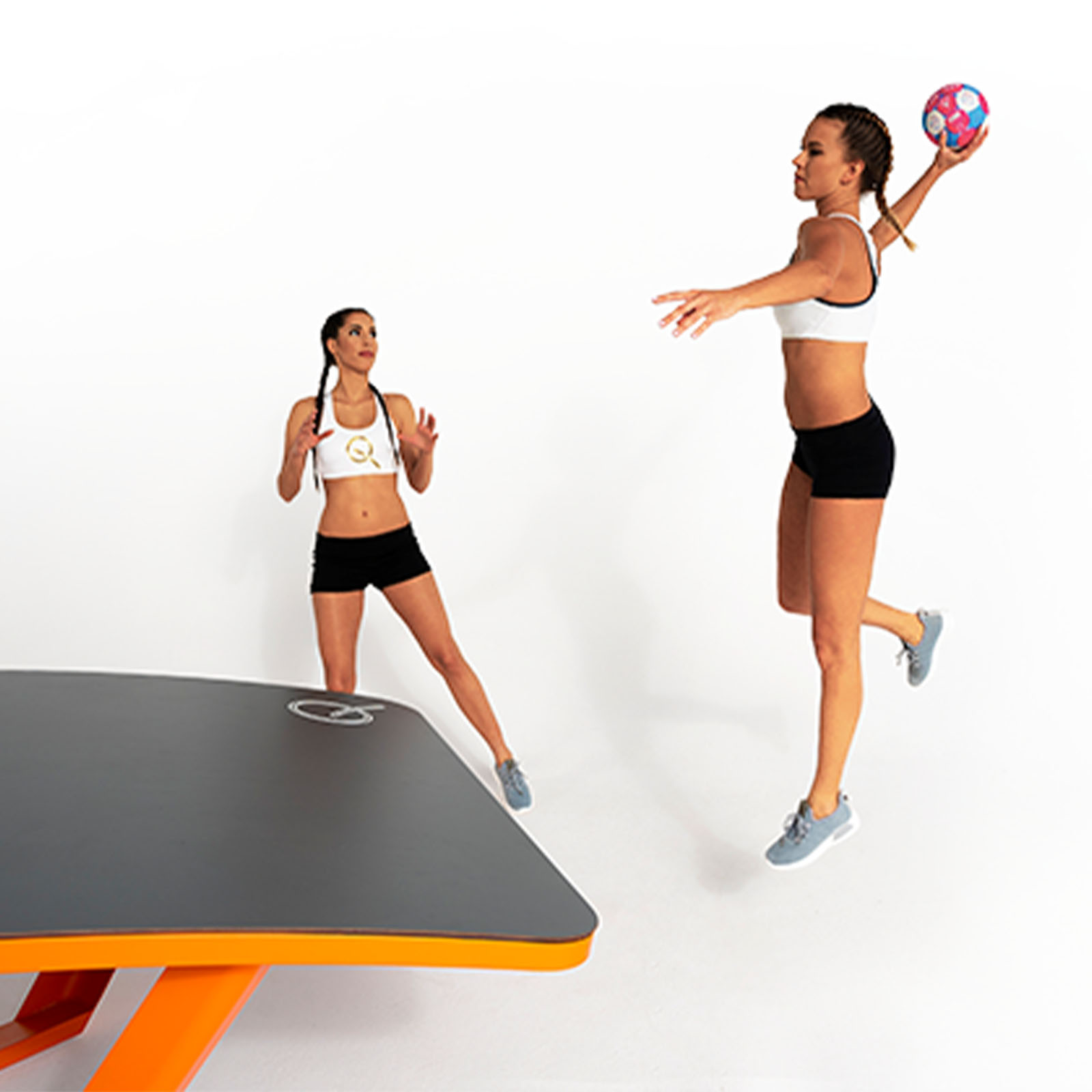 OTHER GAMES
Teqvolley - For this game all you need are 4 players and a beach volleyball. The rules are very easy: the players stand at both ends of the table and hit the ball back and forth to each other. The teams can use a maximum of 3 touches (it can be 1 or 2 as well) for the return and the ball must bounce once on the opponent's side of the table after which it must be returned. The edge ball here should be repeated, just like in teqball. Jumping to spike is only allowed from behind the serving base line. A set ends after 12 points, and two sets must be won in order to win a match. Teqvolley is that simple.
Teqpong - For this game all you need is a set of table tennis paddles and a table tennis ball. The main rule must always be kept in mind: you cannot touch the equipment. The rest of the rules of the game are the same as in Qatch: one set is 12 points, and a match is decided by two winning sets. This game is naturally about the pleasures of sport, and it brilliantly develops ball handling and concentration skills as well, since the ball bounces in a different way as the result of the special bend of the table.
Qatch - In this game the players stand at both ends of the table and throw the ball back and forth to each other in an intense fashion. Passing the ball back must be done from where they have previously caught it. The ball must bounce once on the opponent's side of the table after which it must be returned within 3 seconds. A set is consisted of 12 points, and two sets must be won in order to win a match. Qatch is that simple.
Benefits
Become part of the Teqball revolution today! It has already been endorsed by the following pro's, clubs and Ambassadors. Teqball is already used in: -



Public parks, hotels, schools, youth clubs and academies, leisure centres, fitness centres, home use and even beaches!




Football legend Ambassadors include Simao Sabrosa, Luis Figo, William Gallas and Christian Karembeu.




Other Teqers include: Marco Materazzi, Landon Donovan, Carles Puyol and Ossie Ardiles.




Clubs already signed up and using the Teq tables are: Everton, Lazio, Southampton, Ajax, Chelsea, Arsenal and AEK Athens.



Warranty conditions for Teqball One
For further information on the warranty, please refer to the manufacturer's terms of warranty. The manufacturer's warranty is an extra service and does not affect your statutory rights.
| Manufacturer's warranty | Warranty type | Warranty period |
| --- | --- | --- |
| Home | | 24 Months |
We offer 0% finance on hundreds of products.
For more information - click here.
---
To pay on finance simply choose 'V12 Finance' at the checkout.
---
With finance the first payment is typically taken 30 days after the delivery of your goods.
---
3 great reasons to buy on finance
No messy paperwork
Instant decision
0% Interest Free finance (on selected products)
---
Only available to UK residents over the age of 18. Subject to terms and conditions. Signature on delivery may be required. Goods may require to be shipped to the address given on your finance application.
Step 1: Enter Deposit
Deposit of
-
followed by
-
monthly payments of
-
. Total amount payable
-
APR
-
% representative.
Step 2: Select a finance option
Interest Free Finance (6 Months)
Interest Free Finance (12 Months)
Classic Credit (24 Months) 15.9%
Classic Credit (48 Months) 15.9%