Please select a product for stock availability
Shipping costs:
Free UK delivery!
Key Features:
Clips to SPD pedals for a secure fit
Improves pedalling efficiency, allowing for a smoother stroke
Made from durable premium vamp-microfiber and nylon
Rigidity of 6.0 meets the demands of serious cyclists
Effective both indoors and outdoors
Compatible with all SPD pedals; majority of bikes accept SPD pedals
Details
Specification
Warranty
Description: Taurus SPD Bike Shoe
Elevate your cardio game with the stylish Taurus SPD Bike Shoe! Designed to increase your stability and performance on your exercise bike, your cycling just got a whole stroke better.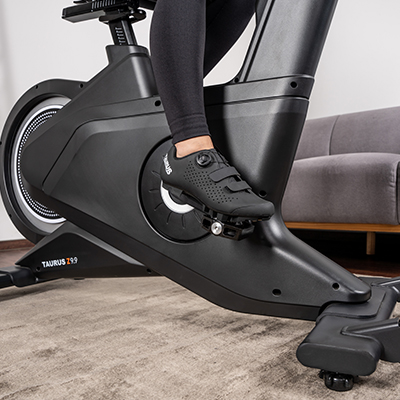 DESIGNED WITH THE SERIOUS CYCLIST IN MIND
The Taurus SPD shoes are a must for any cyclist looking to up their game: perfect for interactive classes, competing against friends or guiding you across the world via Kinomaps! The shoes are made with premium vamp-microfiber and nylon, making them both comfortable and breathable; and built to withstand workout after workout. The shoes use a secure dual-rotation spin knob system to put on, adjust and remove, and are secured with two velcro straps for the perfect level of comfort. A rigidity of 6.0 for the nylon sole meets the demands of serious cyclists, with an anti-collision design to the toe allowing for effective use both indoors and outdoors!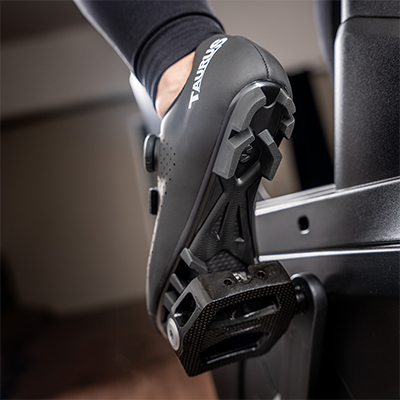 A SOLID BASE
Using cycling shoes gives you a solid base for stronger strokes. Most athletic shoes are flexible, allowing your foot to bend and move. The Taurus SPD Bike Shoe's have a stiff sole that helps optimise your energy. Attaching to your bike allows for a smoother stroke and improves your pedalling efficiency; with your feet flat and stable, you can move more powerfully through the entire pedal stroke. Your hamstrings can work through the pushing motion, while your hip flexors (the muscles across your pelvis) can do the pulling. This makes for a faster, more powerful ride.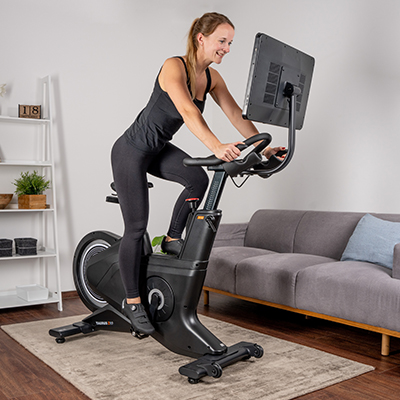 SECURE FOOTING
One of the biggest benefits of cycling shoes is that they clip into the pedals on your bike, similar to how ski boots lock into a ski. The Taurus SPD Bike Shoe have holes drilled into the bottom where you attach cleats that correspond to the holes on your bike pedals (Taurus are SPD and are included in the box). This ensures that when cycling with the Taurus SPD Bike Shoe, your foot will never come loose and remain secure, thereby reducing how much your legs have to work to keep your feet in place. Additionally, clipping into your bike helps you become more aerodynamic; when you clip in, it's easier to get your torso lower to the handlebars, which is particularly effective in improving technique for both indoor and outdoor cycling.
SPD PEDALS
We're aware not all bikes come equipped with SPD pedals... not to worry! We offer SPD pedals that are fully compatible with the Taurus SPD Bike Shoe and can be swapped with pedals on the majority of bikes, so you can utilise the benefits of the Taurus SPD Bike Shoe no matter your setup!
Specification: Taurus SPD Bike Shoe
Warranty conditions for Taurus SPD Bike Shoe
For further information on the warranty, please refer to the manufacturer's terms of warranty. The manufacturer's warranty is an extra service and does not affect your statutory rights.
| Manufacturer's warranty | Full Warranty |
| --- | --- |
| Home | 6 months |