In stock
Order now for dispatch tomorrow
Shipping costs:
Free UK delivery!
Key Features:
Dual cable pulley system to target various muscle groups with isolation or combination training
Versatile workout options for all fitness levels with a 212cm handle and multiple pulley positions
Simple 18-way cable pulley adjustment (24-186cm) for quick transitions and supersets
Crafted for intense use, the robust design is suitable for elite performance centres and home gyms alike
Smooth resistance training due to an adaptable weight stack
Details
Specification
Warranty
Downloads
Description: Taurus Elite Dual Adjustable Pulley

TRANSFORM YOUR GYM ENVIRONMENT WITH PREMIUM CRAFTSMANSHIP: TAURUS ELITE DUAL ADJUSTABLE PULLEY
Enrich your fitness facility with the Taurus Elite Dual Adjustable Pulley – a powerhouse addition designed to transform gym experiences. This cable machine seamlessly blends premium comfort with versatility, offering an array of exercises that make every workout exceptional. With multiple attachments, this pulley system ensures that no two full-body workouts are the same. The Taurus Elite Dual Adjustable Pulley's stability and premium craftsmanship make it ideal for demanding environments such as gyms, fire brigades, military bases, and other facilities. Elevate your training sessions and introduce a realm of limitless possibilities.
DUAL CABLE PULLEY STATION
Maximise your workout possibilities and unleash your potential with the Taurus Elite Dual Adjustable Pulley's innovative dual cable pulley station. Designed for convenience and flexibility, these independent cable pulleys can be used separately or in tandem, allowing you to tailor your routine to your evolving needs.
SIMPLE ADJUSTMENT MECHANISM
We understand that your workout pace may vary, and that's why Taurus made adjusting the cable pulleys a breeze. With a simple 18-way height adjustment mechanism ranging from 24 to 186 cm, changing exercises or switching between sets becomes a seamless process. Whether you're tackling supersets or opting for quick transitions, this mechanism is here to enhance your workout flow.
PERFECT FOR BEGINNERS AND ADVANCED LIFTERS
Whether you're stepping into the world of fitness for the first time or a seasoned lifter, the Taurus Elite Dual Adjustable Pulley is your partner in progress, offering a seamless transition from beginner routines to advanced lifting programmes. Its balanced design accommodates the needs of beginners and advanced athletes, ensuring everyone finds value in their workout.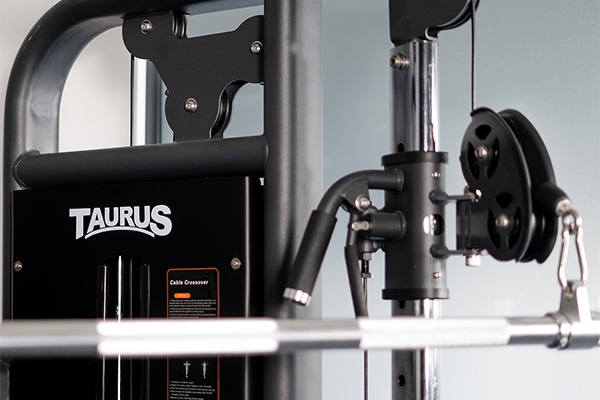 PREMIUM CRAFTSMANSHIP APPROVED FOR COMMERCIAL USE
At the heart of every gym lies its equipment, and the Taurus Elite Dual Adjustable Pulley stands as a symbol of unwavering quality and performance. Crafted to exceed the demands of elite performance centres, this pulley system boasts exceptional stability and manufacturing precision. Its resilience extends to intense environments like gyms, fire brigades, and military installations, reflecting its reliability even under the most rigorous conditions.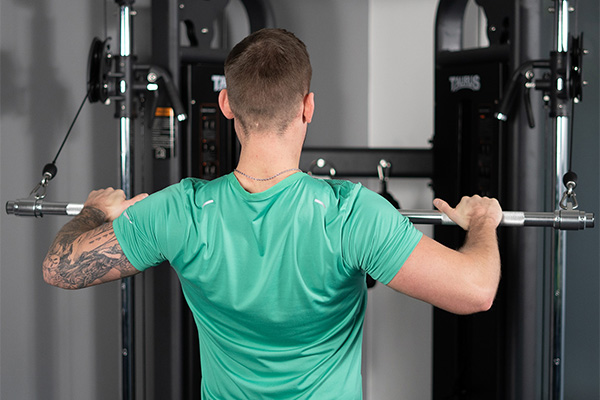 GREAT VARIETY OF EXERCISES
Your fitness journey should be as dynamic as you are. The Taurus Elite Dual Adjustable Pulley offers a playground of possibilities, allowing you to target various muscle groups in isolation or combination. Its ingenious extendable handle (212 cm) broadens the horizon of exercises, encompassing everything from tricep extensions to cable crossovers. With an in-built chin-up bar and customisable pulley positions, every session becomes an exploration of fitness potential.
RESISTANCE TRAINING
Embrace the power of resistance training, where every movement transforms into a step towards your goals. Resistance training offers a multitude of benefits. The Taurus Elite Dual Adjustable Pulley introduces you to a world where resistance is your ally. Its weight stack system ensures that the challenge is always tailored to your capabilities and aspirations—whether you're embarking on a wellness journey or aiming for weightlifting mastery. From tricep extensions to bicep curls, leg abduction/adduction to cable crossovers, resistance training covers an array of exercises that enhance muscular strength, power, endurance, tone, posture, and bone density.
COMPACT
Unlock the potential of your space with the compact design of the Taurus Elite Dual Adjustable Pulley. This versatile equipment doesn't just fit; it thrives in various settings. From home gyms to corporate wellness centres, its sleek presence and adaptable functionality ensure that your workout area remains clutter-free while your fitness options expand.
TRANSMISSION RATIO 2:1
Experience the innovation of a 2:1 transmission ratio. This intelligent design detail enhances the smoothness and efficiency of every movement, streamlining your workout transitions for a more fluid and engaging experience.
EXTENSIVE ACCESSORIES FOR INFINITE WORKOUT OPTIONS
Unleash the full potential of your Taurus Elite Dual Adjustable Pulley with an array of accessories, including:
- Wide bar for expansive exercises like bench presses and squats
- Padded strap for targeted adductor and abductor training
- Two simple straps for versatile exercise possibilities
- Tricep accumulation attachment for focused tricep engagement
- Short bar for seated rows, tricep and bicep exercises
- Multi-grip pull-up bar for versatile upper-body training
- On-device exercise instructions for precision and safety
DIMENSIONS
The Taurus Elite Dual Pulley measures (L) 84cm x (W) 152cm x (H) 212cm, providing a compact yet effective solution for your fitness needs. The weight stack comprises 90kg (20 x 4.5) on each side for versatile resistance training.
Specification: Taurus Elite Dual Adjustable Pulley
Maximum User Weight
180kg
Dimensions Open
84x152x212cm (LxWxH)
Warranty conditions for Taurus Elite Dual Adjustable Pulley
For further information on the warranty, please refer to the manufacturer's terms of warranty. The manufacturer's warranty is an extra service and does not affect your statutory rights.
| Manufacturer's warranty | Parts | Labour |
| --- | --- | --- |
| Commercial | 2 years | 2 years |
Downloads: Taurus Elite Dual Adjustable Pulley
User Manual
Manual
We offer 0% APR finance* as well as classic credit options on hundreds of products
* Subject to status and minimum spend of £500.
For more information - click here.
---
To pay on finance simply choose 'V12 Finance' at the checkout.
---
With finance the first payment is typically taken 30 days after the delivery of your goods.
---
3 great reasons to buy on finance
No messy paperwork
Instant decision
0% APR Interest Free finance (on selected products) over up to 12 months or Classic Credit at 15.9% APR Representative for up to 4 years
---
Only available to UK residents over the age of 18. Subject to terms and conditions. Signature on delivery may be required. Goods may require to be shipped to the address given on your finance application.
Step 1: Enter Deposit
Step 2: Select a finance option
| Loan Term | 6 Months | 12 Months | 24 Months | 48 Months |
| --- | --- | --- | --- | --- |
| Cash Price | £3,499.00 | £3,499.00 | £3,499.00 | £3,499.00 |
| Amount of Deposit | £1,749.50 | £1,749.50 | £1,749.50 | £1,749.50 |
| Total Amount of Credit | £1,749.50 | £1,749.50 | £1,749.50 | £1,749.50 |
| Annual Rate of Interest | 0.00% | 0.00% | 8.09% | 8.30% |
| Monthly Repayment | £291.58 | £145.79 | £84.70 | £48.55 |
| Representative APR | 0.00% | 0.00% | 15.90% | 15.90% |
| Total Cost of Credit | £0.00 | £0.00 | £283.30 | £581.10 |
| Total Amount Payable | £3,499.00 | £3,499.00 | £3,782.30 | £4,080.10 |