This product is currently not available
Key Features:
The Feeling That's Real
10" Touchscreen Console
iFit® Coach Ready™
20% Incline, 20% Decline
Power Meter (Watts)
France. Germany. Canada. You could visit them all with the TDF Pro 5.0 Exercise Bike. With this studio bike you can race through the course of the 2015 Tour de France, or create your own route using iFit technology. With high-tech features including a 10", web enabled touchscreen and up to 20% incline and decline, this indoor bike will give you the feel of an outdoor cycle.
Product Details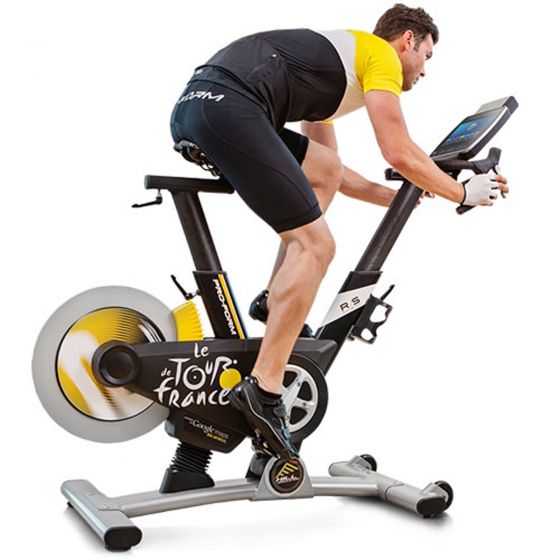 Electronic Shifting Controls with 30 Gears and SMR Silent Magnetic Resistance
The TDF Pro 5.0 features a triple front chainring and 10 rear gear speeds to allow you to move smoothly through 30 gears. And, because we know you take your training seriously, this bike also features customisable gear ratios so that you can match your personal road bike.
Workouts aren't meant to be loud. Thankfully, the TDF Pro 5.0 uses silent magnetic resistance to ensure your workout stays quiet, even when you increase the intensity.
PLEASE NOTE: *access may be limited/restricted for some websites
10" Touchscreen Console and iFit® Coach Compatability
Included on the TDF Pro 5.0 is the ultimate control station - a 10" touchscreen console. With web enabled technology, you can enjoy all your favourite fitness apps and programs as you work out. Navigate through your workout with live stats, from speed and time to calories burned and heart rate - and all in high definition.
Get ready for any route in the world with iFit® technology*. iFit® utilises Google Maps to allow you to create and ride a route anywhere in the world. Enjoy that real road feeling afforded by automatic incline and decline, and wave as you pass the crowds on Street View.
*iFit® membership sold separately. Requires access to computer, tablet or smartphone. Trademarks and trade names are those of their respective owners. Google Maps is a trademark of Google, Inc. Syncing iFit account currently available on Android and iOS tablets only. Tablet not included.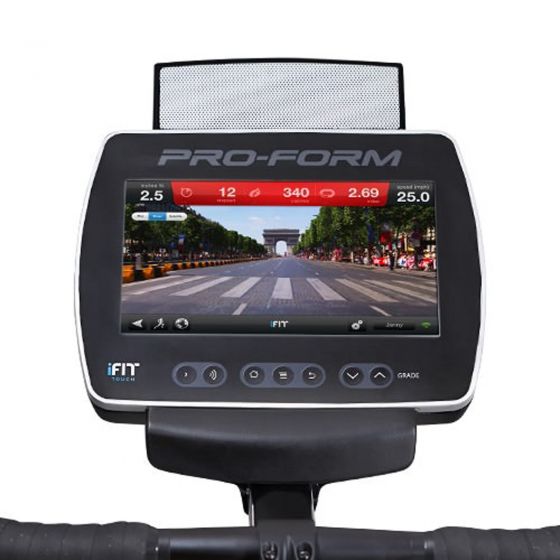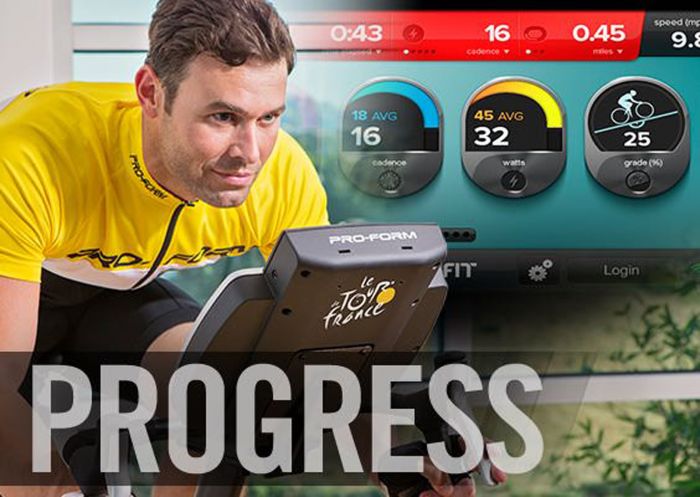 Power Meter and 20% Incline/Decline Capability
The TDF Pro 5.0 uses a power algorithm to track your workout like the pros. Precise stats are provided by the power meter to give you the best indication of your performance.
The TDF Pro 5.0 allows you to incline and decline up to 20% for that real road feeling as you cycle. Reactive to every hill and dip on your route, the TDF Pro 5.0 is the ideal bike to train for any course in the world.
HD Video Workouts
Experience high definition workouts via the touchscreen console, and train on past Tour de France routes including the Champs Elysees and Alpe d'Huez.
24 Preset Tour Workout Apps
Now you can go from spectator to rider with one of 24 preset Tour de France routes. Experience life at the front of the race and select from everything from mountain stages to time trials.
BLE Wireless Technology Compatable
The TDF Pro 5.0 can help you achieve maximum results by keeping you in your target heart rate zone*.
*Requires BLE heart rate monitors - sold separately.
iPod® Compatible Audio with Speakers
Two 2-inch speakers make listening to your own music easier than ever before. Simply connect your iPod®* to the Intermix Acoustics 2.0 Sound System and get cycling.
*iPod® is a trademark of Apple, Inc., registered in the U.S. and other countries. iPod not included.
Adjustable Saddle and Handlebars
The non-slip handlebars of the TDF Pro 5.0 are built with comfort in mind, allowing you to cycle for longer. Additionally, the ergonomic saddle is fully adjustable both vertically and horizontally so that you can find the position which is right for you.
Dual Water Bottle Holder
Keep hydrated easily with the convenient built-in water bottle holder.
Pedals with Toe Cages and Straps
To help you get the most out of your ride, the pedals on the TDF Pro 5.0 feature built-in toe cages and straps.
Front Mounted transport Wheels
Front-mounted wheels make it easy to move your TDF Pro 5.0 around.
Adjustable Leveling Feet
Optimise your ride by keeping the bike stable with the adjustable leveling feet.
Benefits
Indoor cycles are hugely popular and are a fantastic solution for training at home, as they typically don't require much space and can be easily manoeuvred from place to place. Cycling is a wonderful form of exercise and benefits include: -


Increased calorie burning


Overall improvements to general health and fitness


Improved lower body muscle tone


Low impact exercise which sustains joint health