In stock
Order by 3pm for dispatch today
Shipping costs:
Free UK delivery!
Key Features:
Space saving forward facing angled frame fit into corners
Multi-grip pullups bar curves inwards for head clearance
Knees raise pads & dip handles ergonomically slanted
Back pad designed with curvature for proper spine support
Tilted frame & stability cable eliminate body sway
Details
Specification
Warranty
Downloads
Description: Marcy TC-3508 Power Tower
Pull, dip, press and raise your way to your target physique with the Marcy TC-3508 Deluxe Power Tower!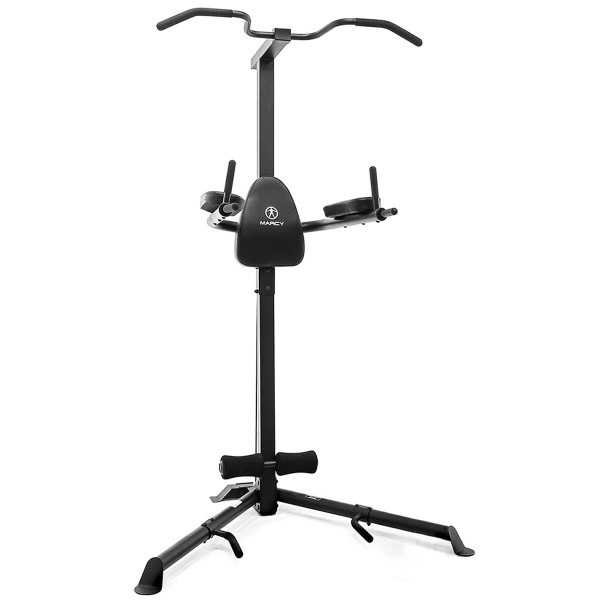 QUALITY ENGINEERING
The purpose of this heavy-duty power tower is to provide practical exercises with your body weight for developing upper body strength and muscle mass.

This massive triangular-based power tower conveniently tucks into any corner, saving you a lot of space with no need to access the back of the tower.

The whopping 133kg/21 stone capacity comes courtesy of 14-gauge thick steel used by Marcy with carefully distributed feet and a bolted rear cable adding an element of stabilisation to avoid any sway from the tower.

In addition, the whole frame is slightly tilted to minimise any sway, also from your body.

Finally, it incorporates flip-up dip handles that quickly revolve upwards to perform pullups or chin-ups without obstruction; this ensures you have plenty of space whatever the station you're exercising on.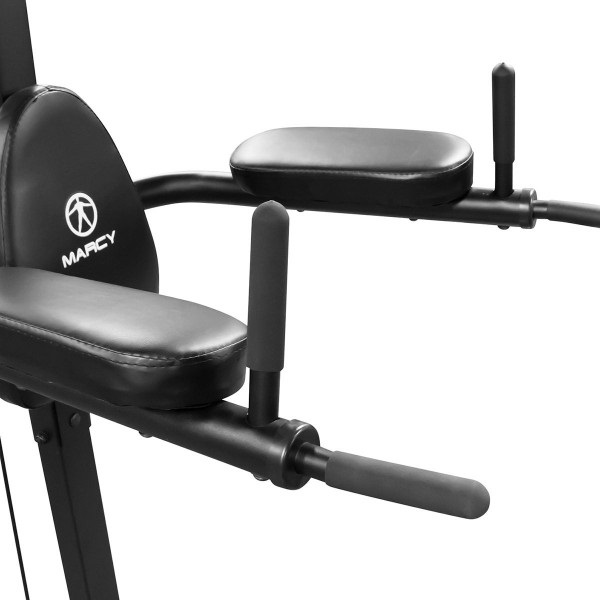 VERTICAL KNEE RAISE STATION
The VKR or Vertical Knee Raise station comes with a thickly padded back pad to support your back.

In addition, the VKR handles, and the ergonomically slanted support pads reduce stress from the shoulder's rotator cuff whilst better securing the forearms against the cushions. They provide the best position and support, making your vertical knee raise, side leg raises or leg raises more comfortable.

The combination of an angled frame, slanted chunky pads and stability grips keep your body secured for effective lower ab training.
DIP STATION
The dip station uses the horizontal handles at the end of the VKR stations. Angled inwardly to alleviate wrist pressure, they target the chest and triceps more effectively.

In addition, the dip bars are folding to free space when performing other exercises on other stations. That function is beneficial since the bars do not obstruct pull/chin-up exercises and sit-ups.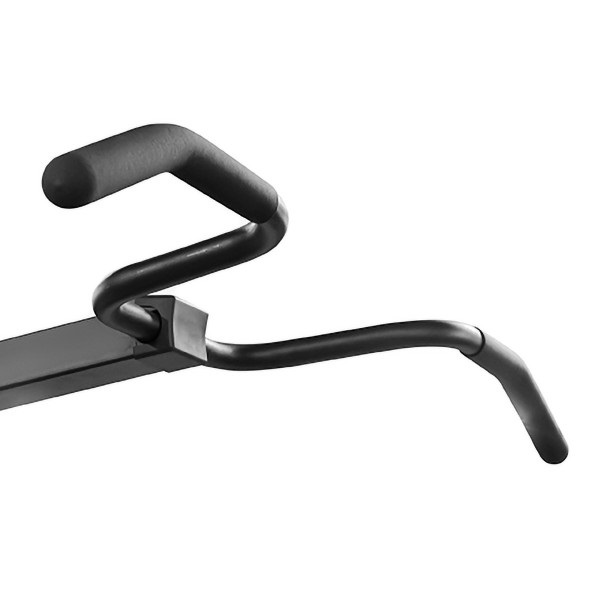 PULL-UP BAR
The pull-up bar comes with multiple grips and curves inwards for head clearance, so you can do both wide for pullups and close grip exercises for neutral grip chin-ups and focus on one muscle group at a time.

The workout tower is high, and you can still stand on the sit-up bar/handles to reach the pullups bar if you miss a few centimetres.
SIT UP FOAM ROLLERS
The Sit Ups foam rollers are handy to hook your feet under and lock you in place for ab crunches.
Although it's not possible to adjust the height of the Sit-Ups bars, you still get the optimal position to fix feet for complete abdominal training.
PUSH-UP BARS
The push-up bars are a bit elevated; that lets you go deeper, increasing the length of the Push up's motion of your chest, triceps, and shoulders, beneficial for strength and muscle mass.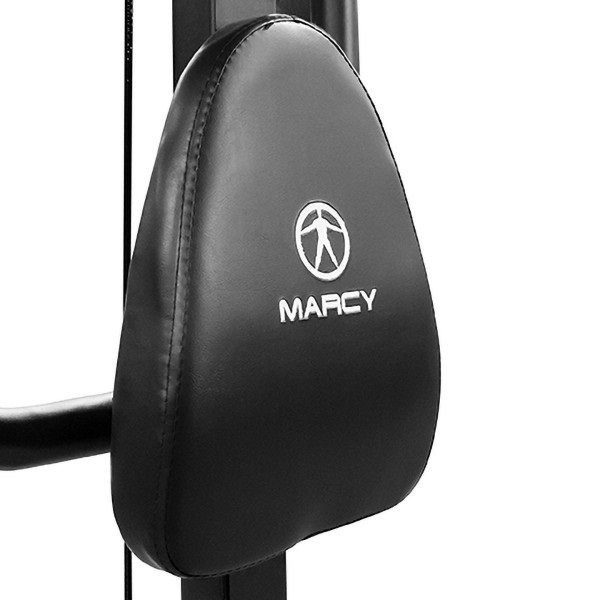 SPACE SAVING
The Marcy TC-3508 Deluxe Corner Power Tower features a Space-Saving Design with its angled frame designed to fit tightly into corners, and its weight of 35 kg is not that heavy to relocate even if it has a heavy-duty steel frame.

Moreover, it's a good choice if you want a total upper body workout. It comes with multiple training stations, where the grips are ergonomically angled to focus on the correct muscles to maximise growth and effectively hit your chest, back, arms and abs.
WARRANTY
Lifetime frame
3 years parts
1 year upholstery
Specification: Marcy TC-3508 Power Tower
Maximum User Weight
135kg
Dimensions Open
102x138x224cm (LxWxH)
Warranty conditions for Marcy TC-3508 Power Tower
For further information on the warranty, please refer to the manufacturer's terms of warranty. The manufacturer's warranty is an extra service and does not affect your statutory rights.
| Manufacturer's warranty | Parts |
| --- | --- |
| Home | 3 years |
Downloads: Marcy TC-3508 Power Tower
User Manual
User Manual