Shipping costs:
Free UK delivery!
Key Features:
Quick release mechanism folds the bench in seconds
Static Foam Rollers secure your feet firmly in place
270 kg Weight Capacity in any angle
Backrest adjusts to flat, incline, decline & upright angles
Dual steel Backrest Supports distribute the weight evenly
A folding bench that isn't flimsy!

This is the Marcy Pure Utility Bench with its innovative folding mechanisms, designed to ensure the bench maintains its structural integrity and feels robust, safe, and quickly folds flat to a third of its height for easy storage.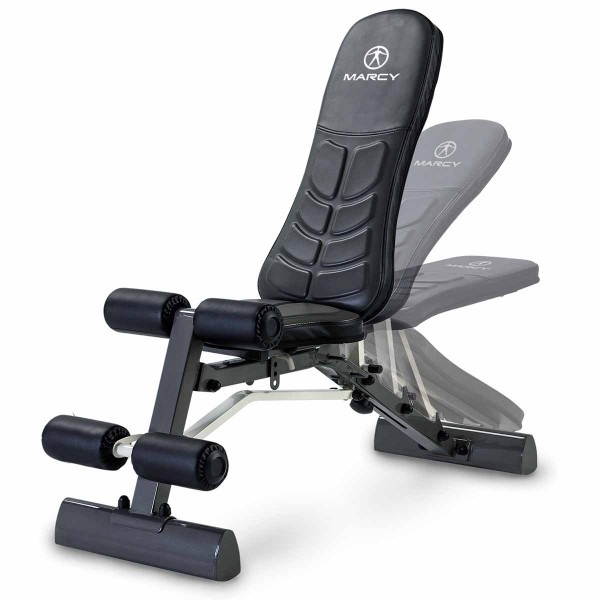 FULLY ADJUSTABLE
The reinforced multi-position back-pad allows for four unique presses: flat, incline, decline and military, and the versatile design also allows you to tone your abs, arms, legs, and chest.

To further enhance its robust feel, saw-toothed adjustment catchers ensure the bench is equally safe in every angle with a weight capacity of 270 kg. So, no matter what exercise you're performing, the Marcy Pure Utility Bench keeps you in comfort; the unique upholstery not only looks distinctive, but it also enhances the support to your back too.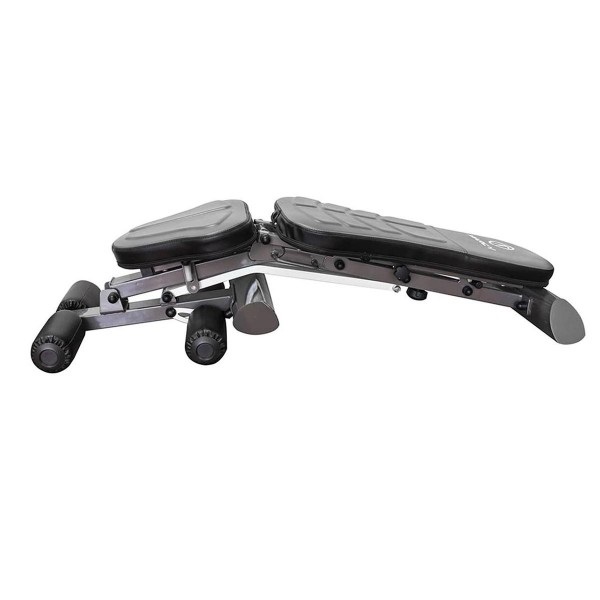 VERSATILE
This versatile and compact bench allows for a wide variety of strength training exercises on its own and even more when it is paired with some dumbbells, a rack, or a cage.

With comfortable foam roller pads, boxed upholstery, and high-density foam, the Marcy Pure Utility Bench provides you with the optimum amount of comfort.

In addition, the powder coating finish and the 14-gauge steel frame make this bench an exceptional sturdy piece of at-home gym equipment.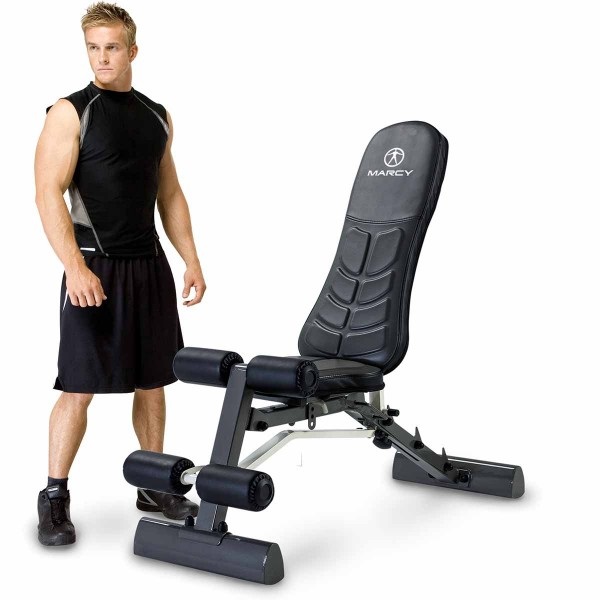 EXERCISES TO TRY WITH THE MARCY UTILITY BENCH
Chest: Incline press, flat press, decline press, flyes, dumbell pullover

Back: Single-arm rows, seated dumbbell row, dumbell pullover

Shoulders: Shoulder press, seated side raises, lying front raise, reverse flyes

Legs: Split squat, step-ups

Abs: Decline crunches, reverse crunches, oblique crunches

Arms: Preacher arm curl, incline hammer curl, bicep curl, triceps extensions, kickbacks