This product is currently not available
Key Features:
A perfect starter weight bench
Arm curl pad included
2 x 11.3kg & 2 x 6.8kg standard plates and 4 ft barbell included
Adjusts from flat to two incline angles
Details
Specification
Warranty
Downloads
Description: Marcy MWB-36780B Bench & Weights
This convenient bench and weight set has all the fundamentals to kick start your weight training journey. Don't be fooled into thinking a starter bench is a flimsy one, this compact chunk boasts a 14-gauge thick, 7.5 cm rounded steel framework for a solid feel and great load capacities.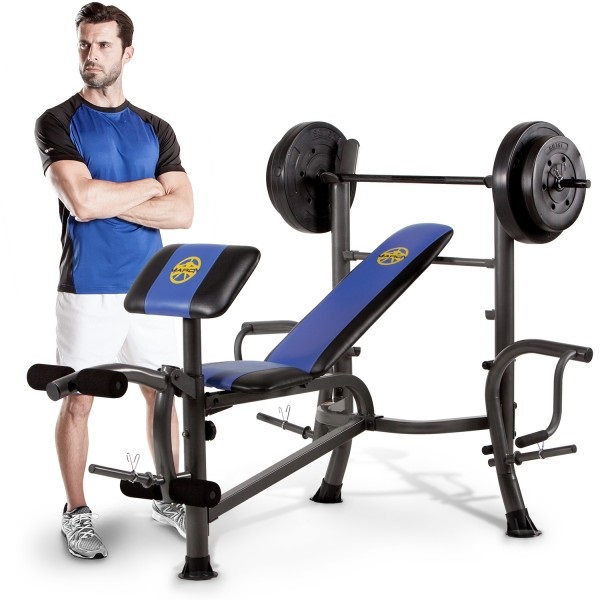 STARTER WEIGHT BENCH
Comprehensively develop your chest, legs, arms, and shoulders by utilising the adjustable bench press, butterfly arms, leg developer and arm curl.
The barbell and weights alone can focus on any remaining muscles, ensuring you get a balanced, full-body workout routine.
If you're ready to get serious without the huge investment, this starter gym provides the perfect foundation without compromising build quality.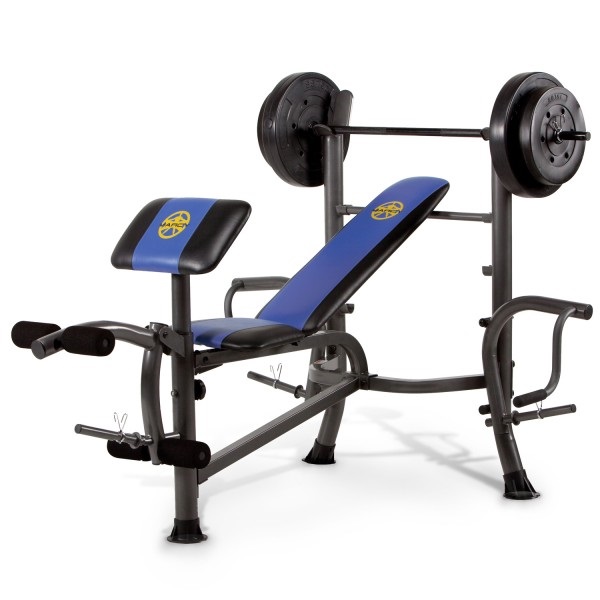 FEATURES
The Marcy MWB-36780B includes a weight set so you can set up and train instantly.
The adjustable bench (fixed to rack) can be adjusted to a flat or incline position.
The rack is not height adjustable for increased robustness to hold up to 90 kg.
The cross-bar adjustment system feels secure & solid no matter the angle of the back pad.
The leg developer is bio-mechanically aligned for a natural feel with soft foam rollers to target quadriceps & hamstrings.
The removable preacher arm curl pad adjusts to 2 heights to align your arms perfectly for full range of motion bicep curl.
Built to last: front and rear stabilising flanges offer a superior, long-lasting construction.
Dual steel back pad supports distribute the weight load on the back pad evenly for heavier load capacities.
Sloping bar catchers are designed to slide the barbell safely down into the bar hooks, for safely returning the barbell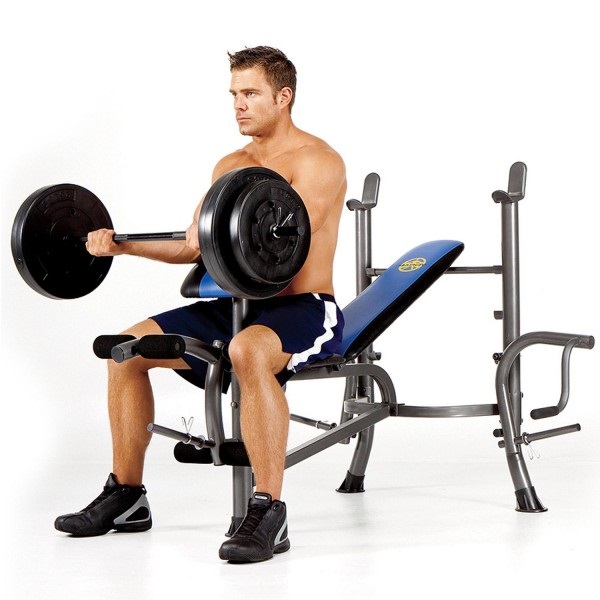 EXERCISES TO TRY WITH THE MWB-36780B


Chest: Incline bench press, flat bench, decline press, chest butterfly


Back: Bent over row, reverse grip row, deadlifts, single-arm barbell row


Shoulders: Shoulder press, landmine press, shrugs, reverse flys


Legs: Leg curl, leg extension, deadlifts, Romanian deadlift


Abs: Reverse crunches, barbell rollout, barbell oblique twists


Arms: Wide grip bicep curl, preacher arm curl, close grip bicep curl, Close grip bench press


WARRANTY
Lifetime framework
3 years on parts, bushings, brackets, pins
1 year upholstery
Specification: Marcy MWB-36780B Bench & Weights
Downloads: Marcy MWB-36780B Bench & Weights
User Manual
User Manual