Shipping costs:
Free UK delivery!
Key Features:
90kg weight stack with selector pin
Adjustable cable tension
Seat pad adjusts to 6 heights
Power coated chip resistant finish
Suitable for beginners and advanced users
The HG5000 Deluxe Home Gym from the Marcy Eclipse range may seem like your average gym at first glance, but it has a few defining features that separate it from the rest of the pack.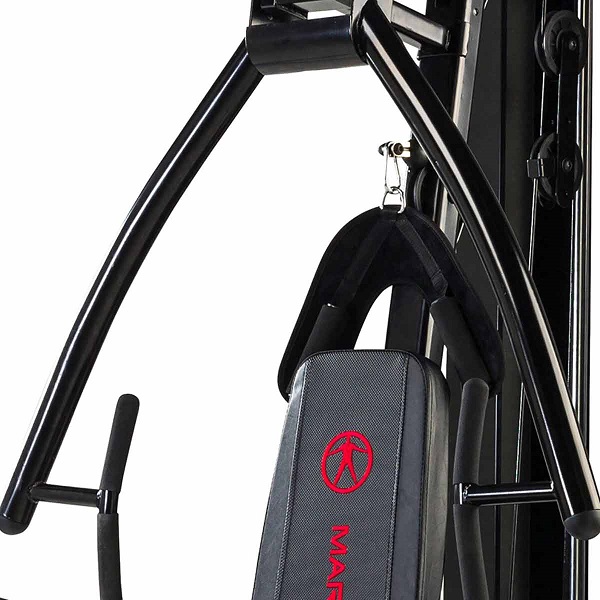 CHEST PRESS ARM
The first of the HG5000's many impressive features would be the adjustable Chest Press Arm, a spring-loaded release pin that lets you select the angle of the Press Arm to cover Shoulder Press, Incline Press and Flat Press positions. This system doesn't allow you to use a combination Pec Dec, so an independent one has been set up instead; this is distinctive in that it replicates the motion of free weight and doesn't have a fixed path.
The usual features are all still applicable to the HG5000 too. In addition, it has the High & Low Pulley systems and a Centre Pulley for Ab Crunches with a specialised Ab Crunch Strap; a Leg Extension is fitted at the front, which is quite mandatory for most gyms now.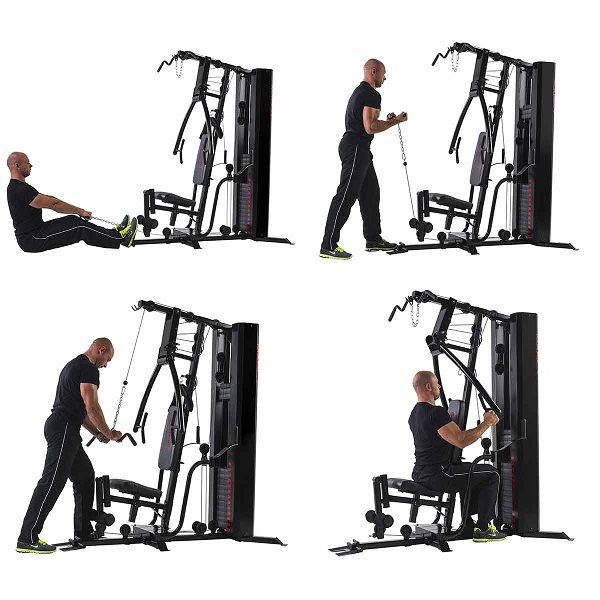 EXERCISES TO TRY WITH THE HG5000


Chest: Flat Press, Incline Press, Pec Dec, Single-Arm Crossover


Back: Lat Pulldown, Bent Over Row (Using Chest Press), Seated Row, Reverse Grip Row


Shoulders: Shoulder Press, Lateral Raise, Front Raise, Rear Flyes, Shrugs, Upright Rows


Biceps: Straight Arm Curls, High Cable Curls, Close Grip Reverse Pulldowns


Triceps: Triceps Pushdowns, Single Handle Pulldowns, Triceps Extensions


Legs: Leg Curls, Leg Extensions, Abductor Extensions, Adductor Extensions


Abs: Ab Crunches, Weighted Reverse Crunches, Cable Woodchops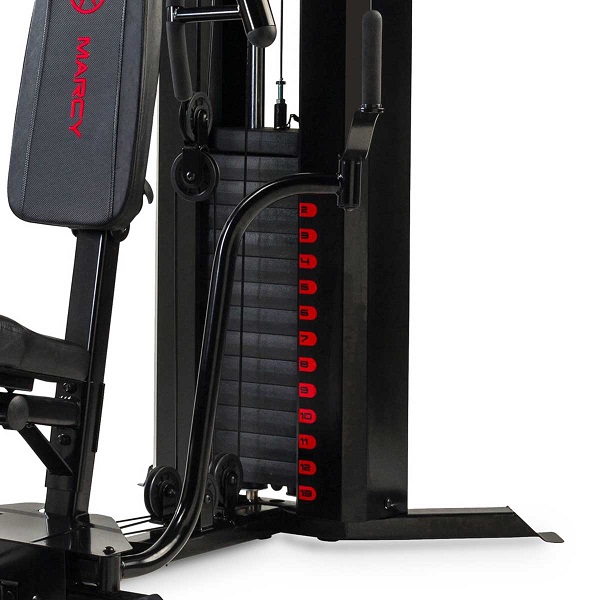 FULLY ADJUSTABLE
The HG5000 is fully adjustable to suit the needs of the user, providing the safest and most comfortable workout experience.
The seat pad can be adjusted to 4 heights while the back pad can be adjusted to 6 angles.
The high pulley system takes interchangeable gym attachments and lat bar holder.
The low pulley system comes with striker plated flip up foot rest plate and takes interchangeable gym attachments
Middle pulley system comes with dual handle ab crunch strap with foam neck support
A safety weight shroud protects the weight stack and secludes it from children
Clip on chains can be used to adjust the length of the gym attachments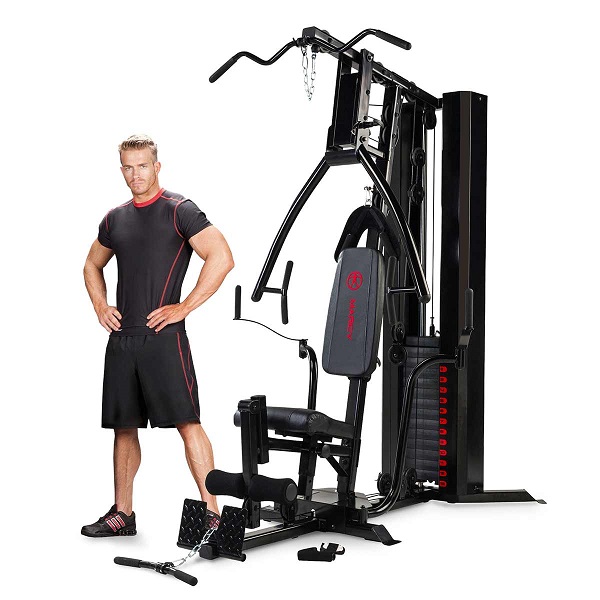 SUITABLE FOR BEGINNERS AND ADVANCED USERS
Because of the more advanced features, the HG5000 Deluxe Home Gym will attract advanced users. For this reason, a super stack of 90 kg solid vinyl weight is fitted. It is lifted by tensile aircraft cables making the Marcy Eclipse HG5000 Deluxe Home Gym suitable for almost anyone.
The HG5000 is suitable for beginner users where lighter weights can be selected. You can increase the weight as you progress through your fitness journey.
WARRANTY
Lifetime frame, 3 year parts, pulleys & cables, 1 year upholstery
Maximum User Weight
135kg
Dimensions Open
191x156x211cm (LxWxH)
We offer 0% finance on hundreds of products.
For more information - click here.
---
To pay on finance simply choose 'V12 Finance' at the checkout.
---
With finance the first payment is typically taken 30 days after the delivery of your goods.
---
3 great reasons to buy on finance
No messy paperwork
Instant decision
0% Interest Free finance (on selected products)
---
Only available to UK residents over the age of 18. Subject to terms and conditions. Signature on delivery may be required. Goods may require to be shipped to the address given on your finance application.
Step 1: Enter Deposit
Deposit of
-
followed by
-
monthly payments of
-
. Total amount payable
-
APR
-
% representative.
Step 2: Select a finance option
Interest Free Finance (6 Months)
Interest Free Finance (12 Months)
Classic Credit (24 Months) 15.9%
Classic Credit (48 Months) 15.9%