Key Features:
Backrest adjusts to flat, incline, decline & upright angles
Secure sawtooth adjustments allow 270 kg in any angle
Seat pad adjusts to 4 angles
Full leg developer to train your quads & hamstrings
Transport wheels & handle to move the bench easily
An adjustable Weight Bench is an essential component to any respectable Home-Gym. If you are looking for a heavy-duty, versatile Bench, then the Marcy Developer Utility Bench with Leg Developer is a strong candidate that won't let you down!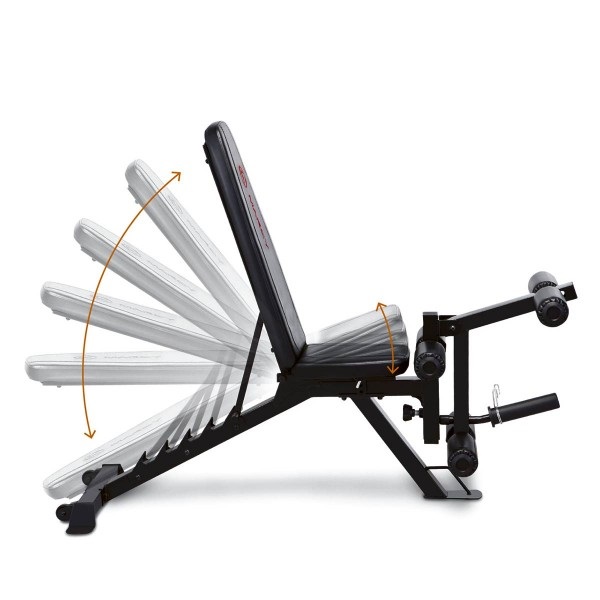 ADJUSTABLE BACK REST
An enhanced backrest adjustment system uses specialised saw tooth hooks to secure the adjustment rest into place firmly, so you feel secure up to 270 kg (user & weights) no matter the angle of the back pad.

The adjustment ranges through decline, flat, incline and upright positions give you an ideal place for working on your upper body with dumbbells, bars or even bodyweight exercises, as is to be expected with a bench of this calibre.

The seat angle adjustment allows you to set the seat pad to 4 incline positions that can effectively target a particular muscle group.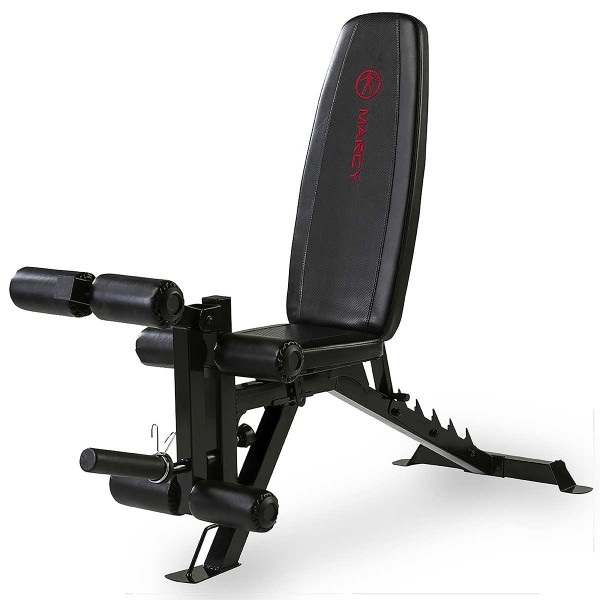 INDEPENDENT LEG DEVELOPER
With the Marcy Developer Utility Bench, you'll never miss leg day.

The leg developer at the front, adjustable to 2 heights, allows you to do your Leg Extensions and Leg Curls and work your glutes, hamstrings, and quadriceps.

Place your feet under the bottom pads and lift upwards to perform a leg extension; this is a great exercise to work the quadriceps.

You can also perform a leg curl by lying face down on the bench, placing your legs underneath the upper pads and bringing them towards your body.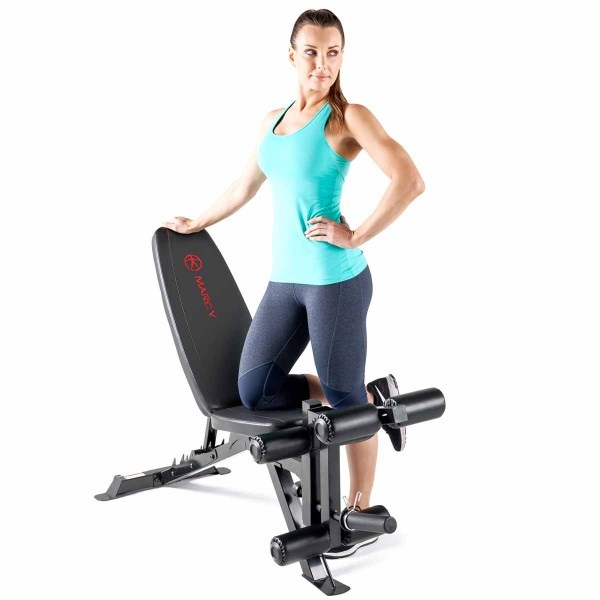 QUALITY ENGINEERING
The Marcy Developer Utility Bench is designed with longevity in mind, which is evident from the tubular steel frame and thick stitched padding, not to mention the powder-coated finish to keep the bench looking new.

As a utility bench, you can also combine it with a power rack or a power cage; this is why the handle on the front stabiliser, in conjunction with the transport wheels at the rear, allows you to move the bench more easily. It also allows for convenient storage.
WARRANTY
Lifetime frame
3 years on parts, bushings, brackets, pins
1 year upholstery
Maximum User Weight
270kg
Dimensions Open
160x59x117cm (LxWxH)