Shipping costs:
Free UK delivery!
Key Features:
Height adjustable Preacher Curl Biceps Pad
4 position Backrest angles
Boxed side construction upholstery with high density foam
Independent Full Leg Developer with Contoured foam roller
Max. load on Rack 135 kg; on Bench 270 kg
The Marcy BE5000 Olympic Weight Bench is notable for its extra wide rack that can pile on weight loads up to 135 kg / 300 lb for some heavy bench pressing! This bench is perfect for anyone looking to work out every major muscle group with a single Bench, and to tone and define their physique while burning calories to lose weight.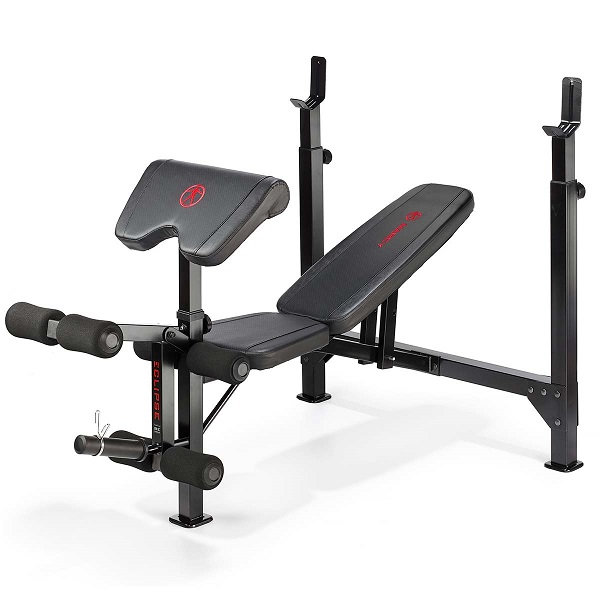 SAFE & COMFORTABLE
A dual reinforced backrest adjustment system distributes the weight better by using two support beams and a chunky spring-loaded lock pin for quick & secure angle adjustments.
The rack supports are made of 5 cm x 5 cm steel along with the rest of the weight bench to give it a stable, trustworthy feel.
Two height adjustable uprights allow the Rack to be accurately aligned with the different 4 angles of the backrest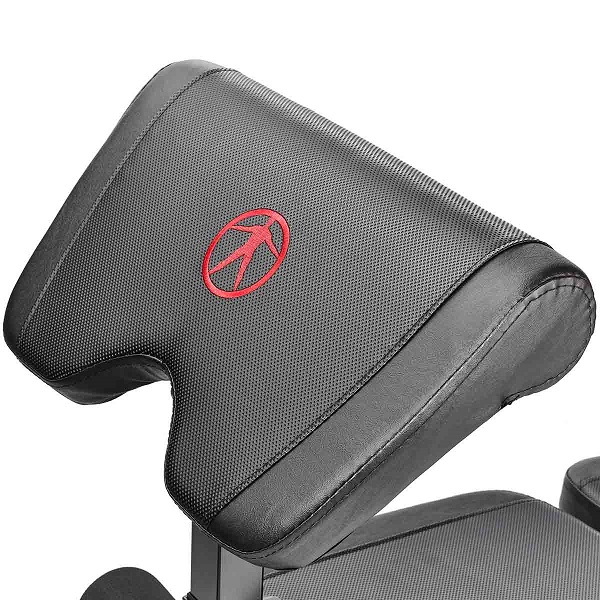 INCLUDED ATTACHMENTS
Complementary with the bench is a height adjustable arm curl pad that's excellent for training the peak of your biceps and a dual-function leg developer attachment that can effectively target your quadriceps & hamstrings & glute muscle groups, by either curling your legs up toward you or back away from you.
The Marcy BE5000 Olympic Bench is built with durable 14-gauge heavy duty steel square tube frame with a black powder coated finish, boxed side construction upholstery with high density foam, and contoured foam roller ankle pads.
For a robust bench-rack combination the BE5000 is a worthy contender!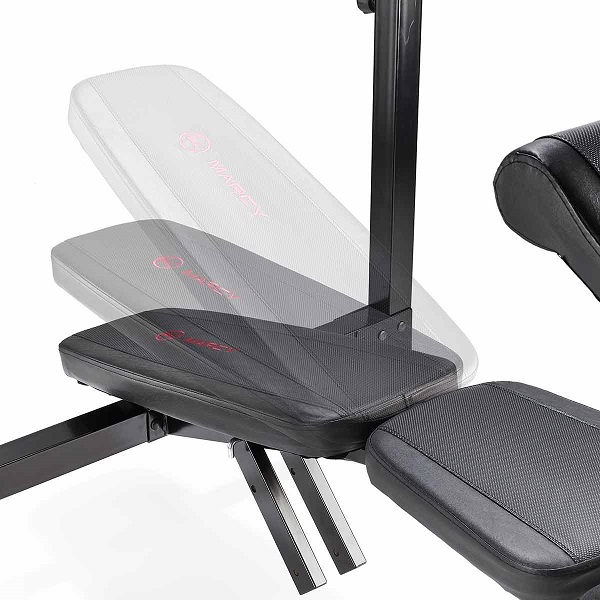 FULLY ADJUSTABLE


4 position back rest angles to flat, incline and decline positions



Height adjustable barbell rack support stands with threaded locks



Spring loaded lock pins are quick to adjust, safe and secure



Independent Leg Developer with 6 foam roller comfort pads



Dual support struts for backrest pad add support


WARRANTY
Lifetime framework
3 years on parts, bushings, brackets, pins
1 year upholstery
Maximum User Weight
135kg
Dimensions Open
170x137x127cm (LxWxH)