Key Features:
Adjustable to flat, incline, decline positions
Includes leg developer and preacher curl pad
Solid fixed barbell rack
Thick foam padding
Durable upholstery
The Marcy BE1000 Eclipse Starter Weight Bench from the Marcy Eclipse range is a stage above your average starter bench. It features a thicker frame to hold heavier weight loads, a wider rack for better hand placement on bench press and it also has the addition of a preacher curl pad and leg developer too.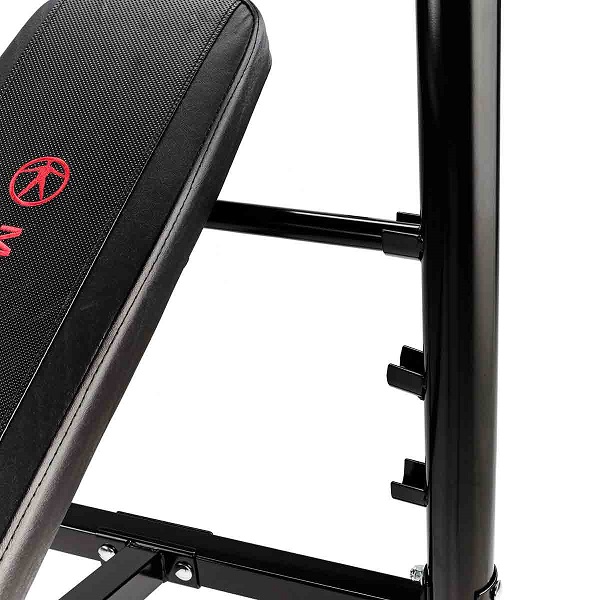 ROBUST AND DURABLE
The Marcy BE1000 Eclipse Starter Weight Bench features a 5 x 5cm 14 heavy gauge steel frame that provides maximum stability and durability. The collaboration of these extra features makes the BE1000 a far superior model to suit starters & intermediate weight lifters, you won't find it restricting as you get stronger either as it boasts a huge 272kg weight load capacity (user & weights) that gives you tons of scope to progress.
FLAT | INCLINE | DECLINE BENCH
The Marcy BE1000 Bench comes with an easy to adjust back pad. The 4 position back rest adjusts to flat, incline and decline positions. Using the bench at different angles encourages varied muscle engagement, so you work all areas of the muscle to create a more defined and sculpted look. The adjustment system is quick, easy and secure to ensure you're not wasting your workout time on it.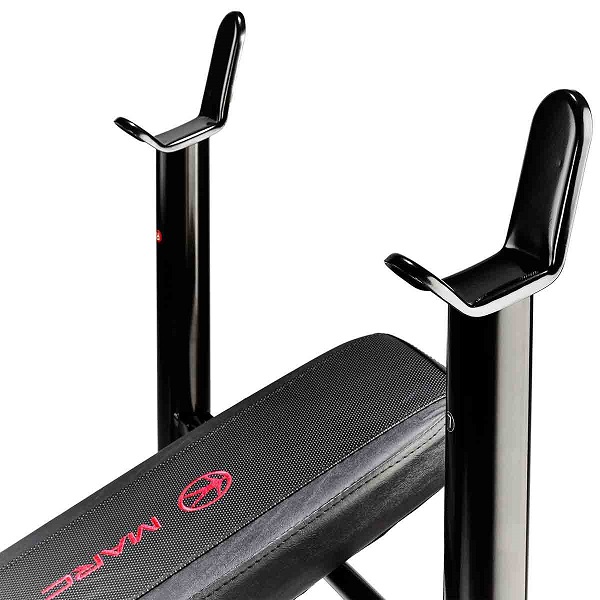 SOLID FIXED BARBELL RACK
The Marcy BE1000 Eclipse Starter Weight Bench incorporates a solid fixed barbell rack. It can accommodate 5ft, 6ft and 7ft barbells. The medium-width rack allows for plenty of training space while it's all-in-one design offers a compact solution for your workout space.
The rack includes 2 storage posts for 1" standard size weight plates so you keep your home gym tidy and organised. The maximum barbell weight on the rack is 135kg.
MAXIMUM COMFORT
The bench features a 2.5" inch thick box stitched padded upholstery for maximum support and comfort. The high quality finishes and high density foam padding offer a long lasting solution for your home gym. All in all, the BE1000 provides a reliable foundation on which to build your weight training journey on.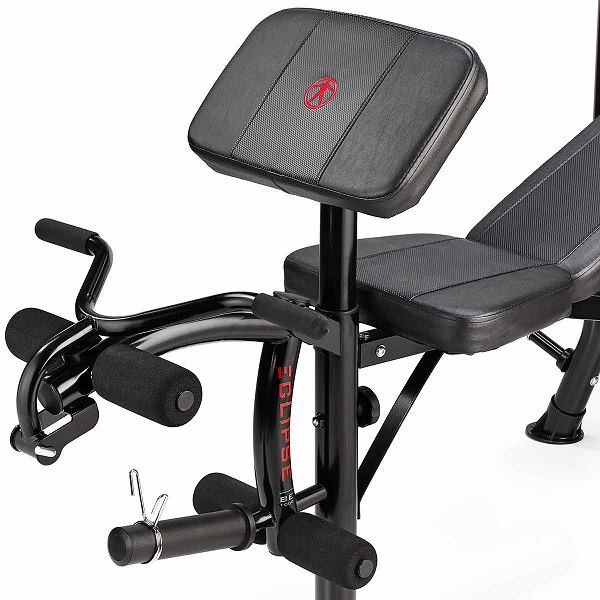 LEG DEVELOPER
The incorporated leg developer with 4 foam rollers will extend your exercise options and allow you to target your quadriceps and hamstrings. It will not only save you money from buying more machines, but it will also save you space in your home gym. The leg developer operates on a plate loaded system and is compatible with 1" standard size weight plates.
PREACHER CURL PAD
The bench incorporates a 3 position height adjustable preacher curl pad with an ergonomic handle for bicep training. The preacher curl requires you to execute a curl in the strictest possible manner.
High reps on the bench are much easier to do due to the lack of full body stability and the necessary movement, such as during a standing barbell curl. Since this is a strict movement with less weight, you have the ability to work on form and function and developing a better mind muscle connection. The preacher curl pad operates on a plate loaded system and is compatible with 1" standard size weight plates.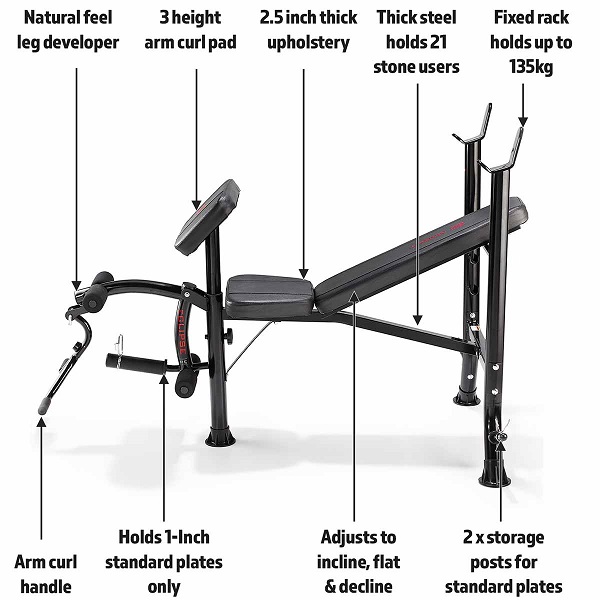 SPECIFICATION
Maximum Weight Load (User & Weights): 270kg
Maximum Weight Load (Leg Developer): 45kg
Maximum Weight Load (Barbell): 70kg
Product Weight: 29kg
Assembled Dimensions: 150 x 109 x 129 cm (L x W x H)
Box Dimensions: 124.5 x 40.3 x 18 cm (L x W x H)
WARRANTY
Lifetime frame
3 years parts
1 year upholstery