Key Features:
Over 300.000 km worth of routes for rowing, running or cycling
Real life camera footage uploaded by other users
Saves your workout data
Range of compatible products
Adjusts the resistance and inclination according to the video's
The Kinomap App turns your bike trainer, exercise bike, treadmill or rowing machine into a powerful and fun fitness device. The app will take control of your bike trainer or cardio equipment and adjust the resistance and inclination according to the video's elevation profile. With our video trails, you can follow courses from all over the world, challenge other users in a live multiplayer competition and compete with them in real time. So, download the app and enjoy your indoor training sessions!
Product Details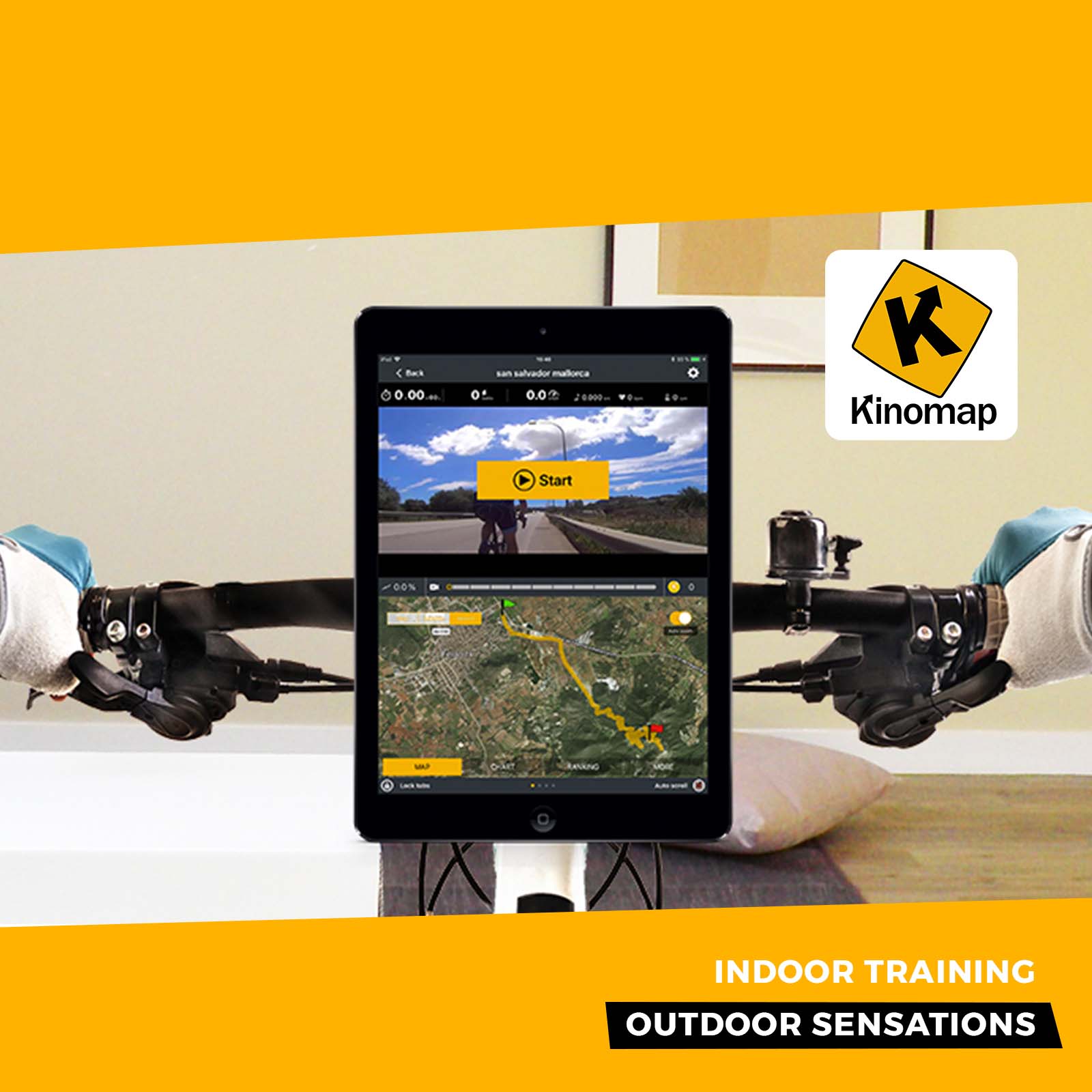 WHAT'S THE COST?
The app is totally FREE to download on Google Play and the iOS App Store. Users are given access to a 14-day trail of the app, which when elapsed woud require a paid premium subscription.
After you have downloaded it, you'll have access to all Kinomap's features, as well as several videos that you can test for as long as you wish.
Once you're ready for more, subscribe and get ready to run, row, or cycle our 186,000 miles of video tracks.
The app is compatible with many treadmills and exercise/upright bikes that are equipped with Bluetooth. A Bluetooth connection is not needed with rowing machines, in that case, a mobile device with a front facing camera is all you need. Kinomaps is available on a basic free version in the Google Play Store as well as in the Apple App Store. There is a licencing model for the full version, a monthly or yearly model as well as a life-time licence. The app will continually be updated, new functions added regularly and new routes are being constantly uploaded.
WHAT CAN KINOMAP DO FOR ME?
Millions of users have proven that having fun while working out makes you far more likely to stick to your training programs.
Kinomap fans from around the world tell us that firstly the App holds you accountable to a routine whilst helping you fight boredom, thus allowing you to workout longer. It is also easy to measure your progress and live multi-player competitions turn your workouts into a game.
The route videos in Kinomap are made by the users themselves. There are currently over 300.000 km worth of routes for rowing, running or cycling uploaded. The videos are encoded with location data so that not only can you view the video but also look on the map where you are currently are and the landscape profile. The great variety of routes offers a diversified training program. You can jog in Central Park, Stages from the Tour de France or 2km rowing on the French-Polynesian coast.
During training the app also shows important training data. So not only can you enjoy the route but also stay informed about your performance. An especially nice function are the multiplayer sessions. Open race events are created at fixed times to enable you to measure yourself against other users. You have the choice of open competitions or privately together with family and friends.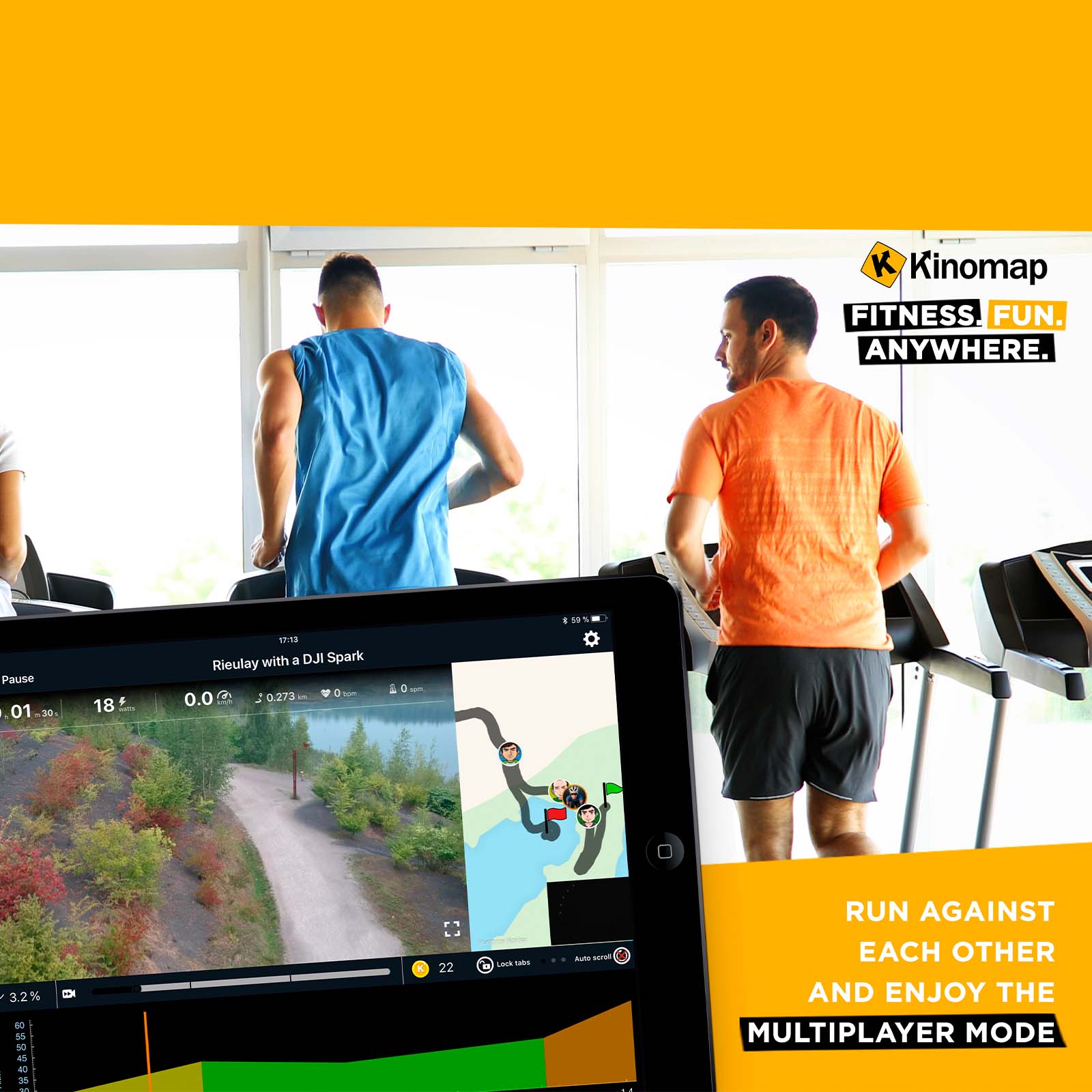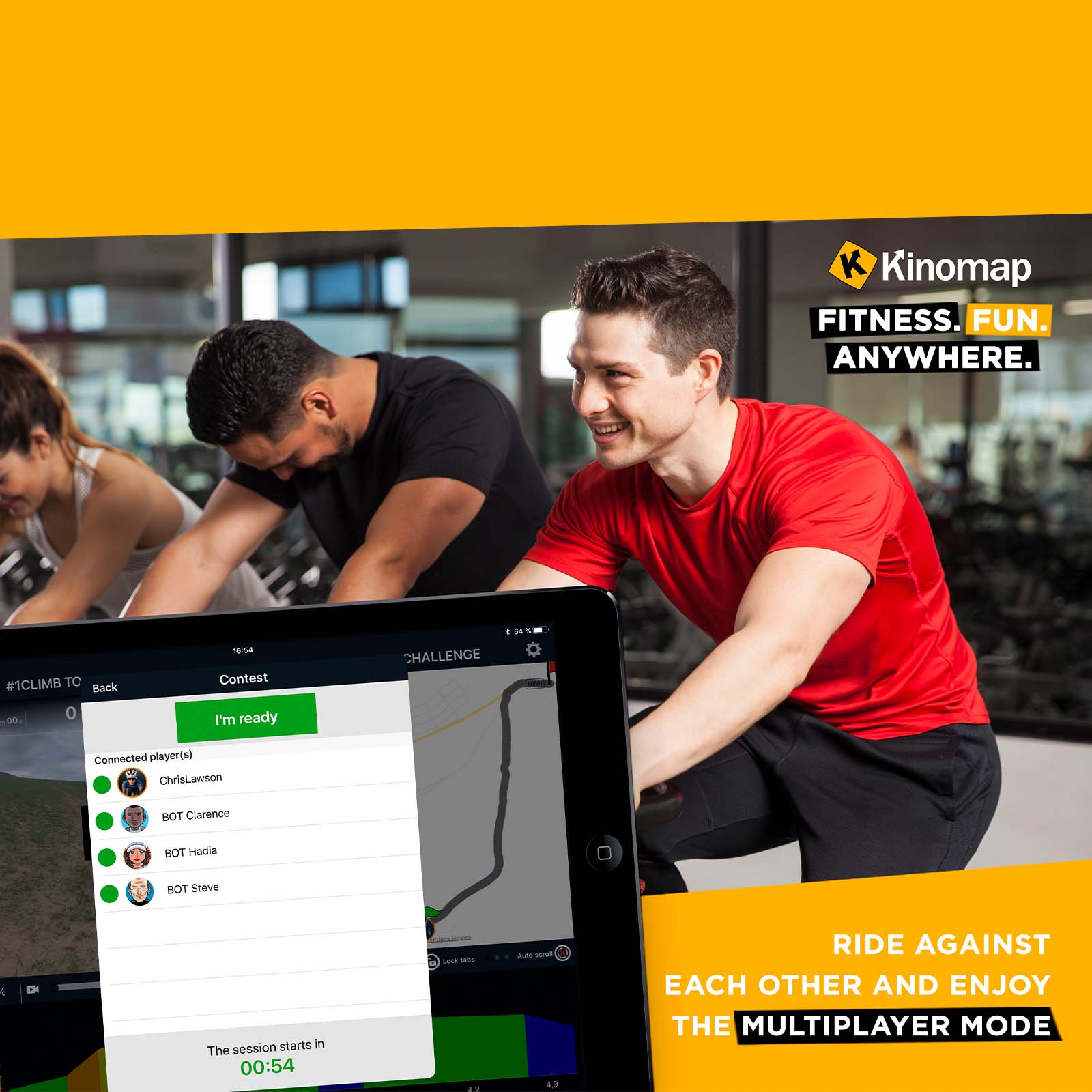 TRACK YOUR FITNESS GOALS
Kinomap offers you an easy-to-use platform that allows you to save your training history and track your progress.
If you want to take your fitness journey seriously, you need to set goals and monitor your progress towards them! No matter whether you are looking to improve your speed over a set distance to prepare for a race, challenge yourself by increasing the distance covered in a time trial, or monitor your heart rate throughout your training to improve your overall health and fitness - Kinomap will save your workouts and track your progress to ensure you are continually improving!
It is also able to monitor your speed, distance, time and heart rate.
If you are a new exerciser, tracking your progress will hugely increase the likelihood of you sticking to a new training programme!.
If you are a seasoned runner, cyclist, or rower, then Kinomap will give you the tools to take your training to the next level and smash your goals!
COMPATIBLE PRODUCTS
Via Bluetooth
-Taurus Z9 Pro Indoor Racing Bike
-cardiostrong BX70i-2 Bike
-cardiostrong TX90HD Smart Treadmill
-Taurus T10.3 Pro HD Smart Treadmill
-cardiostrong EX90 Plus Touch
-BodyMax T100 HRC Motorized Treadmill
Via Camera
-BodyMax H2Row Rowing Machine
-BodyMax R70i Programmable Rower
-cardiostrong Baltic Pro – Red Tank
-cardiostrong Baltic Pro – Blue Tank