This product is currently not available
Key Features:
6 weights in one.
Non-slip base & wide grip handle.
The world's first digitally adjusted kettlebell.
Connect to the JAXJOX App and track your kettlbell workouts.
The JAXJOX KettlebellConnect™ is a smart kettlebell that allows you to add or drop weight in seconds, saving you time and space, so you can work out anywhere.
PRODUCT DETAILS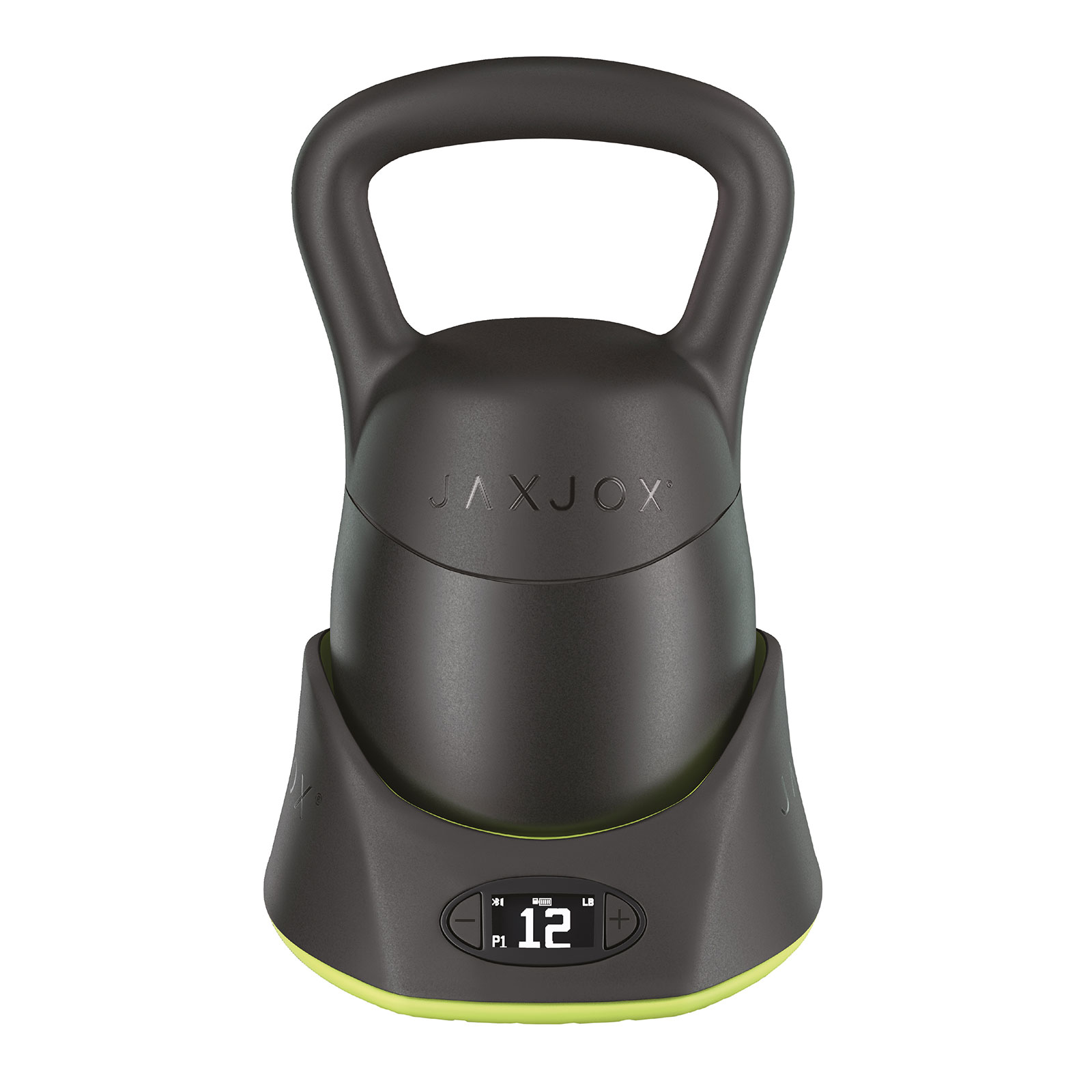 WORLD'S FIRST DIGITAL KETTLEBELL
KettlebellConnect™ is the world's first digital kettlebell. The smart kettlebell features 6 weights in one place that be changed in seconds via the digital display. You can alternate between 12lbs, 18lbs, 24lbs, 30lbs, 36lbs, 42lbs (5.5kg, 8.5kg, 11kg, 13.5kg, 16.5kg, 19kg) in under 3 seconds which offers extreme versatility and usability in your home, whilst saving space.
You can also connect up to 9 different users via the digital display. The data automatically syncs to each individual account via the JAXJOX app.
KettlebellConnect™'s bullet stacking system features a rotating weight-selection core that locks in and out of weighted plates. This allows the kettlebell to add or drop weight in seconds, saving you time and space. 6 axis motion sensors track your every movement with the highest sensitivity and accuracy.
The handle of the kettlebell is 12in (430mm) which with it's wideness allows it to be easily used by all users and a non-slip base also means it holds it's form, so you don't lose you
KettlebellConnect™ holds a single charge for 14 hours, so you don't lose connection to your goals. Base battery: Advanced Rechargeable Cylinder Lithium-Ion battery. Shell battery: Li-ion polymer battery.
JAXJOX APP
The JAXJOX® App connects with JAXJOX® connected fitness products and other fitness tracking devices such as Fitbit. All of the data collected from these devices creates a user's Fitness iQ score, that determines their overall progression towards a health goal.
The app also hosts a series of workouts reserved for JAXJOX® product owners and even provides recommendations to help reach a goal.
The Fitness iQ is based on the American College of Sports Medicine's recommendation for fitness. JAXJOX® uses peak and average power, heart rate, workout consistency, steps, body weight, and your chosen fitness level in the calculation.
For first time users, it takes about a week of collecting data to ensure there is enough information for an accurate readout. The KettlebellConnect™ is currently a required device for the Fitness iQ formula and other devices (JAXJOX® and other Fitness Tracker Brands) feed more data into the equation. You don't need to have the entire suite of JAXJOX® devices to get great information, but the more data the better.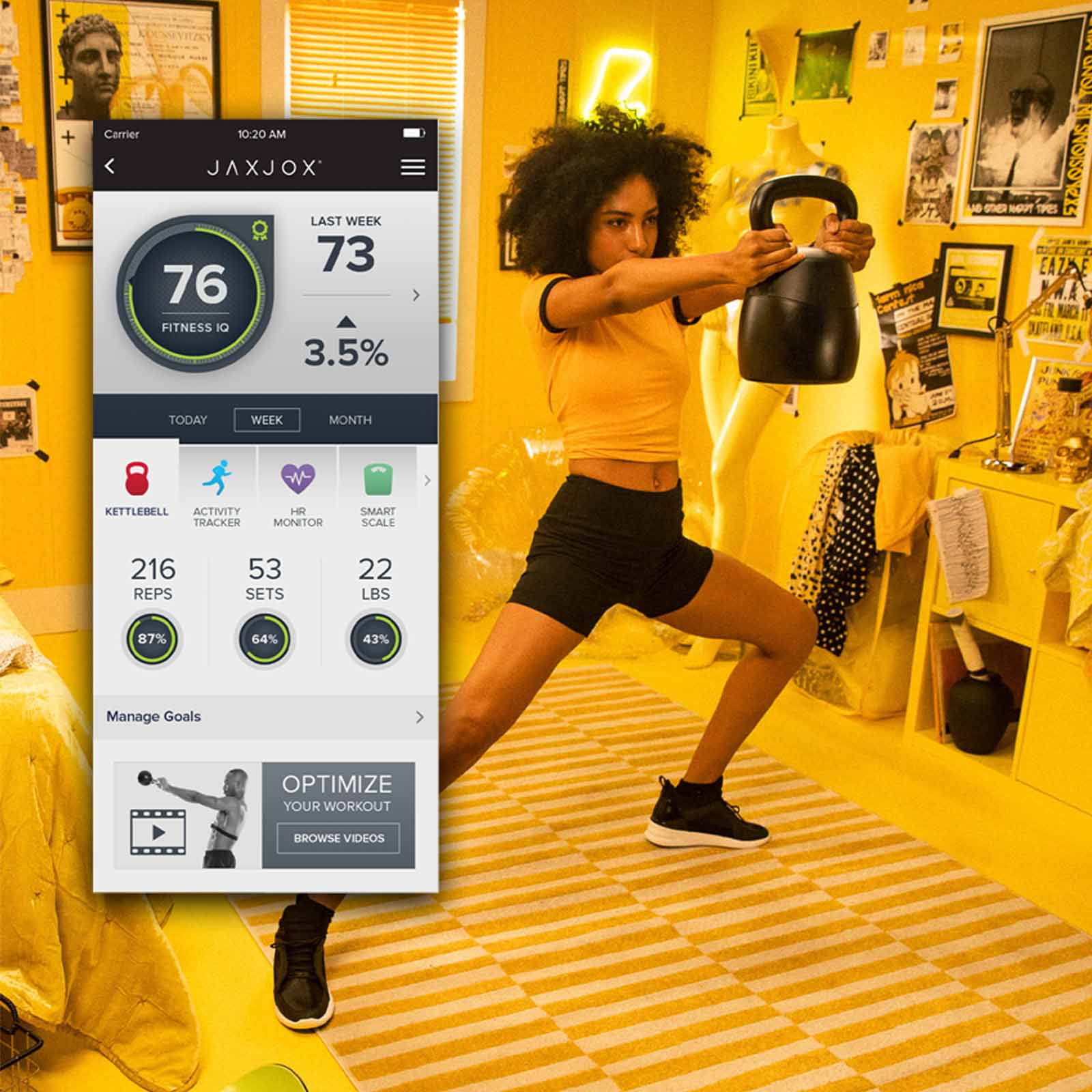 BENEFITS
Resistance exercise training has a massive range of benefits for everyone! This can be anything where you're putting your muscles under stress (lifting weights, using resistance bands, performing bodyweight exercises like push-ups or pull-ups). No matter whether you want to get a little bit healthier or you've got your eyes set on competitive weight lifting, resistance exercise will help! Resistance training has many benefits to the whole body, including: -



Improved muscular strength, power, and endurance




Increased muscular tone




Development of good posture




Aids in the improvement of bone density