This product is currently not available
Key Features:
Very High Stability
Easy-to-use Folding Mechanism
5" LCD Display On-Board Console
26 On-Board Training Programmes
Combined Magnetic and Air Resistance System
Mains powered
Details
Specification
Warranty
Revised and updated, the improved BodyMax R100 is equipped with a combined magnetic and air resistance system, the R100 is the perfect addition to your home gym.
PRODUCT DETAILS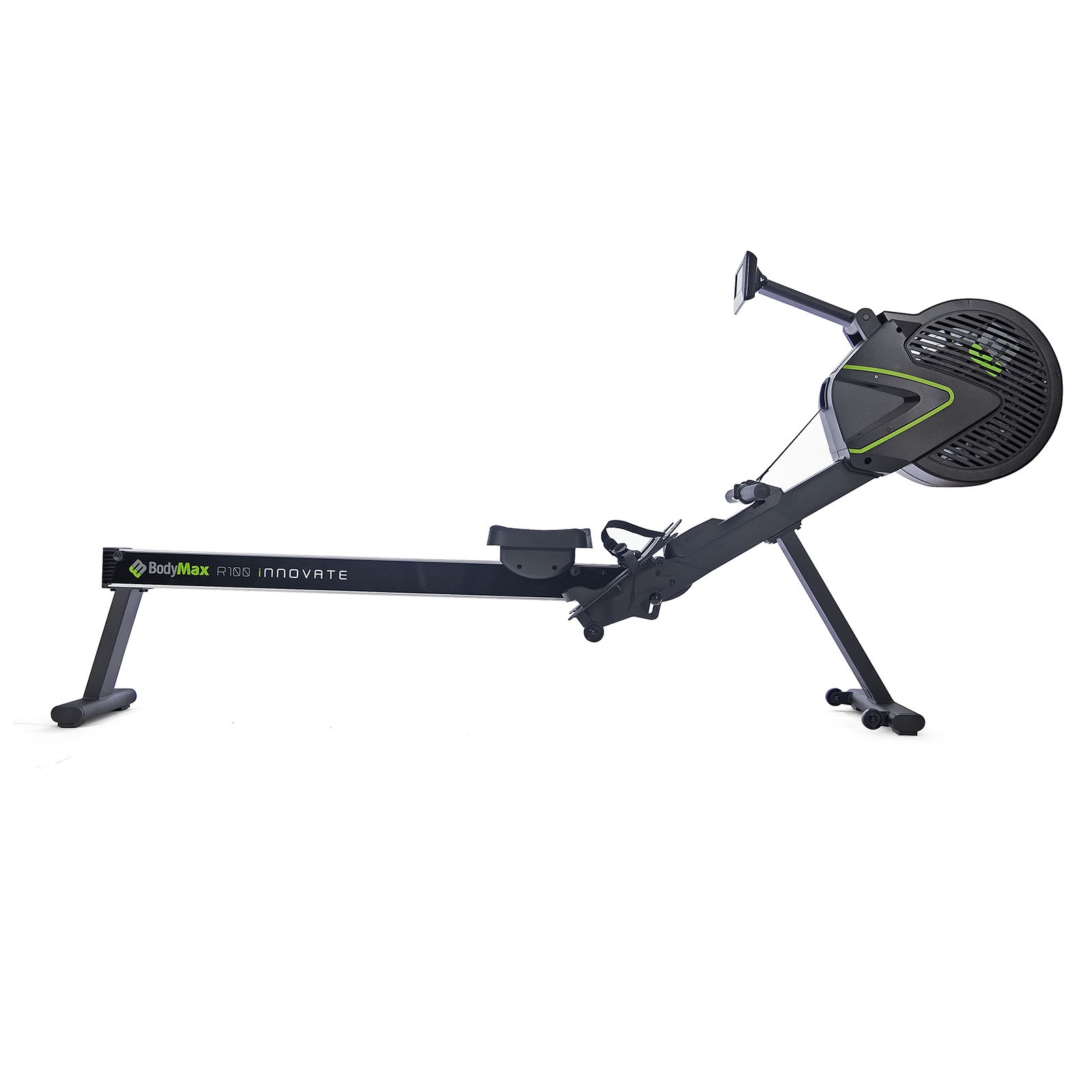 INNOVATIVE CONTROL
The BodyMax R100 offers a combined resistance system; magnetic and air resistance. This offers the user many advantages for rowing. It allows you to set a basic resistance on the rower whilst maintaining smoother pulling at any intensity.
While the magnetic resistance works in the lower zone, the air resistance provides superior pulling at higher intensities. Thanks to the magnetic resistance, it is also possible to train watt-precisely. For instance, a watt value of up to 300 watts can be set.
The on-board console controls the resistance level depending upon the pulling speed so that this watt value is constantly kept. Due to the air resistance being able to be set at much high resistances, competitive rowers & athletes are able to push themselves on the R100.
The R100 also features a remote control integrated within the handle, allowing you to change your settings, such as resistance or workout programme, during training.
ON-BOARD CONSOLE
The R100 features the most advanced on-board computer console available.
The console features 26 training programme selections for the whole family and also two fitness test programmes.
These allow you the flexibility to monitor your progress where you can effectively increase your own performance quickly.
The first is the Racer programme – this feature allows you to compete against the average times that have already been set for the 500m, a great one to get all the family involved!
Secondly, there is the Pace programme. This feature allows you to set a time target over 500m and the onboard pacesetter will help you keep pace and hit your target time.
The R100 also features four heart rate programmes, a target heart rate programme, a watt programme and pre-set Fartlek training programme.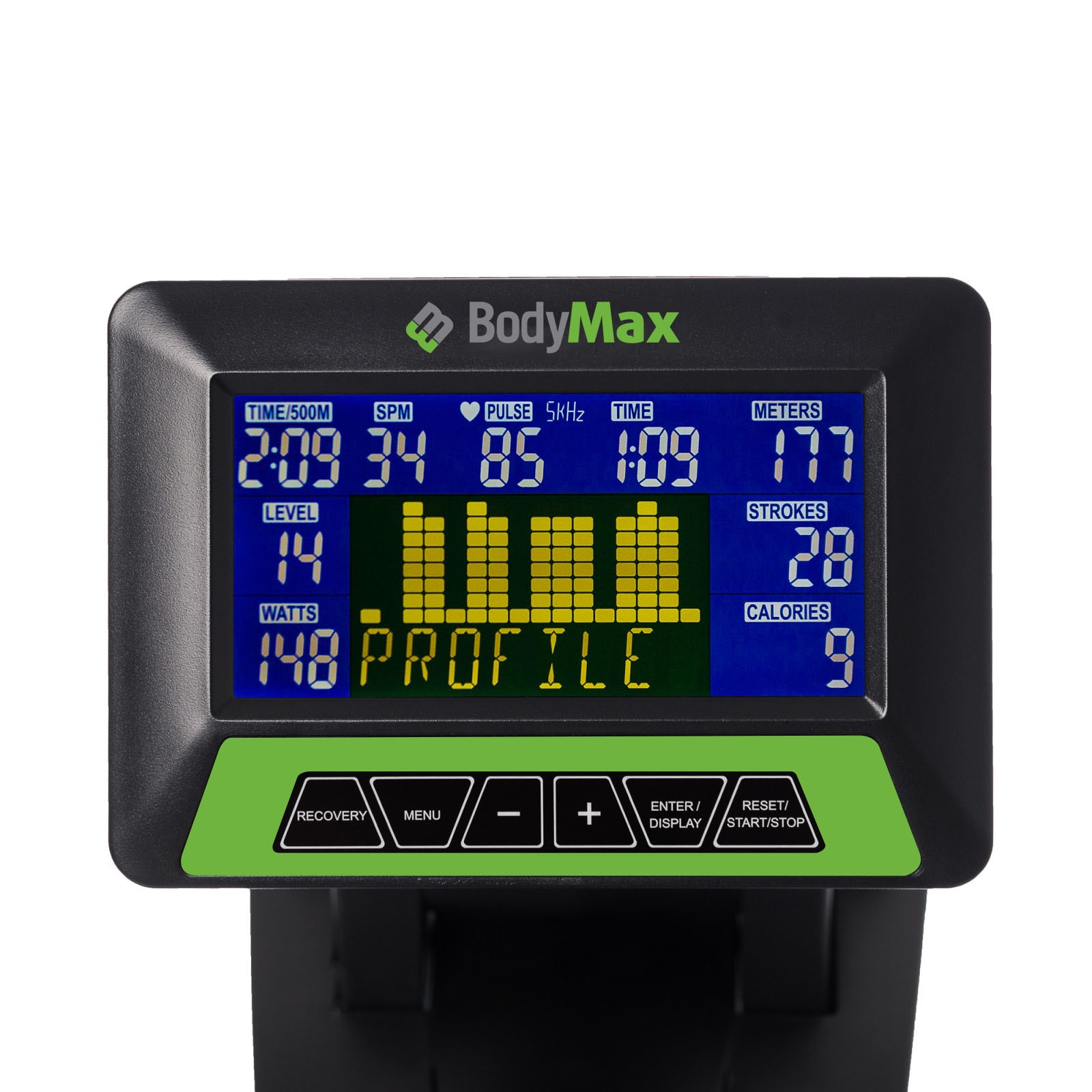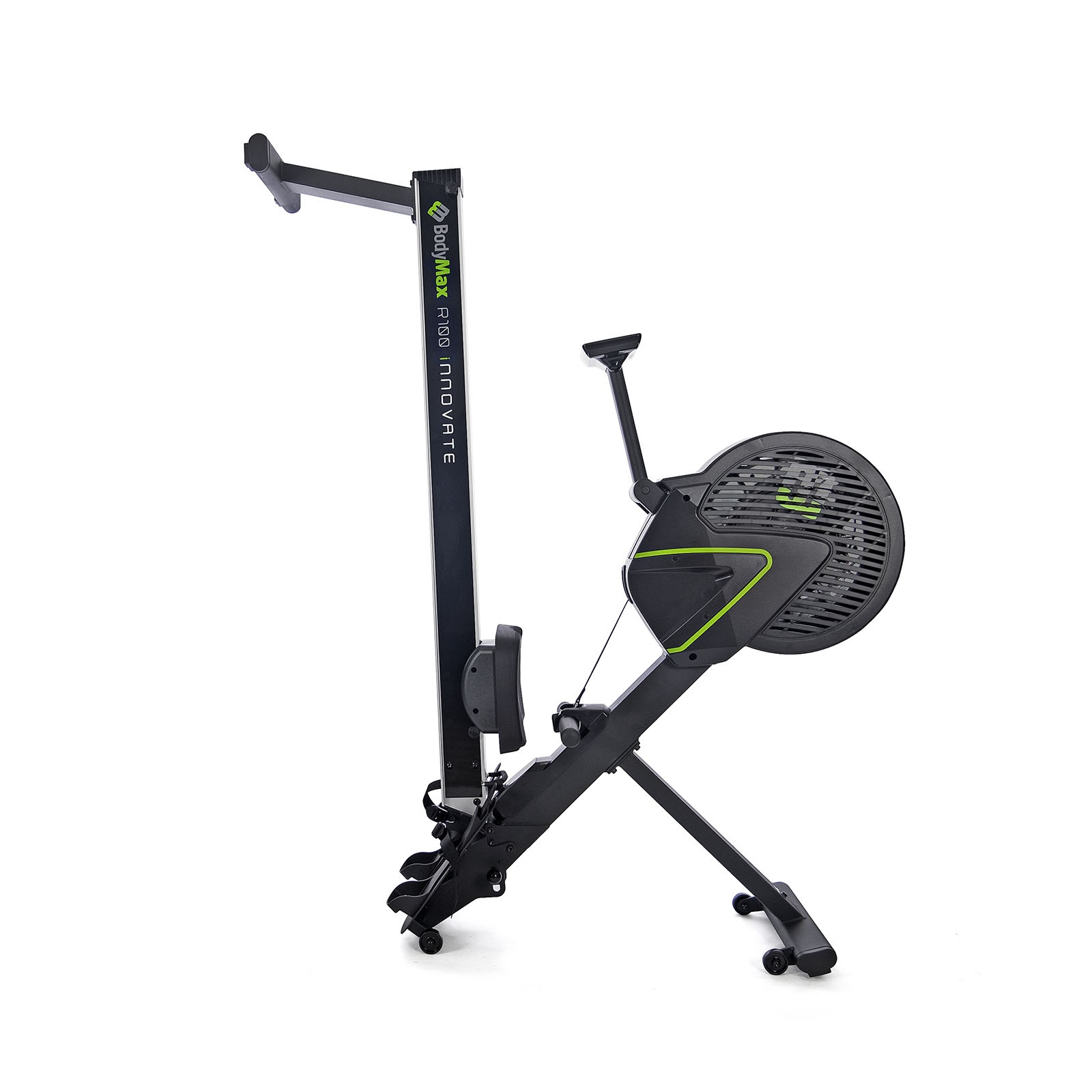 CONTEMPORARY DESIGN
Designed with the customer in mind, the BodyMax R100 offers the user an indoor rower with outstanding functionality whilst looking superb in your home. The rower has been manufactured to the highest quality and offers smart and well thought-out functions.
The frame of the R100 has been designed to be higher, thus making the seat higher as well. This allows the user to get on and off the rower easily and more comfortably.

The upholstered seat offers the user excellent comfort, whilst a long rail offers increased stability.
An easy-to-use folding mechanism and transport wheels allows the rower to be moved and stored neatly, leaving you plenty of room in your household.
BENEFITS
Rowing is argued by many to be the best form of whole body exercise you can do! But not everyone has the time, money, or desire to go out on the river every week! Whether you're a competitive rower or just looking for a great piece of equipment to help you get in better shape, a rowing machine can give loads of great benefits: -



Whole body fat burning




Improved muscle tone




Promotes good posture




Low impact exercise which maintains joint health