Key Features:
Secures your phone in place
Can be used for multiple VR apps
Cushioned overlay for comfort
Adjustable strap
One size and colour
Requires a Holofit App subscription
Details
Specification
Downloads
Step into the world of virtual reality fitness with the Holodia VR Headset!
This headset allows you to secure your mobile phone in the headset to experience your new virtual reality fitness environment!
Fitness should be fun, and with this app and VR headset you will have the ability to bring a completely new dimension to your cardio workouts, maintaining the intense levels of training but offering a competitive and fun edge!
VR HEADSET
The headset is one size fits all, fully adjustable with a strap at the back to go around your head. It has a cushioned overlay on the inside for comfort and comes with a spare overlay in the box. To use the app and experience the virtual reality worlds, you simply open the front of the headset and place your mobile phone inside and secure in place.
The headset is compatible with other VR apps and can be used with both iOS and Android mobile devices. Please note: check that your mobile is compatible and VR ready / enabled.
HOW DOES IT WORK?
The Holofit app makes a connection to your machine via the Bluetooth connection* and transfers the data onto the Holofit platform; please read below for full compatibility specifications. To begin a new world of training you will need:
Compatible fitness machine (with cadence sensor if required)
VR Headset
Compatible smartphone
Lastly, you need to have a subscription to the Holofit app; there are 3 different subscription options, 3 months, 12 months or lifetime.
DISCOVER THE VIRTUAL WORLD
With the Holofit app, you will reach your fitness goals as you normally would, but will have more fun and enjoyment along the way! Finding new ways to train helps to keep your training varied whilst in-turn keeping you motivated.
Regardless of what level of fitness you currently have, Holofit offers increased levels of motivation from users looking to kick-start their fitness journey, users who want to improve their health or fitness levels, or athletes looking to add some fun into their regimes to help improve performance levels.
With over 100 VR workouts across several virtual 'worlds' your training will be ever-changing with the continuous app updates, making boredom unthinkable! The experience may be virtual but the results and effects are real!
WORKOUT MODES
The Holofit App splits its workouts into four categories. Each after a specific need, you just need to choose which is right for you.
EXPLORE: Experience and enjoy the lovingly created VR world as you wish without any worries. You can also go on the search for various trophies to add to your collection while profiting from working out at the same time.
CARDIO: Adjust your training to your personal needs. Burning fat, cardio or HIIT (High Intensity Interval Training) can be changed to the correct level for you.
TIME ATTACK: As soon as a time has been recorded, you can compete against it or beat results from other users. With guaranteed competitive atmosphere and motivation.
MULTIPLAYER: Bring your friends together in exciting small group training sessions or competitions. Additional to the varying workout categories, Holofit offers the possibility to reach your goals through a virtual trainer. Set your goals and your personal trainer will support and advise you the right way.
COMPATIBILTY
Rowing Machines
Concept2 rowing machines with a PM5 monitor
WaterRower rowing machines via SmartRow
Exercise Bikes / Indoor Cycles / Cross Trainers
With the optional available Bluetooth Candence Sensor, this enables all of these types of machine to be compatible.
* Please note: Your equipment must have a FTMS protocol Bluetooth connection.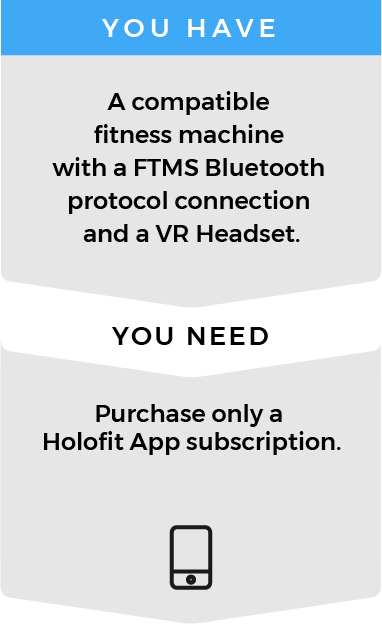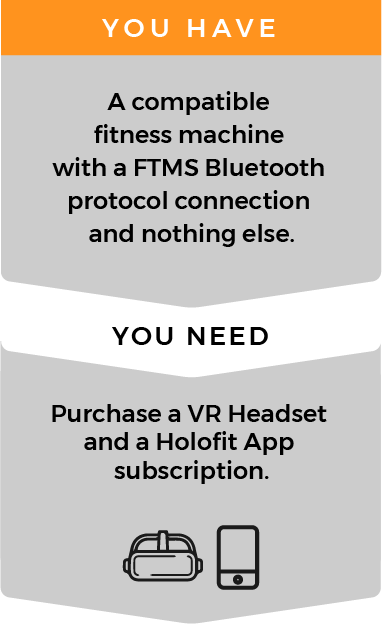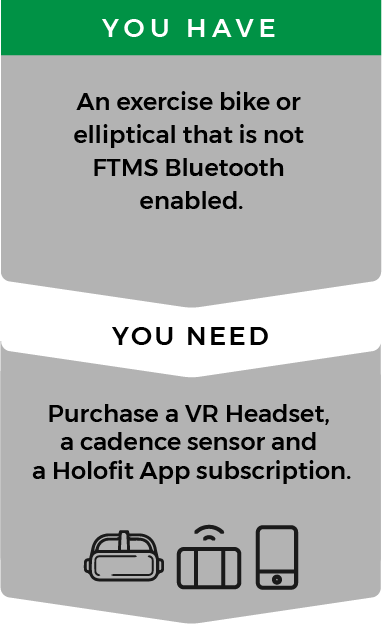 User Manual
User Manual
Other
Cadence Sensor Help