In stock
Order by 3pm for dispatch today
Key Features:
Makes your equipment Holofit compatible
Easily mounts to your elliptical or exercise bike
Lightweight and portable
Can be used with any headset
Requires a Holofit App subscription
Details
Specification
Downloads
Description: Holofit Cadence Sensor
Make your recumbent, exercise or studio bike or elliptical compatible with the Holofit App with the Holofit Cadence Sensor.
The app is compatible with selected cardio equipment, listed below, however you are able to make your existing bike or elliptical compatible with the right Bluetooth connection by simply mounting the cadence sensor to your equipment.
HOW DOES IT WORK?
The Holofit app makes a connection to your machine via the Bluetooth connection* and transfers the data onto the Holofit platform; please read below for full compatibility specifications. To begin a new world of training you will need:
Compatible fitness machine (with cadence sensor if required)
VR Headset
Compatible smartphone
Lastly, you need to have a subscription to the Holofit app; there are 3 different subscription options, 3 months, 12 months or lifetime.
COMPATIBILTY
Rowing Machines
Concept2 rowing machines with a PM5 monitor
WaterRower rowing machines via SmartRow
Exercise Bikes / Indoor Cycles / Cross Trainers
With the optional available Bluetooth Candence Sensor, this enables all of these types of machine to be compatible.
* Please note: Your equipment must have a FTMS protocol Bluetooth connection.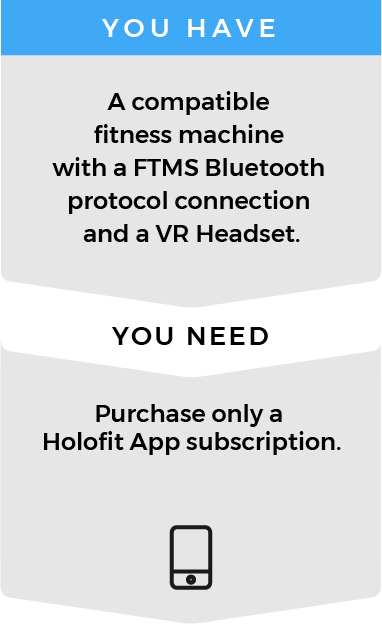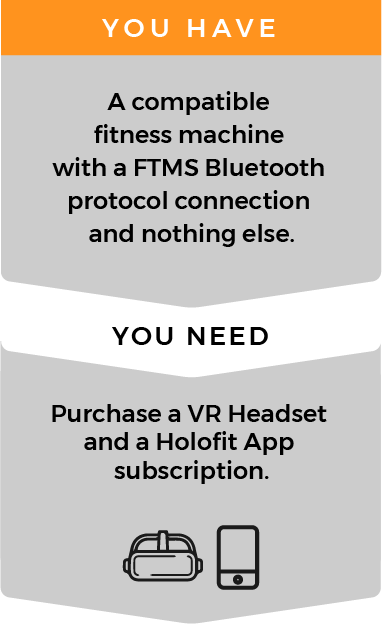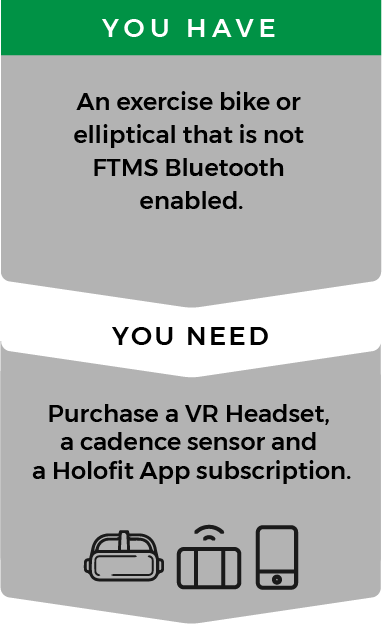 Specification: Holofit Cadence Sensor
Downloads: Holofit Cadence Sensor
User Manual
User Manual
Other
Cadence Sensor Help