Sale ends in
--

days

:

--

hrs

:

--

min

:

--

sec
BodyMax Selectabell Dumbbell Pair 5kg - 32.5kg (11lb-71lb)
This product is currently not available
Key Features:
12 different weights in one dumbbell
5Kg to 32.5Kg (11-71.5lb) maximum weight on each dumbbell
Easy to use - Simply rotate the dial and lift
Robust design and build quality
The UK's best selling adjustable dumbbell
The phenomenal dumbbell set everyone is raving about! Yes, fitness giants BodyMax have done it again with their cleverly designed and beautifully crafted Selectabell Dumbbell Pair. Just one look and it's easy to see why the Selectabell has quickly become the UK's best selling adjustable dumbbell. It doesn't matter how small your gym space is, you can now enjoy a full range of weights with this ingenious set.
Product Details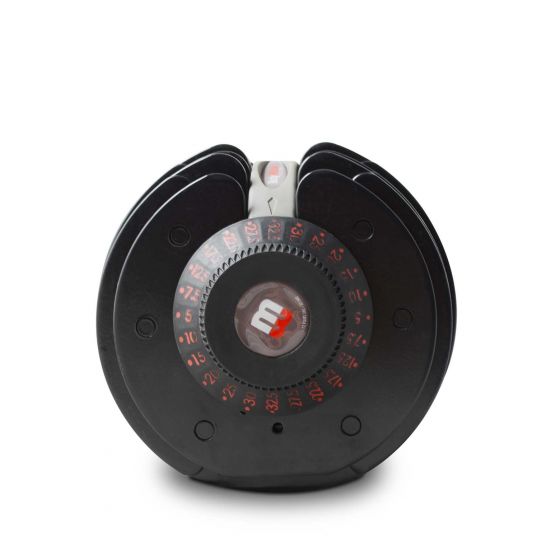 Easily Selectable Weights
The BodyMax Selectabells are easily adjusted from 5kg to a whopping 32.5kg!
Simply move the dial the your selected resistance and lift the dumbbell.
It doesn't matter whether you're new to weight training or a seasoned athlete you can achieve your fitness goals efficiently and effectively with these robust and stylish weights. Versatile and fun to use dumbbells can be used on a weight bench, stability ball, Bosu ball or on the floor to increase muscle strength and add definition to all the major muscle groups including the biceps, triceps, deltoids, pecs, lats, core abs, quads, hamstrings and calves.
Ultimate Space Saver
Having a tidy and organized training environment means it is easier to stay motivated and focused on your fitness goals. It also reduces the risk of equipment getting damaged, while also preventing the possibility of injury from tripping over scattered weights.
The metallic silver finish is eye catching and durable, like all BodyMax products this stand has been built to last!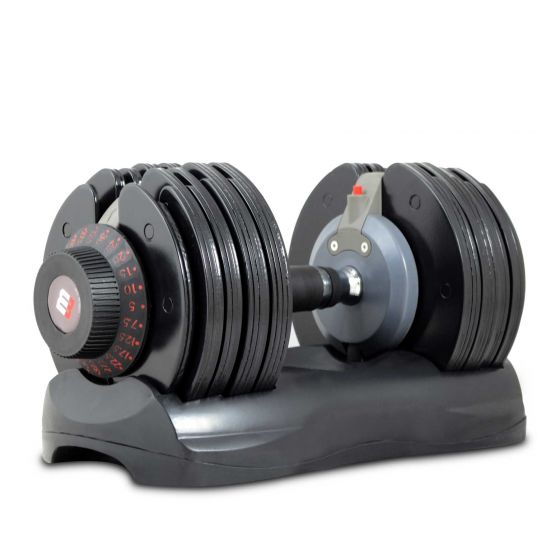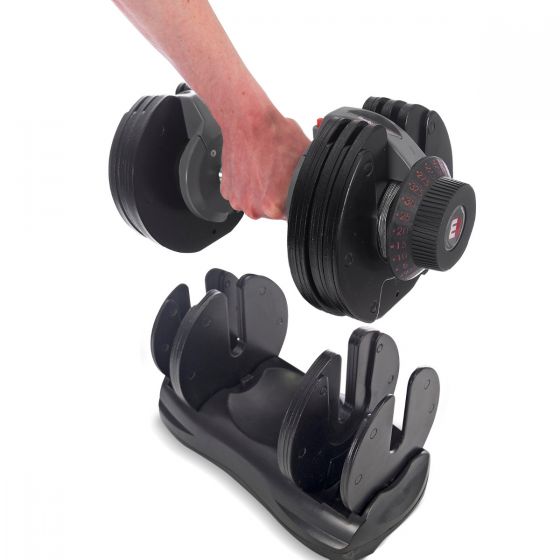 Adaptable and Durable
When used in conjunction with an intense cardio-specific program such as Circuits or Crossfit, these stunning Selectabells can also help increase muscular endurance, boost cardio stamina and promote steady, healthy weight loss.
They offer a complete workout for the body like no other piece of equipment. Cost effective, space saving and practical these exceptional dumbbells are easy to use; simply rotate the dial and lift the weight off. With increments of 2.5kg you can always find the correct weight for your exercise program.
The BodyMax Selectabell Dumbbell Pair come with free UK delivery plus a 1-year home warranty.
Benefits
Resistance exercise training has a massive range of benefits for everyone! This can be anything where you're putting your muscles under stress (lifting weights, using resistance bands, performing bodyweight exercises like push-ups or pull-ups). No matter whether you want to get a little bit healthier or you've got your eyes set on competitive weight lifting, resistance exercise will help! Resistance training has many benefits to the whole body, including: -



Improved muscular strength, power, and endurance




Increased muscular tone




Development of good posture




Aids in the improvement of bone density