Shipping costs:
Free UK delivery!
Alternatives:
BodyMax Rubber Barbells
BodyMax 36kg Selectabell 18-in-1 Dumbbell Set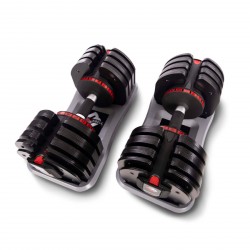 Key Features:
Sold as a pair
5-in-1 Dumbbell
From 4.5kg to 22.5kg in seconds
Simple selection mechanism
Flexibility of multiple dumbbell sizes
Details
Specification
Warranty
The new Bodymax Selectabell gives you the flexibility of multiple dumbbell sizes in one easily adjustable dumbbell. Regardless of how limited your gym space is, you can have the freedom to train your own way with the weights you need. The ingeniously simple selection mechanism allows you to cycle through from 4.5kg to 22.5kg in seconds.


USER FRIENDLY
Whether you're new to exercise and looking to invest in your first piece of gym equipment, or a seasoned athlete wanting to add another weapon to your arsenal – this sleek and adaptable dumbbell is perfect to help you achieve your fitness goals. The Bodymax Selectabell can be used in specific weight training sessions to increase muscle strength, improve definition, and add size to every major muscle group.


EFFECTIVE
The BodyMax Selectabell is also a fantastic addition to circuit or functional training workouts to give further challenges to help maximise your progress. With the option of buying the BodyMax Selectabell as an individual or as part of a pair, you have total control over how you can include this highly versatile piece of equipment in your training programme.


ROBUST AND SPACE-SAVING
If you want your home gym to be the envy of everyone you know, the robust and stylish stand is available to keep your space organised clutter-free.


GREAT VALUE FOR MONEY
With over 30-years experience in the world of home gym equipment, Powerhouse Fitness is delighted to offer this outstanding Selectabell for an amazing price. Already proving popular with fitness enthusiasts across the UK, order now so you don't miss out!


WARRANTY
This package comes with a 2 Year Home Warranty.

BodyMax 22.5kg Selectabell 5-in-1 Dumbbell (Single)
No. of Months Warranty
24
Warranty Details
2 Year Home Warranty