Shipping costs:
Free UK delivery!
Key Features:
Multi purpose bench, adjustable from flat to incline, as well as doubling up as a plyo box
Space saving design, the bench can hold 2 x Selectabells as well as having easy to reach storage (front and back)
Solid and sturdy, the bench has a 300kg weight capacity
The handle means the bench is easy to move and doubles up as a battle rope anchor
The 15-in-1 selectabell dumbbells change weight in a matter of seconds, and are neatly stored within the bench
Details
Specification
Warranty
Whether you're a home workout enthusiast or taking the first steps on your fitness journey, this strength package featuring 25kg BodyMax Selectabell Dumbbells and BodyMax Selectabell SB500 Weight Bench will help you take your workouts to the next level while using minimal space in your home.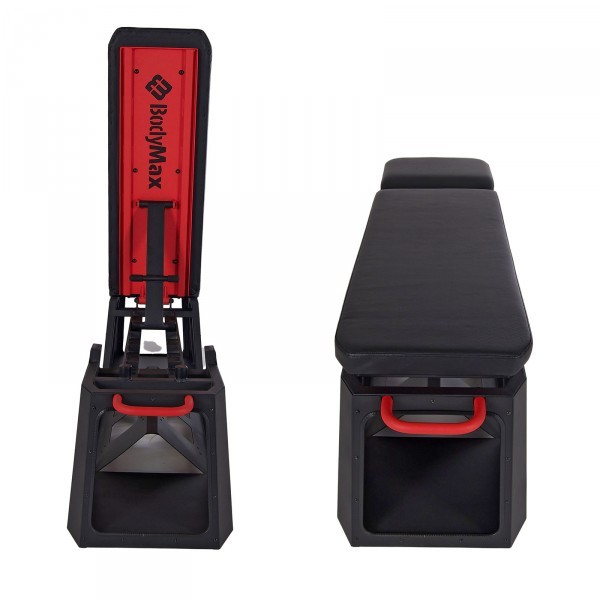 FLEXIBLE AND ADJUSTABLE
The BodyMax 25kg Selectabell 15-in-1 Dumbbells V2.0 gives you the flexibility of multiple dumbbell sizes in a pair of easily adjustable dumbbells.
The ingeniously simple selection mechanism allows you to cycle through from 4.5kg to 25kg in seconds.
With a quick adjustment of the safety locks, the patented internal adjustment mechanism engages and the desired weight on the handle can be selected with absolutely no fuss, replacing the need for several dumbbells of equivalent weight while ensuring minimal space is required.
The ergonomically shaped handle provides a comfortable grip during exercise while the patented locking system is reinforced with nylon and fibre-glass components making it incredibly resilient.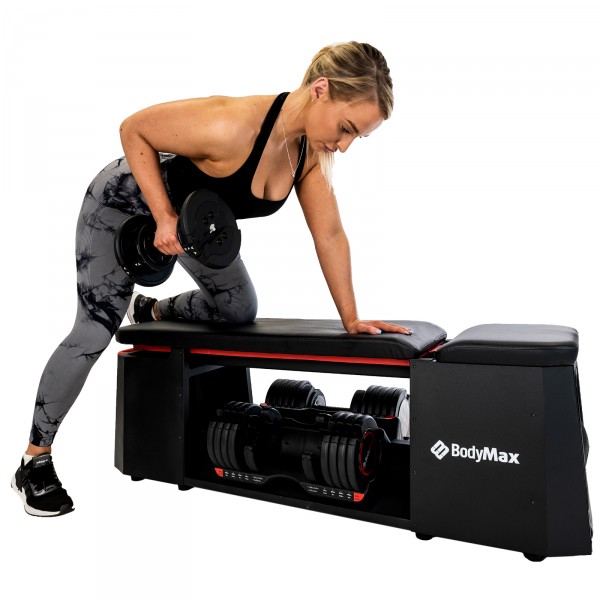 MULTI-PURPOSE WORKOUT BENCH
The BodyMax Selectabell SB500 Weight Bench has the unique function of being a storage solution for the BodyMax V2 22.5kg or 25kg Selectabell Dumbbells. The multi-purpose benefits of the BodyMax SB500 guarantee a vast range of possible exercise variations, making it a superb investment for users of all fitness levels.
The bench has been built to last, with a durable powder coated frame finish, giving it a stylish finish, that would suit any home gym setup, made of robust high-quality materials to provide you with maximum stability and support in your exercises.
The bench weighs 36kg and the maximum user weight reaches 300kg.
It's finished with heavy-duty PVC upholstery, ensuring you are not only comfortable when working out but the fabric is extremely easy to wipe down before or after use.
Not only can the bench be used with your Selectabells, it's suitable to be incorporated into your full-body or circuit training workouts. The bench is robust and means it could be used to tie resistance bands or battle ropes round, giving you a solid base to work from.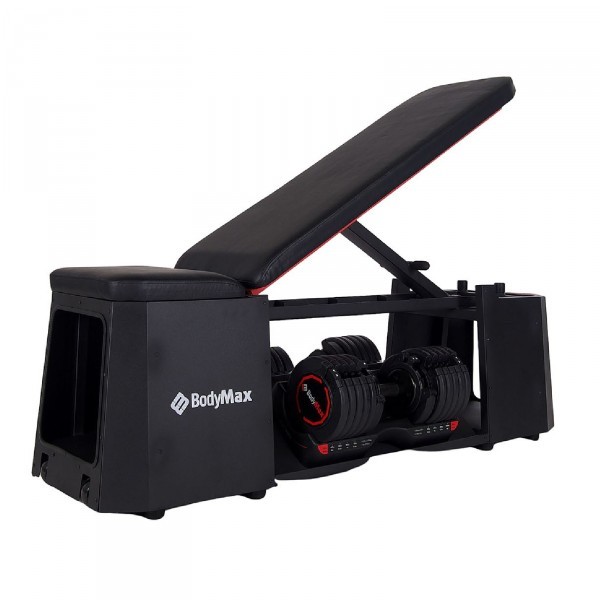 SELECTABELL STORAGE
Dumbbells in particular can be used in specific weight training sessions to increase muscle strength, improve definition, and add size to every major muscle group.
Both the 22.5kg and 25kg Selectabells that are compatible with this bench (for storage) are a fantastic addition to circuit or functional training workouts to provide further challenges and variety that will help maximise your progress.
The SB500 can also be used as a general workout bench to lift weights, kettlebells, slam balls, medicine balls and much more! The storage compartments at the front and back allows you to keep your floor space clear and tidy, minimizing the risk of damage to your equipment and keeping it all in the one place.
Seamlessly manoeuvre through 4 backrest incline positions to target all major upper body muscle groups and add exercise variations. Using the bench at different angles encourages varied muscle engagement, so you work all areas of the muscle to create a more defined and sculpted look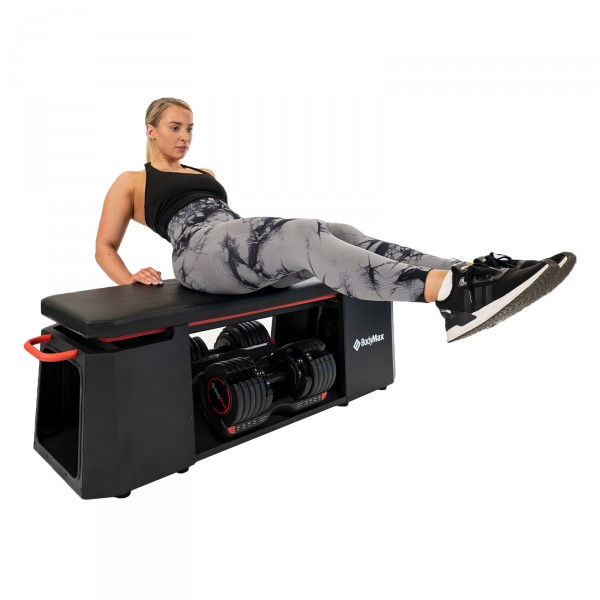 SPACE SAVING
This heavy duty multi-function workout bench has front & rear accessory storage compartments that allow you to store your selectabells out of the way and keep your fitness necessities close at hand.
The BodyMax 25kg Selectabell 15-in-1 Dumbbells give the versatility of 15 pairs of dumbbells while eliminating the need for multiple pairs.
The SB500 weight bench has transport wheels and a handle so it can be easily moved and placed in storage when not in use.
In addition, the SB500 is ready to use straight out of the box - meaning no assembly is required!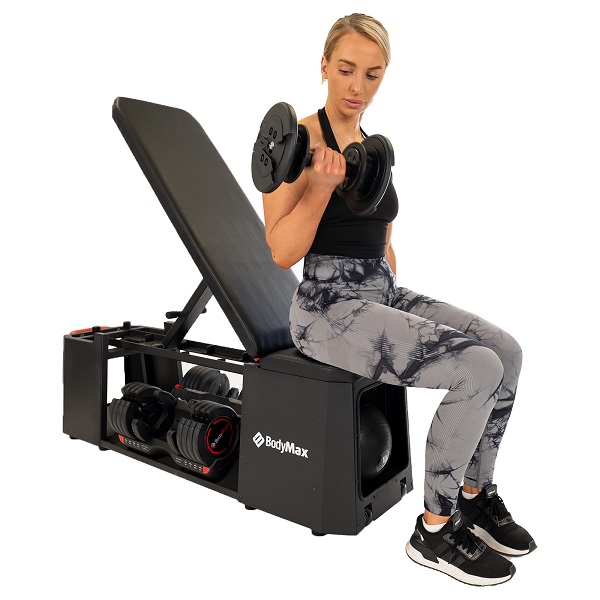 EXERCISES TO TRY
The SB500 can be used as a weight bench and as a plyo box. Here are just a few of the exercises you can try with the selectabell dumbbells and the SB500 weight bench.


Bench press


Single arm row


Shoulder press


Incline front raises


Bulgarian split squat


Incline bicep curl


Box squat


Box jump over


Burpee box jump


BodyMax Selectabell SB500 Weight Bench
Dimensions Open
140x40x45cm (LxWxH)
BodyMax V2.0 25kg Selectabell 15-in-1 Single Dumbbell
Warranty conditions for BodyMax SB500 Weight Bench & 25kg Selectabell Dumbbells
For further information on the warranty, please refer to the manufacturer's terms of warranty. The manufacturer's warranty is an extra service and does not affect your statutory rights.
| Manufacturer's warranty | Parts |
| --- | --- |
| Home | 2 years |