This product is currently not available
Key Features:
180kg maximum bar capacity
Solid steel construction built to last
Knurled handles for quality grip even with sweaty hands
Olympic bar ends
Highest quality welds for strength and safety
Details
Specification
Warranty
Description: BodyMax 40kg 2.1m Olympic Shrug Trap Bar
The BodyMax 2.1m Olympic Shrug Trap Bar is highly vigorous piece of equipment with a large degree of longevity to suit your specific training needs for a very long time to come!
COMPOUND EXERCISES
The BodyMax 2.1m Olympic Shrug Trap Bar can aid you in the completion of a variety of different compound exercises with a much larger degree of error permitted. The shrug bar when used in exercises such as the trap bar deadlift allows the user to perform the exercise with a much healthier back angle, ideal if you are a personal trainer training complete beginners on the fundamentals of deadlifting, allowing your client to perform the exercise with minimal weight and getting accommodated to the feel of the location of particular joint angles when correctly executing a compound exercise.
The bar can also be used for a wide variety of functional exercises such as the trap bar floor press, creating a great joint angle for users who may suffer from poor shoulder mobility due to the grip position the user can select over a standard barbell.
FRAME
The stylish steel construction of the barbell is 2.1m in length from the tip of the Olympic sized bar construction located outside the hexagonal steel construction in the middle to the next bar-like structure. The maximum capacity of 450kg shows the structure can handle a large number of loads making this an ideal piece of gym equipment for a beginner right up to a professional competitor in sports such as weightlifting and rugby.
GRIP
A key feature of the barbell is the knurled grip handles, perfect for exercises such as the trap bar deadlift, trap bar farmer's walks and trap bar shrugs. The grip designed handles are especially good for these exercises in order to properly facilitate force transfer in the grip dominant exercises the user selects with their individual training programmes. The use of other intermediary equipment when aiding in grip on these exercises may result in a loss of force transfer which to the avid gym user may limit progression further!
MEASUREMENTS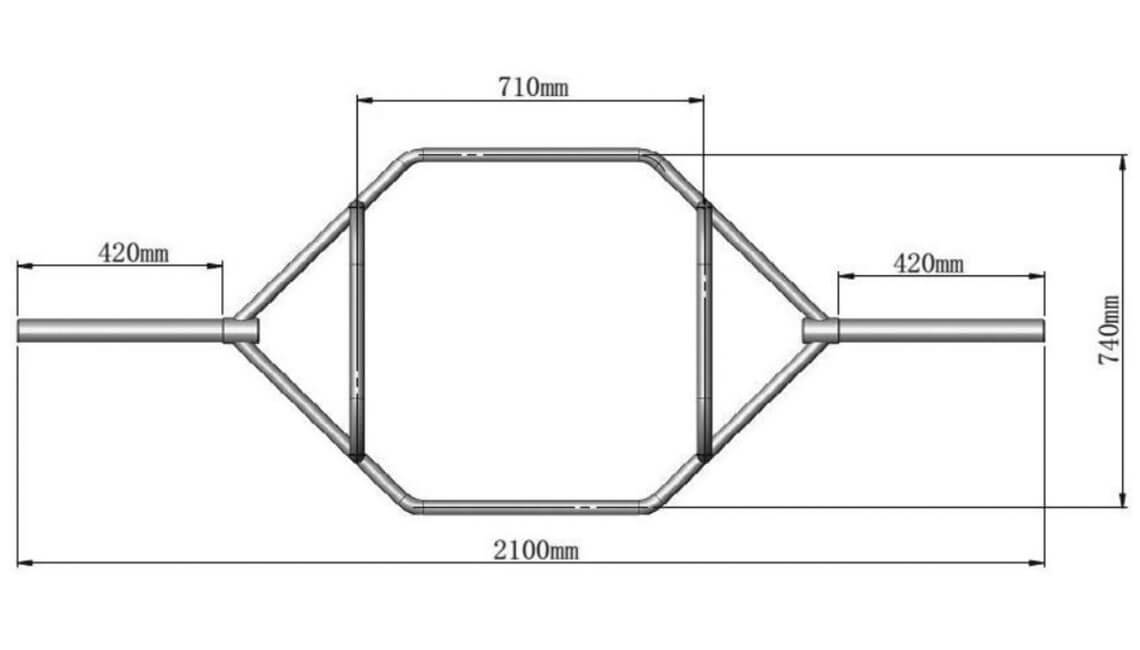 Bar Length: 2100mm
Grip Diameter: 30mm
Sleeve Diameter: 49.5mm
Maximum Weight: 450kg
Specification: BodyMax 40kg 2.1m Olympic Shrug Trap Bar