Please select a product for stock availability
Key Features:
Lightweight and easy assembly
Large 40 inch / 101.5cm diameter
Rebounding offers workout and health benefits
Suitable for home use training and rehabilitation
4 inches wider than most aerobic bouncer fitness trampolines
Description: BodyMax 40" Mini Fitness Trampoline 101.5cm
Take your jump training up a notch with the BodyMax Mini Trampoline!
FULL-BODY SESSION WORKOUTS
The fitness rebounder is a lightweight piece of equipment, which offers the perfect platform for low impact exercise, full-body workouts, rehabilitation from injury or taking on cardiovascular challenges!
The exercise trampoline targets your lower back, quads, hamstrings, glutes, calves and core whilst low impact exercise is perfect for protecting your joints while making sure you get the most out of your workout. Rebounding can help to;


Increase cardiovascular fitness


Improve lower body muscle tone


Develop joint health


Promote good balance and posture


Lower blood pressure


Build better bone health


Rebounding uses significant amounts of oxygen at muscular level, helps to engage large muscle groups and can be sustained continuously. Whilst burning calories may not be your main objective, it is worth bearing in mind that fitness rebounder workouts can burn as many calories per minute as running at a pace of 10 minutes per mile!
VERSATILITY
The BodyMax Mini Trampoline is a versatile piece of kit that should be a fundamental mainstay in your home gym. Working out should also be enjoyable and what's more fun than bouncing on a trampoline? From circuit training to short sharp workouts, doing a rebounder session will boost your energy and help with improving your stamina whilst sculpting your legs and core.
Some of the best exercises to try on your mini trampoline are: Bounce Downs, Jumping Jacks, Scissors, Surf Twists, Running, Knee Pulls, Tuck Jumps, Lunges and Push-Ups.
As well as being used as a solo piece of kit, you can incorporate an exercise trampoline station into your functional circuits, take part in an online or gym class workout with an instructor or in some specific instances use the mini trampoline for rehabilitation purposes from injury. For example, one of the most common mini trampoline exercises for ankle rehabilitation involves a simple leg balance, balancing on the trampoline with one leg and increasing the duration over time to aid in your recovery.
EASY ASSEMBLY & CONSTRUCTION
The BodyMax mini fitness trampoline couldn't be easier to assemble. Simply screw the legs onto the base and you are ready to get started with your rebounding!
The rebounder is a solid mini trampoline that offers a secure and stable piece of equipment to meet your home fitness demands. You can be sure that you will be able to hop, jump, and bounce with ease. For safety the springs have a vinyl cover to offer enhanced protection for yourself and the trampoline.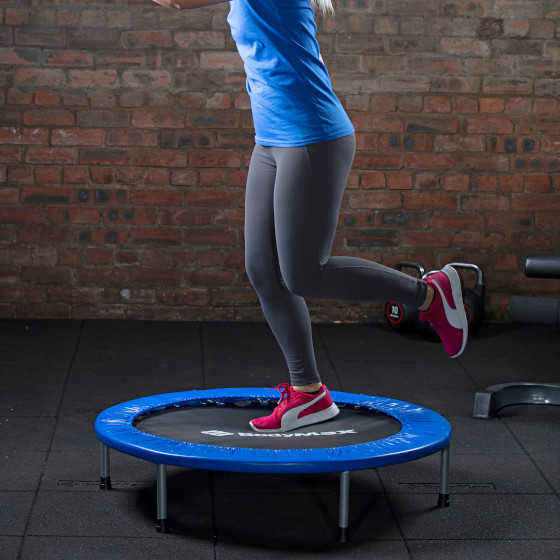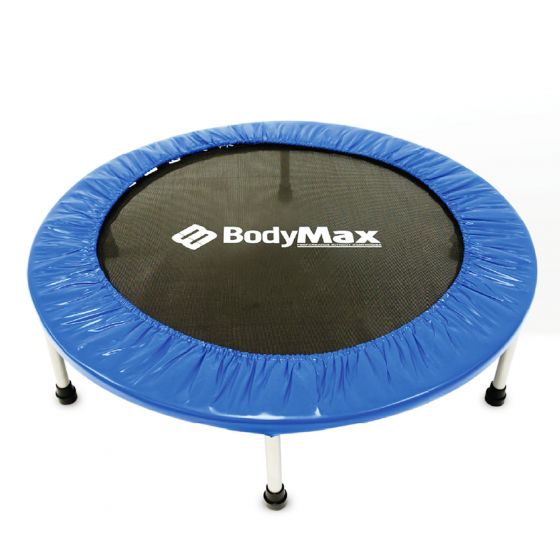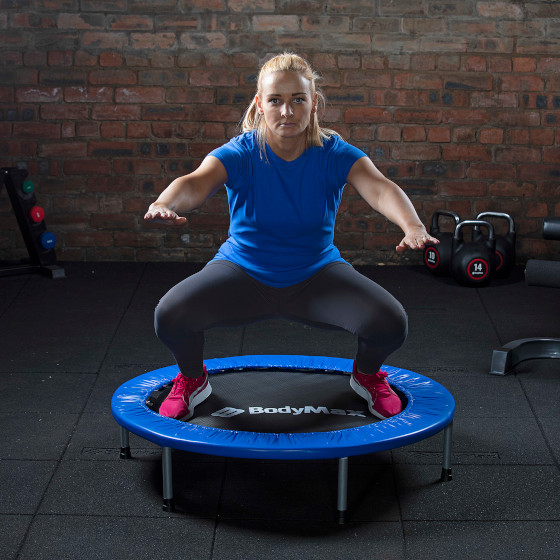 Specification: BodyMax 40" Mini Fitness Trampoline 101.5cm
Maximum User Weight
100kg