In stock
Order now for dispatch tomorrow
Shipping costs:
Free UK delivery!
Key Features:
Heavy Duty chromed and knurled olympic bar 2.2m
Chromed olympic collars
Padded for maximum safety and comfort
Can enable users with some wrist and shoulder injuries to continue squatting
Design forces users to properly engage core musculature to maintain correct torso alignment
Details
Specification
Warranty
Description: BodyMax 20kg Olympic Safety Squat Bar
Squatting is one of the best forms of exercise there is. It strengthens and tones a wide variety of muscles including the quadriceps, glutes, hamstrings, calves and core abdominals.
BENEFITS
As a functional exercise it assists in optimizing your performance in everyday tasks as well as helping to promote better balance and overall stability. Not only that but squats help with injury prevention by targeting essential stabilizing muscles, while also boosting sport and athletic ability. When you add weights, you further increase the benefits of this phenomenal move.
SAFETY COMES FIRST
One of the risks of using free weights when squatting is exacerbating any weakness or injury to the wrists and shoulder joints. Fortunately the BodyMax Olympic Safety Squat Bar has been specially designed to alleviate pressure on these joints.
Its unique shape and weight placement (lower and further forward) also encourages the proper engagement of core musculature so that correct torso alignment is achieved and maintained throughout the exercise. This furthers challenges the posterior chain muscles giving them an even more intense workout.
DURABILITY
Measuring 2.2m the Olympic Safety Squat Bar is covered in heavy-duty chrome for added durability.
SUPREME COMFORT
A knurled grip and padded shoulder rest means you can take your fitness training to the max comfortably and confidently every time!
MAXIMUM WEIGHT
With chromed Olympic collars the maximum load weight is 600lbs.
Weight: 22kg
Maximum load weight: 600lb
MEASUREMENTS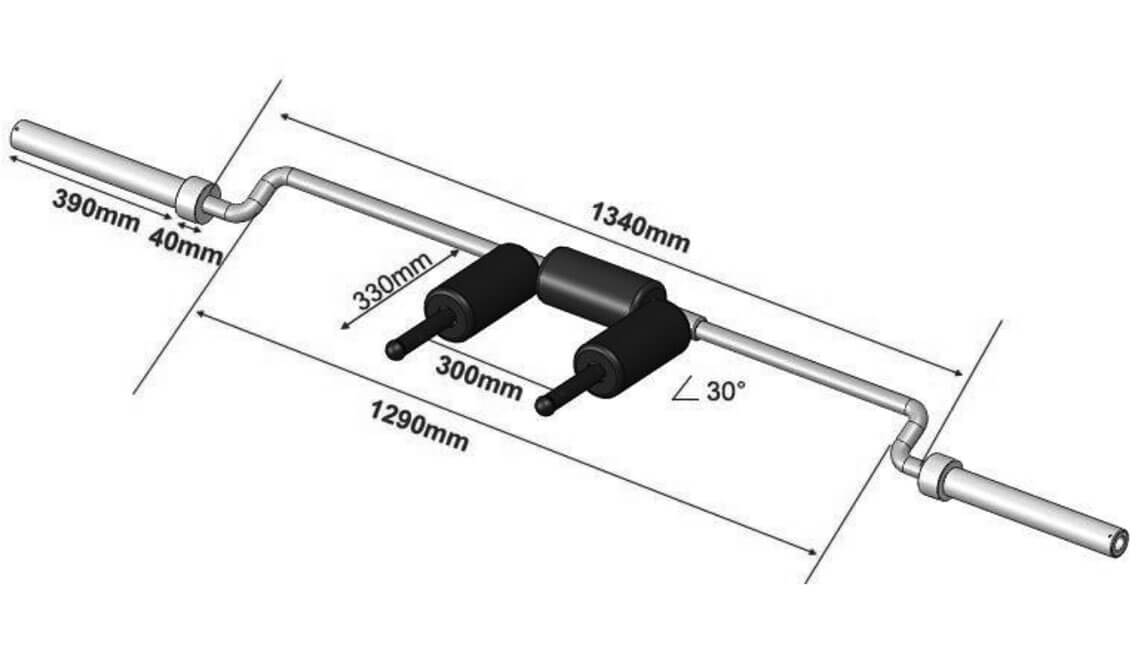 Bar Length: 2200
Grip Diameter: 30mm
Sleeve Diameter: 49.5mm
WARRANTY
The BodyMax Olympic Safety Squat Bar comes with free UK delivery plus home warranty.
Specification: BodyMax 20kg Olympic Safety Squat Bar
Maximum User Weight
250kg
Warranty conditions for BodyMax 20kg Olympic Safety Squat Bar
For further information on the warranty, please refer to the manufacturer's terms of warranty. The manufacturer's warranty is an extra service and does not affect your statutory rights.
| Manufacturer's warranty | Parts |
| --- | --- |
| Home | 2 years |